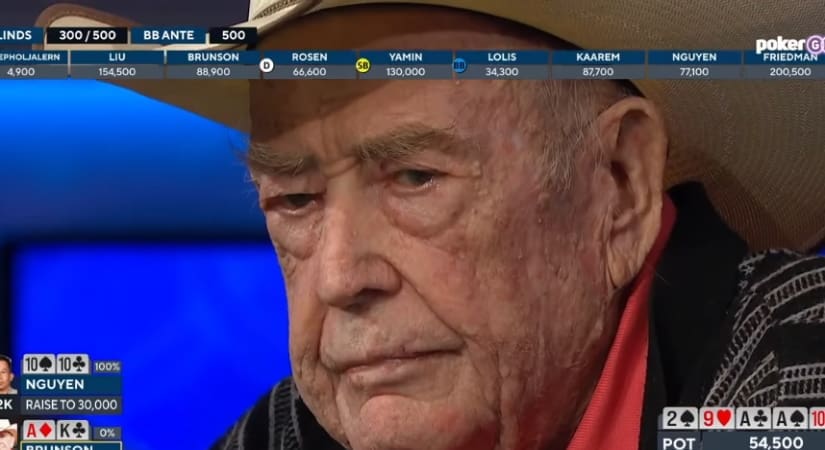 All is right in the poker world. Poker fans and players collectively rejoiced on Thursday at the return of 88-year-old godfather of poker, Doyle "Texas Dolly" Brunson on Thursday, who made his first appearance at the WSOP Main Event since 2013.
And so far so good for Brunson. He finished the day with one of the larger chip stacks with 151,000 in chips, finishing the day in 41st place. Ok, so he's not at the very top of the leaderboard, but considering 563 players entered, 348 survived and there is still A LOT of poker left to be played, Brunson has got to be happy with how the first day went.
It's hard to believe it's been eight years since Brunson last played in the WSOP, but he has avoided the WSOP Main Event in recent years because of the well-publicized rigors of the event.
Although Brunson has made appearances in various WSOP events since then, prior to his entry into the $1000 Super Seniors event a few days ago, he has not participated in WSOP tournament action since 2018. He has been busy spending time and taking care of his ailing wife, who he has been married to for the last 60 years.
Watch Doyle Brunson at the WSOP 2021 Main Event
PokerGo, which is broadcasting the WSOP Main Event during the event's two-week run, put together highlights of the event of YouTube which you can see below. If you would like to watch a replay of Day 1a or tune into future 2021 WSOP streams, grab a subscription from PokerGo for $14.99 per month or $99 per year.
During the session, Brunson was also interviewed by PokerNews on his thoughts on playing the WSOP Main Event for the first time in eight years, which he said he is thrilled about. "It's exciting because I have been home for a year and only been out a few times actually. I'm glad to get out."
Reaction to Doyle Brunson's WSOP Main Event Day 1a appearance
A look at some of the reaction to Brunson playing in the WSOP Main Event as well as photos from his appearance in Day 1a.
Guess who has entered the building, on his way to take his seat at #WSOP Main Event? pic.twitter.com/XIErdT7dX0

— GGPoker (@GGPoker) November 4, 2021
Doyle Brunson is in the field. The 88-year-old two-time Main Event champion has joined Day 1A. pic.twitter.com/5XToVPl2ap

— Jim Barnes (@JimBarnesLV) November 4, 2021
Wow! What a fold by Doyle Brunson. Watching Main Event and Doyle made a pretty sick lay down. Wow!

— Jerry Young (@jerryKCGyoung) November 5, 2021
I spoke to @TexDolly @Mustacchione @jeffplatt @JasonKoon @rumnchess and Billy Baxter for the Day 1a WSOP Main Event Podcast!

New episode out now:https://t.co/6wMcB6yquY

— Remko Rinkema (@RemkoRinkema) November 5, 2021
I just finished Day 1 of the WSOP Main Event and it was awesome to sit next to the legend himself, Doyle Brunson! You can see most of the action on PokerGo or CBS as we were on the feature table! @WSOP @TexDolly #WSOP pic.twitter.com/KFH55mCwiF

— Brett Rosen (@BrettRosen325) November 5, 2021
Things you love to see: Doyle Brunson still winning chips at the #WSOP

— ???????????????????????????? (@ronaldvonbraun) November 5, 2021
???? 2021 World Series of Poker Main Event Day 1A

Billy Baxter – 7 bracelets
Tom McEvoy – 4 bracelets, Main Event Champion 1983
Doyle Brunson – 10 bracelets, Main Event champion 1976 & 1977 pic.twitter.com/Kr8GK1WdzU

— PokerGO News (@PokerGOnews) November 6, 2021
Best Online Sportsbooks and Casinos
Daily Fantasy, Simplified.
Simply choose over or under on your favorite players to play
No sharks, no salary caps, no BS
Turn the game on and follow along with live player tracking to watch how you're doing
Legal in 26 states + Canada (see site for details)