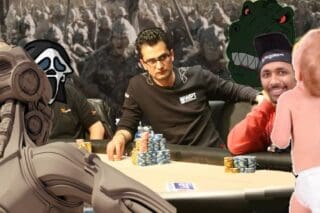 Wherever Burning Man is, NV – Wow, what an incredible victory this week for Antonio "The Magician" Esfandiari, who claimed his third World Poker Tour trophy shortly before realizing the whole thing was a hallucination brought on by drugs given to him by Dan Bilzerian.
Esfandiari, the winner of the inaugural WSOP One Drop as well as two other WPT titles, was all smiles after his big win.
Holding the trophy high in the air, Esfandiari told reporters this one was for all his fans the world over. And by the "trophy" we mean "a bunch of sticks" and by "reporters" we mean "two rabbits."
Antonio's championship run began earlier this week when he ventured into the Nevadian desert alongside friends Jeff Gross, Bill Perkins, Dan Bilzerian, Sorel Mizzi, Liv Boeree, Igor Kurginov, and probably some other random poker player like… Paul Wasicka.
After arriving, the gang soon changed into their ridiculous Mad Max costumes in attempt to become more in touch with the universe or some such nonsense.
Dan Bilzerian assists in Esfandiari's "W"
And it was later that night that Hollywood playboy Dan Bilzerian tricked the Magician into taking some pretty extreme hallucinogenics before Dan went off to have sex for the 9th time that day. Shortly thereafter, Antonio stumbled from the group's trailer and his quest for the Champion's Cup began.
Of course, Esfandiari's road to the final table wasn't easy. In addition to the stacked field, the three-time bracelet winner had to defeat Sharptooth, the armies of Middle Earth, all his childhood fears, Stu Ungar's ghost, Dmitri Nobles, an actual baby, and Libratus.
Esfandiari had this to say about overcoming those obstacles en route to victory:
"The hardest part was probably on Day 3 when my physical body melted away and I faded out of space and time completely and was reborn in the ethereal plane. And after experiencing a thousand lifetimes among the Divine while questioning the nature of reality, I had to come back to only 15 blinds! But as they say, that's poker."
Esfandiari doubts after Bonomo sighting
Afterwards, Esfandiari admitted that during certain parts of the tournament he began to doubt that the whole experience was truly authentic.
"I started to suspect the whole thing was a hallucination when the final table paused so that the players, film crew, and staff could participate in a 6-hour long orgy. Burning Man orgies typically never go over 4 hours."
Dead give away right there.
Esfandiari also added, "And I suppose the real clue that none of it was real should have been when I saw Justin Bonomo celebrating on the rail. If this was real life Justin would obviously have been playing at the final table. Also, he probably wouldn't have been 40 feet tall and made of light."
Looks like Antonio will have to wait before that third WPT title dream becomes a reality.