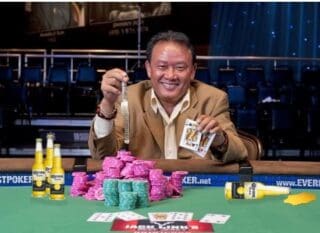 Gardena, CA – Wow, huge news out of Los Angeles today as Men 'The Master' Nguyen has just announced a new online training course where he offers up sage wisdom on how to be a greedy little shit at the tables.
The course is entitled Angle Angel, and will be going live this weekend.
Men's course follows a prestigious line of recently released training courses that include Doug Polk's Upswing Lab, Daniel Negreanu's MasterClass, The Brunson's Poker Pro, and Dmitri Nobles' Help I'm Hungry!
Men the Master says he has been honing and refining his craft for decades now. Every slow roll, every chip palmed, and every accidental raise has been stored in the great database that is his twisted mind. And now he finally has enough material and enough unpaid markers to release his course to the world for a quick cash grab.
The Master "talks" Angle Angel
Men was kind enough to sit down with BonusCodePoker for a brief interview before falling asleep on the floor.
"Men Master best player in the world, baby! Everyone always stop me and ask for autograph. They want advice on how they can win bracelet too. I tell them get lost. I don't have time to answer any questions! Cocktails!"
Some of The Master's best secrets revealed
The course is beautifully laid out from start to finish. It starts with tips on how you can scam your friends and family at your home game before graduating to cheating under the lights and cameras of the final table with surveillance watching.
Men the Master takes you step-by-step on a journey of how you can completely manipulate the system to your advantage: How to bend the rules, but not break them. And basically how to be slimy enough that you could win 7 WSOP bracelets and not even be a consideration for the Poker Hall of Fame.
But that's not all. The video series also includes strategy on:
How many Coronas to optimally drink at the final table
How to grow out your face whiskers for optimal luck
Ways to cuss out the dealer without getting penalized
Balancing your slow-rolling range
Best times to fall asleep at the table, but still increase your chip stack!
And much, much more
More courses to come?
Angle Angel is currently on sale for $999, which can be paid by credit card, PayPal, or tournament chips given to Men on bathroom breaks.
The course has proven to be a runaway hit! And by that I mean there's a section that teaches you how to hit the dealer then run away.
Men's content is exclusively for the live arena, but sources say he's bringing in Russ Hamilton to teach an online course later in the year.
Also read: Local Player Still Complaining About Bad Beat From 2007
Editors Note: This article is a paid promotion by All You Can Eat LLC.