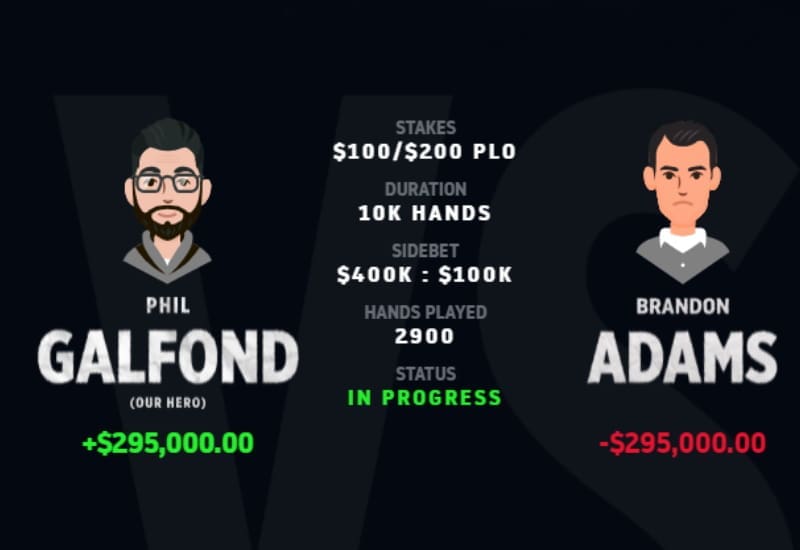 Phil Galfond is once again victorious in the Galfond Challenge has Brandon Adams has decided to throw in the towel after losing $270k to Galfond. In addition to his winnings at the table, Galfond also takes home a $100,000 side bet bringing the total amount won against Adams to $370k.
With the victory, Galfond is now 4-0 against his Galfond Challenge opponents, having previously beaten relative unknown Venividi, high stakes players Action Freak and Chance Kornuth. Like the previous match against Kornuth, the Adams match is the second in a row to finish early.
No #GalfondChallenge stream today after all.

Brandon has decided to call it quits. I finished this challenge up roughly $270k.

— Phil Galfond (@PhilGalfond) August 23, 2021
What happened during Galfond vs Adams?
Earlier this summer, Galfond played Brandon Adams at the Resorts World Las Vegas, where the pair were set to play for 40 hours over five days. That match was halted with 15.5 hours remaining with Adams accusing Galfond of stalling while he was ahead by around $50,000. After employing the help of mediators, players settled on a remaining number of hands of 285 while waving the side bet. However, Galfond and Adams decided to stop after 236 hands remaining and Galfond up about $16,500 due to the boring "end-stage" nature of the play.
After the match was ended early, Galfond and Adams agreed to play a second match online. Play for the online match began on July 31st, which included a new 4:1 side bet of Galfond's $400k to Adams' $100k.
Under the terms of the Phil Galfond vs Brandon Adams heads-up match, the pair were set to play 10,000 hands of $100/$200 Pot Limit Omaha. However, only 2,900 hands were played over four sessions before Adams threw in the towel. Galfond finishing up $295k according to the official Galfond Challenge page.
A total of four sessions were played with Galfond winning three out of four of the sessions, which have been played sporadically since July 31st:
July 31st: Galfond up $75,000
July 31st: Adams up $35,000
August 1st: Galfond up $110,000
August 22nd: Galfond up $150,000
What's next?
With Brandon Adams out of the way, Phil Galfond can look ahead to his next opponent, likely to be one that many poker fans have been clamoring for some time — Dan "Jungleman" Cates. Full details have not been announced yet, including when the Challenge would start.
But according to the Run It Once Galfond Challenge page, the pair will play €100/€200 Pot Limit Omaha with 7,500 hands being held over the duration of the challenge. Cates seems to be optimistic — and has some humor — about the match saying he will "turn [Galfond] into a shish kebab."
Held off on posting this bc I wasn't sure that @junglemandan was serious about battle. Don't open at work or w/ children. Pod: https://t.co/jUmJy0l3mE . Best part is when jungle describes his life during match w Phil (think Russia training in RockyIV, except in a basement). https://t.co/0JohbHE3x4 pic.twitter.com/3qfbqwrW54

— Brandon Adams (@badams78) August 18, 2021