And so the fall out continues from the Garrett Adelstein and Robbi Jade Lew 'cheating' allegations that occurred a week ago on Hustler Casino Live's High Stakes cash game.
Now, we've already reported on what happened during that controversial packed incident and in a week where almost everybody in the poker world has fallen either on the side of Garrett "it definitely was cheating" Adelstein or Robbi "It definitely wasn't cheating" Lew, there is another issue that many people have completely missed.
And it is one that is certainly well worth talking about in a bit more detail.
With Hustler Casino now running their own investigation into what went on in the game, and even talk of polygraph tests being administered to those involved, the focus of this whole furore seems to be to prove whether Robbi cheated, or not.
However, there is another issue that I think needs resolving and that is what happened after Lew and Adelstein had left the table following the hand.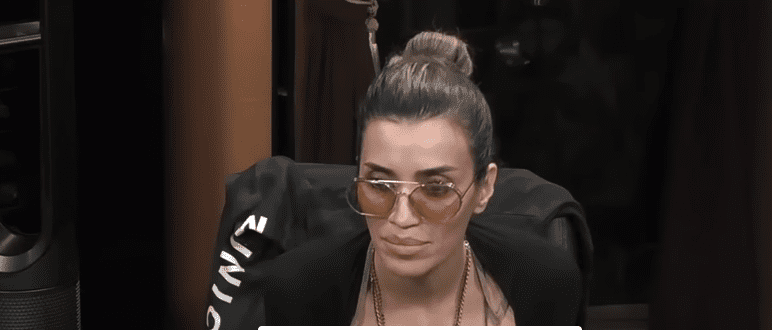 The Confrontation
For those of you that are not fully aware of the full details, after the controversial hand had been played and Robbi had received her chips, there was a lengthy spell when Adelstein, after Lew revealed her pocket cards, just stared at the player with a mixture of barely concealed anger and confusion.
Lew noted this, commenting at the time that Adelstein looked like "you want to kill me" and there was absolutely no doubt that there was at least a tension there, if not outright hostility.
Now, this seems to have been rendered as unimportant especially by those in the Garrett Adelstein camp.
They argue that if they felt they would have been cheated out of a large sum of money, they would have reacted in a similar, angry manner.
Adelstein was clearly in full tilt mode and left the table after the hand, followed shortly thereafter by Lew, and when she left the table, Adelstein is alleged to have confronted Lew in what she called a 'dark hallway'.
She tweeted details of her version of what happened a short time afterwards.
It was at this point that Lew is reported to have handed back the money she won to Adelstein.
Admission Of Guilt?
Now the point here that many people have locked onto is the fact that Robbi handed the money back to Garrett following the hand and his complaints and they view that as an admission of guilt.
However, it is worth noting a few points here:
Robbi is a poker novice in terms of experience – she only began playing seriously when the pandemic struck.
This was only her second appearance at the Hustler Casino Live high stakes table and it was not the first time she had refused to muck her cards as Adelstein tried to bully her into submission by making a big bet to attempt to frighten her out of the hand. She won that hand too, with Adelstein taking that loss on the chin with good grace.
Adelstein was clearly fuming at losing the hand and was making Robbi uncomfortable at the table, with cameras rolling and other players at the table as witnesses.
When he confronted Robbi they were, she claims, in a dark hallway with presumably no other people present to support her.
When those remaining at the HCL table find out Adelstein got his money back, there is a mixture of anger and bewilderment at what has happened.
Now would any person in that situation not feel a little intimidated?
Especially when it is one of the biggest names in poker that is calling you a cheat, with no evidence other than the fact you didn't play as he and many other players, would have done in that situation?
For the cheating issue, Hustler Casino needs to complete its investigation and tighten up on its security and speak with both players and do whatever is needed to get the bottom of it.
Then punishments or bans, if required, should be handed out to those they find guilty.
An Assumption
So, let's make an assumption here. There are many poker players that agree with Garrett Adelstein that Robbi cheated. But what if Hustler Casino finds that Robbi didn't cheat?
What if Robbi's play was that of a novice that made what many people view as a poor call, but then she just got lucky?
What are we left with then?
We are left with a top-level poker professional trying to intimidate his less experienced opponent at the table by making a huge bet on a semi-bluff that didn't hit when the river was laid down.
And then, when their bluff is called and then they lose their hand, the person bluffing cannot accept that.
In their mind, they have to put it down to cheating because their opponents play was unconventional and did not follow the logic used by the most experienced players and as a result of that they lost the hand, rather than seeing their opponent fold.
Then in a fury at being 'cheated' then they confronted that opponent away from the table and somehow ends up with the money they lost back.
Cheating may be unforgivable at the poker table, but so is putting an opponent in a position away from the table where they feel so intimidated that their only course of action is to hand back the money they won from you.
Especially when they beat your hand at the table, cheating or not.
Setting The Wrong Example
That is a huge concern. Are we now saying that if you have enough poker kudos in the bank and you lose a big hand, you can simply accuse your opponent of cheating and then force them to give you your money back away from the table?
The question I would pose here is whether Adelstein would have done that had it been a man that had beaten him in such a way. I'm not so sure that he would have done.
Especially when you consider Adelstein's methodology at the poker table is to put people out of their comfort zone by making big bets that they are not going to want to match.
Bullying at the poker table in this way is fine, but not so much when you carry it on away from it.
In confronting Robbi and accepting/taking his money back from her, Adelstein has come away as looking like the victim here. Many see Robbi returning his cash as an admission of guilt.
But, if Robbi was cheating, her aim would have been to take the money and run. Why would she win the cash, only to give it back?
Many have said that it was because she realised her cheating was too obvious. The investigation may well prove them right.
But I do worry what kind of state the poker world will be in if Hustler Casino doesn't find her guilty of cheating.
And if that does transpire, then you will need to ask yourself who the villain of this sorry saga really is?
But even if it doesn't, Adelstein should have waited for the results of the investigation to claim his money back if Robbi did cheat.
The fact he didn't reflects poorly on him.
There are plenty of examples of strange calls winning big. Erik Seidel and Doyle Brunson to name but two famous examples where unconventional play has landed them huge tournament wins and bracelets.
No poker player has to follow the accepted methodology. That freedom is part of the beauty of the game.
And if you don't follow the accepted methodology for top level poker players, you should not be accused of cheating because of it, at least until it is proven.