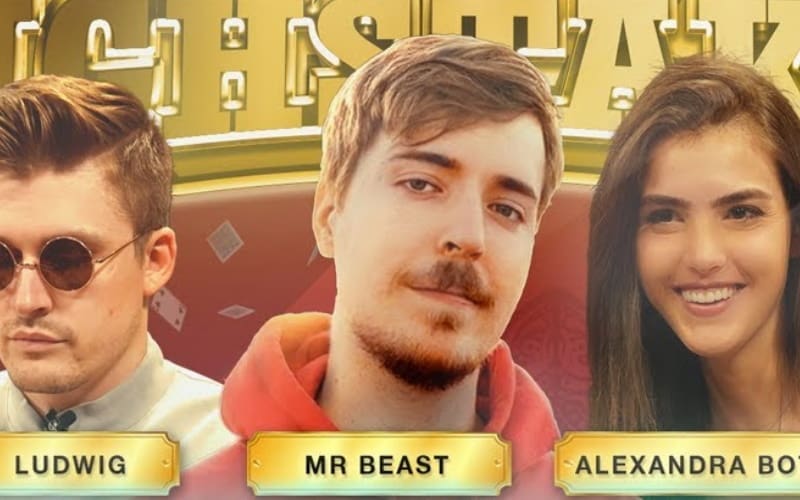 In what is being billed as the biggest event in poker live stream history, on May 1st, YouTube megastar MrBeast put his massive wealth on the line when he plays poker for high stakes this weekend.
MrBeast Meets Hellmuth, Dwan, other players
The game was a $100/$200 No Limit Cash and was the featured game on the Hustler Casino live stream with action getting underway at 8:00 PM PT/11:00 PM ET.
In addition to MrBeast, he invited his friend and fellow YouTuber Ludwig to join him at the tables and there were other professionals lining up, including Tom Dwan, Alexandra Botez and Phil Hellmuth. Those anticipating the next round of the Dwan vs Hellmuth High Stakes Duel will have to wait until May 12th.
Watch MrBeast Play High Stakes Poker
The live stream featured commentary from Poker Life Podcast host Joe Ingram during over eight hours of play.
Poker fans hoping to tune in can watch a replay below:
Who Is MrBeast?
Real name Jimmy Donaldson, 23-year-old Mr Beast has become one of the biggest stars on the massively popular video site, building an audience of 94.5 million subscribers.
This popularity has resulted in an estimated fortune of over a $55 million and has made him America's 11th most subscribed-to YouTuber.
He has achieved this feat mainly by filming, uploading and live streaming a series of outrageous stunts.
Since 2012, these have included filming with sharks, creating the world's most dangerous escape room and his most famous stunt of all, a real-life parody of the hit NetFlix show Squid Game.
Amazingly, the YouTube version pulled in more viewers than the TV show it was poking fun at, with 246 million people viewing it.
Poker Beast And Poker Brat
This is far from the first time MrBeast has played poker or been part of the online poker community.
The biggest YouTuber in the world recently started streaming poker live on his channel and has on occasion even displayed his hole cards.
Off-screen, he has been playing in private games with Phil Hellmuth, with the pair most notably meeting in August 2021. In the match, which was also played by Tom Dwan, MrBeast is said to have played very well against the top pros.
Poker fans and MrBeasts fans will eagerly await their next matchup on Sunday night.