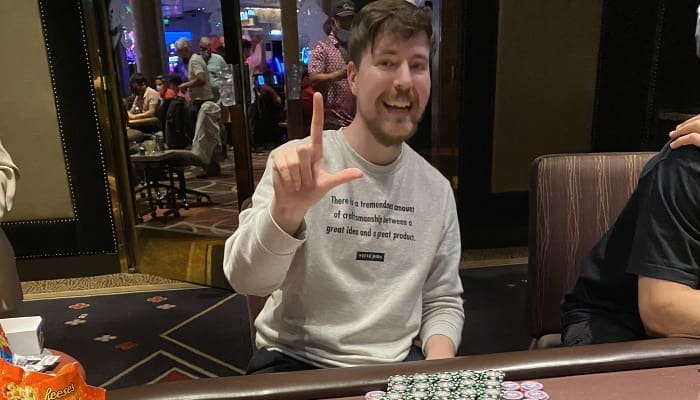 Phil Hellmuth may be about ready to play a huge match against fellow poker pro Tom Dwan, but that wasn't stopping Hellmuth from sitting down with some play poker against YouTuber MrBeast. The pair played some heads-up No Limit Hold'em over the weekend and were even joined by Tom Dwan at one point during the session.
MrBeast and Hellmuth sat down for a session while in Las Vegas filming a Poker After Dark episode with MrBeast, Doyle Brunson and Texas senator Ted Cruz, among others. Hopefully, we have more information on that, um, interesting table. However the game went, there is no doubt that getting MrBeast — complete with his 62 million followers — together with one of poker's biggest names can only be a good thing for the game.
WATCH: MrBeast plays against Phil Hellmuth, Tom Dwan on Hustler Casino Live
Controversy during Phil Hellmuth vs MrBeast match on Hustler Casino Live as Hellmuth accused of angle shooting.
Phil Hellmuth vs MrBeast
While we wait for that Poker After Dark episode, Phil Hellmuth chronicled a separate heads-up session in multiple posts on his Twitter account over the weekend, where both players apparently bought in for $100,000.
The Cracking Aces Podcast posted an excerpt of a patented Phil Hellmuth meltdown against MrBeast. In the hand, Hellmuth had Ace-King offsuit to Beast's nine-six offsuit. Watch what happened next below:
View this post on Instagram
Later on, Hellmuth was dealt the same hand against MrBeast, where his fortune turned around.
Here we go!! A-K vs 9-6: I won one!! #POSITIVITY #PHNiceLife @MRBeast @ARiaLv pic.twitter.com/UCwFPSnVUo

— phil_hellmuth (@phil_hellmuth) August 22, 2021
How did MrBeast do against Hellmuth?
MrBeast took down the big hand with 96o, but how did he do overall? The Barstool Sports headline said that Beast "punished" Phil Hellmuth in poker, but it's not clearly sure how much.
Hellmuth tweeted at one point during the session that he was down $33,400 heads-up against MrBeast — and ultimately lost $40,000 — but did say that he won $40,300 during a session involving Beast and Tom Dwan the next day.
Still down $33,400 playing heads up w @MrBeast over 2 days: but LOVE the guy!! I did manage to win $40,300 playing 3-handed w @MrBeast and @TomDwan in @ARIAPoker, so small winner…It's a blast to get time w one of the young super stars (when they are great guys) #POSITIVITY pic.twitter.com/NqHw9Iu5s1

— phil_hellmuth (@phil_hellmuth) August 23, 2021
If you are looking for more Hellmuth fun, check out Phil Hellmuth's crazy Q4o call during the 2022 US Poker Open. It's a sight to behold in what some are calling "magic."
Best Online Sportsbooks and Casinos
Daily Fantasy, Simplified.
Simply choose over or under on your favorite players to play
No sharks, no salary caps, no BS
Turn the game on and follow along with live player tracking to watch how you're doing
Legal in 26 states + Canada (see site for details)