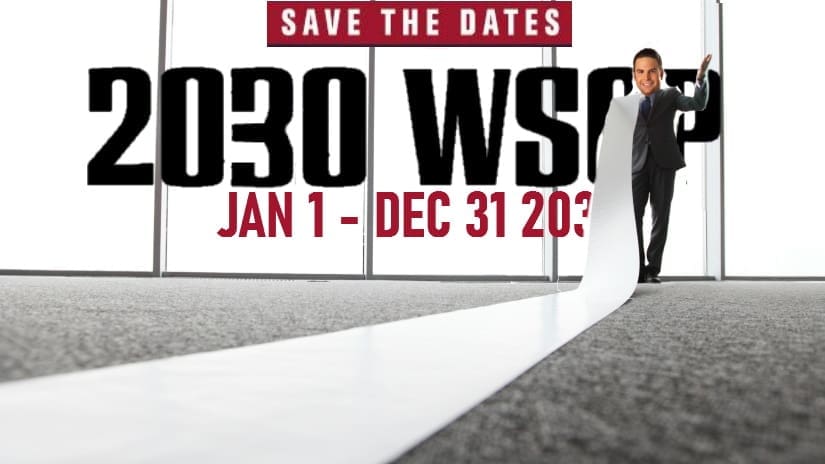 A record 101 WSOP events have been announced for this summer in Las Vegas, but a fresh study out of MIT released on Monday has some in the industry calling for restraint in upcoming years.
Over the last 18 months, a team of 153 MIT researchers has worked day and night scouring over WSOP tournament trends, staking numbers and the singularity theory to come to the conclusion that the WSOP is set to see an unprecedented rise in events over the next 10 years. The team finalized and released their report after a complete 2020 WSOP schedule was unveiled last week.
"There were a few on the team that still had some doubts over the projection. But after the behemoth of a schedule came out they quickly came on board."
The head of the study, Cedrick Hawking said that the number of events almost certainly will hit six figures by the end of the decade, although he conceded that something unexpected could happen to slow the increase a bit, at least for a while. The coronavirus, a Chris Ferguson retirement or maybe a reverse Chris Moneymaker effect were all cited as possible catalysts.
"If an uncharismatic player won the Main Event that shat on the table after each winning hand and was named, I don't know, John Moneyloser — we could see some stabilization," said Hawking.
Reaction to ground-breaking report
Some pros were understandably upset with the implications of the study saying they devalued the prestige of the WSOP and his bracelets. "I've busted a million donks in my career, but if this goes down, I'm just going to be like some idiot from Northern Europe." This, of course, was Phil Hellmuth.
When asked about MIT's stunning new report, WSOP Vice President Jack Effel questioned MIT's methods, pointing out that in MIT's projections, they assume that online poker will have spread to 15 states by 2030. Effel was quick to note that their models project that only two more states will have online poker by 2030.
"Due to the slow nature of legislation, we are anticipating just shy of 25,000 events by 2030."
[wp_social_sharing social_options='facebook,twitter,linkedin,reddit' facebook_text='Share on Facebook' twitter_text='Share on Twitter' linkedin_text='Share on Linkedin' reddit_text="Share on Reddit" icon_order='f,t,l,r' show_icons='0′ before_button_text=" text_position=" social_image="]