After Galfond Challenge Struggles, Phil Galfond Signs Up For Run It Once Training Course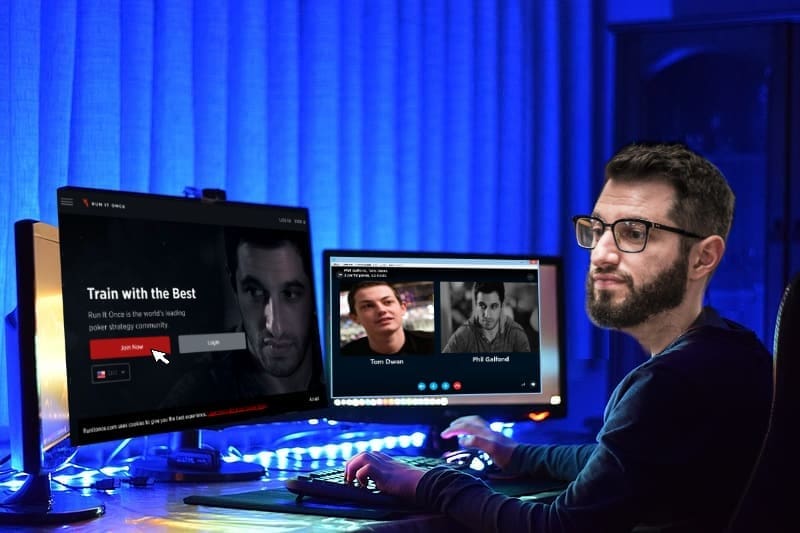 Week 1 of the Phil Galfond Challenge (against online poker player Venividi) is in the books and Mr. Run It Once is wishing he could run the week over again.
Since kicking off on January 22nd, Galfond has just one winning session under his belt and is down the equivalent of the gross domestic product of West Virginia. While variance and bad luck are no doubt at play in Galfond's slow start, Galfond has at least been proactive about addressing the downswing.
"I actually just signed up for the Run It Once Poker training course," Galfond told BonusCodePoker in an exclusive interview that came about after Skyping us with an angry message that simply read "THIS FUCKING SITE IS RIGGED!1111!!!"
We, of course, reminded Galfond that he owns Run It Once Poker, and that he himself teaches the training course he signed up for. "Yeah, I know. But to make things worse, apparently, our course on issuing heads-up challenges doesn't cover poker strategy, so I'm screwed either way."
Moving forward
In the wake of Phil Galfond's struggles in the Challenge, Phil's wife Farah is doing her part by researching ways to soften the blow of Phil's current downswing, despite expressing some concern prior to the challenge:
Hi honey, the ol' ball 'n chain here. I noticed if you lose the first #galfondchallenge match to @bp22, it'll cost us $1.2m? Awesome. Also 6 matches? So are there 5 more huge sidebets? Asking for a son. https://t.co/ka93rtjclg

— Farah Galfond (@Farah_Galfond) December 6, 2019
Notwithstanding that Farah "told him so," Farah Galfond has continued to be a supportive wife through Phil's recent struggles. She was last seen at a Las Vegas Walmart with a fistful of coupons to help bring down weekly expenses. When we approached Farah, she refused to comment on Phil's performance in the Galfond challenge but did boast that the seven bags of mostly toothpaste and Capri Sun juice drinks in her cart "only cost about $3.50."
We asked Phil to comment on what the challenge has been doing for his family and how to move forward. "I could really use some advice on ending this thing… maybe somehow quitting on a massively publicized series of heads-up matches… do you have Tom Dwan's Skype?"
Even with the hardships that Galfond has faced, he did manage to muster up some optimism. "At least The Thirst Lounge is up next."
Editors Note: We at BCP would like to wish Phil Galfond good luck, because
We actually really like him
We don't know who Vinvidi is
We were hoping to ask Phil for money when this was over
Article credit: Partick Spewing