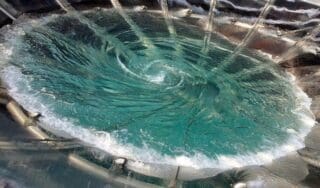 We really enjoy poker. That should come as no surprise to anyone who finds themselves at this site. To us, poker can mean a lot of different things. It can be meeting up with your buddies in the comfort of your own house for a casual game. It can mean heading off to a bricks and mortar poker room for a hours-long tournament session. Or it can be something a little more easy and fast-paced. Twister Sit & Go tournaments are firmly in the latter camp.
The basics of Twister Sit & Gos
If you've been playing online poker for any length of time, chances are you've already come across Twister Sit & Gos or games like them. But if you haven't, you should know that they are kind of like a fusion of casino and poker. The game starts with a randomly determined prize pool. This is a pretty casino-influenced element of the variant. Before you get down to the poker, you find out if you're playing for anywhere between 2x and 1,000x your buy-in.
Then the poker part starts. These are three-handed sit and go tournaments, which means you're competing against just two other players. That means that the action is intense and fast-paced as soon as you start playing, a stark contrast to traditional tournaments that can take hours to heat up.
Let's talk buy in and fees
There's a pretty wide range of buy-ins for Twister Sit & Gos. The minimum starts from just €1 and the maximum buy-in reaches the nosebleed heights of €100 a game. In terms of fees, you can expect to stump up 7% of the total buy-in in tournament fees.
Twister Sit & Go prize pools
As we said before, the Twister Sit & Go prize pools range from 2x and go up to 1,000x your buy-in. Here are the exact multipliers you can expect to find when you play Twister Sit & Gos:
2x
3x
4x
5x
8x
10x
50x
100x
1,000x
Is there anything you can do to stack the chances in your favor for snagging a higher multiplier? Well yes, there is one thing. The higher level buy-ins are more likely to result in higher multipliers. So if you buy in for between €50 and €100, you've got a one in 20,000 chance of snagging the top multiplier. Meanwhile, if you buy in for between €1 and €20, your chance of the 1,000x prize pool is one in 50,000. The same goes for the more modest multipliers for example, just over a quarter of €50-€100 Twister Sit & Gos result in a 3x multiplier, whereas the figure is more like one in five for €1-€20 games.
Now, generally speaking, the player who comes out on top of the three-handed tournament gets the whole prize pool. But if the total prize pool is over €1,000, everyone gets a slice. That means 80% for the first place player and 10% apiece for the other two players.
Twists on Twisters
Since their launch, Twister Sit & Gos have been insanely popular. So it's no surprise that there are are spin off Twisters available. Here's what else you can choose to play in the Twister universe:
Wild Twister: every player automatically goes all-in on every hand. Wild, indeed!
Age of the Gods Twister: a marriage of poker and progressive slots, where a percentage of the buy-in goes towards a progressive jackpot. You could be randomly selected to play the Age of the Gods jackpot game and come away with a cash prize before you even settle down to your poker
Where to play Twister Sit & Gos
Twister Sit & Gos feature on the iPoker Network, which encompasses over 20 different brands. So there are a lot of poker rooms to choose from. One of our favorites has got to be bet365.
Best Online Sportsbooks and Casinos
Daily Fantasy, Simplified.
Simply choose over or under on your favorite players to play
No sharks, no salary caps, no BS
Turn the game on and follow along with live player tracking to watch how you're doing
Legal in 26 states + Canada (see site for details)