Once again we take off our fake press passes and put on our real promotion passes to bring you news of a great promotion at our sponsor site, Bet365 Poker. To be fair, we haven't done that all year (boom boom).
What's up for grabs?
Each week, there is €27,000 in freeroll prizes to be won. On top of that, you can win Premium Steps Tournament Tickets with which you can ascend the mountain of poker greatness and play massive major events.
The €27,000 in weekly prizes come by way of daily €1,000 freerolls and weekly €20,000 freerolls. These are all-in shootouts, so once you've signed up you don't need to play out the tournament afterwards.
How do I win?
It's pretty idiot-proof, as promotions go, so even we should be able to win a freeroll ticket or two. Here's how to take part:
Open Bet365 Poker and go to the Missions tab
Select a Daily Mission or a Weekly Mission – or both
Complete the mission, which should be pretty easy
Claim your prize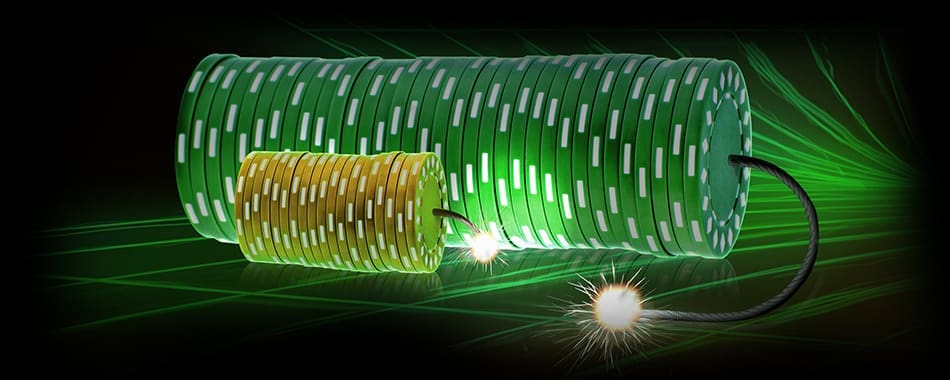 Tell me more about these missions
The Missions change each week, but none of them are hard. In fact, they're so easy anyone can do them – so you've no excuses! There are a couple of different types of missions:
Low and High Missions
Low Missions are easy to do on the cheap and can be bashed out in minutes. For example, you might just have to see the flop in five Speed Poker cash game hands or win two €1.10 Sit & Go Tournaments. You'll receive a €1,000 freeroll entry for completing them.
High Missions are a little trickier, but not too taxing. You might have to see the flop in 15 hands on Speed Poker tables of €0.05/€0.10 or higher, or win 10 €2.50 tournament games. For these, you'll receive a Premium Steps Tournament Ticket worth €2.50.
Daily and Weekly Missions
As you might expect, the Daily Missions are completed each day. There are two per day, Low and High (see above). The Weekly Missions, surprise surprise, are completed each week and award entry to the €20,000 freerolls.
The technical bits
There are a few strings attached to this promotion but they're all very straightforward:
Daily Mission periods run from 00:00 GMT through 23:59 GMT (that's UTC, Yanks)
Weekly Mission periods run from 20:00 GMT Sunday through 19:59 GMT Sunday
The last week has a slightly different start and end date, so watch out for that
€1,000 freerolls take place daily at 19:00 GMT; €20,000 freerolls Sundays at 20:00 GMT
Use 'em or lose 'em – Premium Steps Tournament Tickets expire 60 days after issue