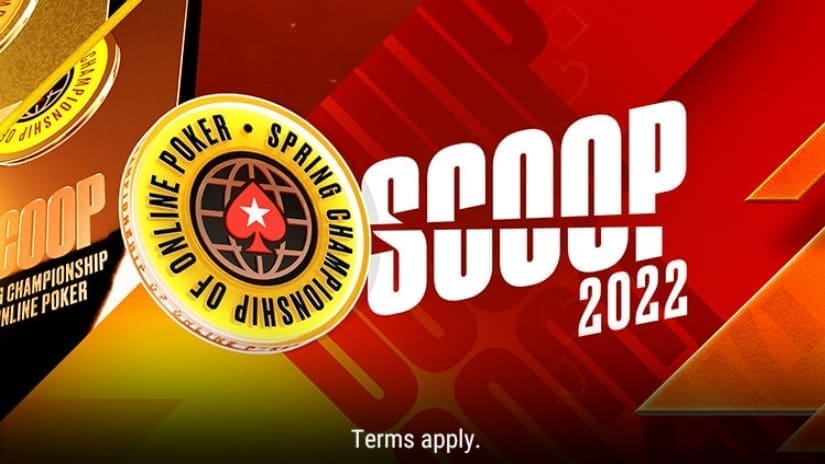 The schedule for this year's PokerStars SCOOP has been released.
There will be $78.5 million guaranteed across a whopping 318 tournaments that will make up the 14th annual Spring Championship of Online Poker.
Things will get underway on Sunday the eighth of May and conclude on Wednesday the first of June, just in time for the summer.
As ever, each of 107 events will come with Low, Medium and High entries meaning that over 318 tourneys there will be something for everyone.

Looking for 2021 WCOOP results? Go here.
SCOOP 2022 key dates
The Festival runs from May 8-June 1, 2022
Hold'em Main Events Sunday, May 29 (4-day tournaments): Buy-ins: $109, $1,050, $10,300 – Guarantees: $2.5m, $4m, $5m
PLO Main Events: Sunday, May 29 (3-day tournaments): Buy-ins: $109, $1,050, $10,300 – Guarantees: $250K, $600K, $800K
Women's Event: Sunday, May 29 (1-day tournament): Buy-ins: $5.50, $22, $109- Guarantees: $3K, $10K, $25K
2022 SCOOP Main Events
The Main Events will get underway on Sunday, May 29 and run for the final four days of the series.
The three Hold'em Main Event buy-ins are $109, $1,050 and $10,300, and the guarantees are $2.5 million, $4 million and $5 million, respectively.
There will also be a PLO Main Event, starting on the same day, as well as a Women's Event for the first time, also on the same Sunday.
On top of the Hold'em Main Events, there will be a further eight tournaments on this year's SCOOP schedule with guarantees of $1 million, including three Sunday Million Special Editions on each Sunday in May.
Again, these come in three levels of buy-in and there will also be numerous satellite tournaments so everybody can get involved.
Mixture Of Games
The majority of events will be no limit Texas Hold'em, but there will also be events in PLO, PLO8, Razz, Stud, Stud 8, 2-7 Triple Draw, 5-Card NLO8, 5-Card PLO, 5-Card PLO8, 6+ (short deck), 8-Game, Badugi, HORSE, 5-Card Draw, Single Draw and a NLH/PLO mix, plus some fixed limit games, including Hold'em and Omaha hi/lo too.
This year's schedule is actually a reduced one given that there were 372 events and $100 million in guarantees put up last year.
In PokerStars' most popular spring offering, there have been more than 11 million tournament entries and prize pools of more than $1.1 billion over the last 13 seasons.
In that time, tournament winners have earned more than $170 million.
$1 Million In SCOOP Related Extras
As well as an action-packed schedule of play on the virtual felt, PokerStars will also be putting up an extra $1 million in added value in SCOOP-related promotions.
Sunday Million Special Editions
May 8 – Buy-ins: $22, $215, $2,100; Guarantees: $275K, $1m, $500K
May 15 – Buy-ins: $55, $530, $5,200; Guarantees: $650K, $1m, $800K
May 22 – Buy-ins: $55, $530, $5,200; Guarantees: $1m, $1m, $800K
SCOOP Pick-A-Box Game
New for SCOOP 2022, PokerStars players will be given the chance to win SCOOP tickets by picking from one of six boxes a day. In all, there will be $250,000 worth of tickets dished out weekly throughout the Series.
SCOOP Leader Boards
Up to $100,000 in cash prizes will be awarded across four SCOOP leader boards. Players will be awarded points every time they take part in a SCOOP event. Points are awarded according to their finishing position. The leaderboards are based on the Low, Medium, and High buy-in events as well as another for overall Player of the Series. Leader board winners will take home a SCOOP trophy to mark their success.
SCOOP Fast Track
SCOOP Fast Track satellites worth $300,000 will be running throughout the series allowing players to qualify for the Main Events for as little as $0.50. The Fast Track has four steps with four different tournaments to compete in and players can buy-in at any step. Naturally, Main Event tickets will always be awarded at Step 4.
Finally, PokerStars will be running Special Edition $0.50, $4, and $20 Spin & Go tournaments where SCOOP tickets will be up for grabs.
PokerStars 2022 SCOOP Results
Check out results of the PokerStars 2022 SCOOP below, which is current as of May 11th.
SCOOP Results As of May 23
| wdt_ID | Event | Entries | Prize pool | Winner | Country | Total prize |
| --- | --- | --- | --- | --- | --- | --- |
| 1 | SCOOP 02-L: $5.50 NLHE [SCOOP Kickoff], $50K Gtd | 12,72 | $62,338 | bergue12 | Brazil | $7,917 |
| 2 | SCOOP 02-M: $55 NLHE [SCOOP Kickoff], $200K Gtd | 5,49 | $274,550 | Mr. Havener | Brazil | $39,036 |
| 3 | SCOOP 02-H: $530 NLHE [SCOOP Kickoff], $300K Gtd | 825,00 | $412,500 | robinho | Sweden | $52,159 |
| 4 | SCOOP 03-L: $11 NLHE [Sunday Warm-Up], $100K Gtd | 14,39 | $141,061 | cautiioN | Brazil | $14,803 |
| 5 | SCOOP 03-M: $109 NLHE [Sunday Warm-Up], $350K Gtd | 4,92 | $492,100 | retro_cheetah01 | Poland | $70,059 |
| 6 | SCOOP 03-H: $1,050 NLHE [Sunday Warm-Up], $400K Gtd | 560,00 | $560,000 | gusmaa | Brazil | $98,854 |
| 7 | SCOOP 04-L: $22 NLHE [Progressive KO, Mini Sunday Million], $275K Gtd | 14,03 | $280,560 | rickroger10 | Brazil | $23,074 |
| 8 | SCOOP 04-M: $215 NLHE [Progressive KO, Sunday Million], $1M Gtd | 7,97 | $1,594,800 | vvdmm | Montenegro | $150,386 |
| 9 | SCOOP 04-H: $2,100 NLHE [Progressive KO, Sunday HR], $500K Gtd | 296,00 | $592,000 | PTFisherman23 | Malta | $123,216 |
| 10 | SCOOP 05-L: $11 PLO, $60K Gtd | 5,36 | $60,000 | Mutinio | Estonia | $8,536 |
| 11 | SCOOP 05-M: $109 PLO, $150K Gtd | 1,42 | $150,000 | PRISON MIKE | UK | $23,020 |
| 12 | SCOOP 05-H: $1,050 PLO, $250K Gtd | 276,00 | $276,000 | #Naktro91 | Andorra | $52,682 |
| 13 | SCOOP 06-L: $3.30 NLHE, $30K Gtd | 12,02 | $35,336 | KingLew888 | Germany | $4,560 |
| 14 | SCOOP 06-M: $33 NLHE, $125K Gtd | 7,64 | $229,050 | Rafaelo97 | Austria | $28,296 |
| 15 | SCOOP 06-H: $320 NLHE, $250K Gtd | 1,26 | $378,600 | KKruchitAAs | Argentina | $59,540 |
| 16 | SCOOP 07-L: $33 NLHE [7-Max, Turbo, Progressive KO, Sunday Cooldown], $150K Gtd | 6,48 | $194,430 | Miawnel11 | Romania | $18,973 |
| 17 | SCOOP 07-M: $215 NLHE [7-Max, Turbo, Progressive KO, Sunday Cooldown], $275K Gtd | 1,85 | $370,600 | temp0r2k | UK | $39,152 |
| 18 | SCOOP 07-H: $1,050 NLHE [7-Max, Turbo, Progressive KO, Sunday Cooldown], $300K Gtd | 342,00 | $342,000 | FishOnHeater | Hungary | $68,630 |
| 19 | SCOOP 08-L: $11 NLHE, $125K Gtd | 15,92 | $155,996 | afzera | Brazil | $17,601 |
| 20 | SCOOP 08-M: $109 NLHE, $400K Gtd | 5,21 | $521,000 | KeyserMM | UK | $74,099 |
| 21 | SCOOP 08-H: $1,050 NLHE, $500K Gtd | 596,00 | $596,000 | tigredefu297 | Uruguay | $104,028 |
| 22 | SCOOP 09-L: $22 HORSE, $30K Gtd | 1,75 | $35,020 | Kid_Poker47 | UK | $5,955 |
| 23 | SCOOP 09-M: $215 HORSE, $50K Gtd | 319,00 | $63,800 | Cmoosepower | Denmark | $12,282 |
| 24 | SCOOP 09-H: $2,100 HORSE, $75K Gtd | 42,00 | $84,000 | RunGodlike | UK | $31,080 |
| 25 | SCOOP 10-L: $5.50 NLHE [Progressive KO], $80K Gtd | 10,78 | $80,000 | felipemota93 | Brazil | $7,339 |
| 26 | SCOOP 10-M: $55 NLHE [Progressive KO], $250K Gtd | 5,73 | $286,400 | propofol-san | Japan | $26,338 |
| 27 | SCOOP 10-H: $530 NLHE [Progressive KO], $275K Gtd | 809,00 | $404,500 | dariepoker | Romania | $61,429 |
| 28 | SCOOP 11-L: $2.20 NLHE, $12.5K Gtd | 9,78 | $19,163 | Nazgúúl | Czech Republic | $2,611 |
| 29 | SCOOP 11-M: $22 NLHE, $75K Gtd | 7,43 | $148,600 | martincho186 | Argentina | $21,060 |
| 30 | SCOOP 11-H: $215 NLHE, $100K Gtd | 1,48 | $295,400 | T-Ruff94 | Argentina | $39,644 |
| 31 | SCOOP 12-L: $11 NL 5-Card Draw [Progressive KO], $15K Gtd | 1,67 | $16,337 | SHAKI 2020 | Belgium | $1,975 |
| 32 | SCOOP 12-M: $109 NL 5-Card Draw [Progressive KO], $17.5K Gtd | 241,00 | $24,100 | newbieaa33 | Austria | $5,347 |
| 33 | SCOOP 12-H: $1,050 NL 5-Card Draw [Progressive KO], $35K Gtd | 37,00 | $37,000 | molodnyak | Latvia | $15,624 |
| 34 | SCOOP 13-L: $109 NLHE [Super Tuesday], $300K Gtd | | | | | |
| 35 | SCOOP 13-M: $1,050 NLHE [Super Tuesday], $500K Gtd | | | | | |
| 36 | SCOOP 13-H: $10,300 NLHE [Super Tuesday High Roller], $700K Gtd | | | | | |
| 37 | SCOOP 14-L: $11 PLO, $35K Gtd | | | | | |
| 38 | SCOOP 14-M: $109 PLO, $85K Gtd | | | | | |
| 39 | SCOOP 14-H: $1,050 PLO, $225K Gtd | | | | | |
| 40 | SCOOP 15-L: $22 NLHE [Progressive KO], $100K Gtd | 8,34 | $166,820 | maxxe777 | Argentina | $14,425 |
| 41 | SCOOP 15-M: $215 NLHE [Progressive KO], $200K Gtd | 1,89 | $377,800 | tchozen666 | Brazil | $40,479 |
| 42 | SCOOP 15-H: $2,100 NLHE [Progressive KO], $225K Gtd | 156,00 | $312,000 | prebz | UK | $65,971 |
| 43 | SCOOP 16-L: $11 6+ Hold'em [6-Max, Turbo], $25K Gtd | 3,12 | $30,576 | Groszquerro | Poland | $4,241 |
| 44 | SCOOP 16-M: $109 6+ Hold'em [6-Max, Turbo], $35K Gtd | 360,00 | $36,000 | UhhMee | Canada | $6,612 |
| 45 | SCOOP 16-H: $1,050 6+ Hold'em [6-Max, Turbo], $50K Gtd | 44,00 | $50,000 | OLD TIME GIN | Canada | $17,754 |
| | Event | Entries | Prize pool | Winner | Country | Total prize |
Best Online Sportsbooks and Casinos
Daily Fantasy, Simplified.
Simply choose over or under on your favorite players to play
No sharks, no salary caps, no BS
Turn the game on and follow along with live player tracking to watch how you're doing
Legal in 26 states + Canada (see site for details)