Mobile gambling, although a fledgling industry, has quickly become a key market for UK punters and online gambling providers. Yet while there are a high number of companies offering sports betting and casino mobile sites, there are still relatively few offering the chance to play for real money via a mobile poker client.
Of course, the mobile poker industry in the UK is still a fledgling industry and there is no doubt that many big companies in the UK gambling industry are already preparing the software they need in order to bring their customers a working mobile poker option.
In this article, we'll examine what the best options are for UK poker players who want to play using their smartphone or tablet device, with each service ranked against the other in several key areas.
By the end of the article, you'll have a far better idea about which of the UK's mobile poker clients offer you the best experience when playing via your mobile.
For the purposes of this article, we reviewed the five major options UK poker players when it comes to mobile poker gaming:
Bet365 Poker Mobile

888 Poker Mobile App

PKR3D App (A 2D version is also available but was not reviewed)

Bwin Poker Mobile App

PokerStars Mobile App
Ladbrokes also state that they offer a mobile poker service but despite repeated attempts to download this poker software onto a brand new iPhone and iPad (both running iOS 7), the software would not work and repeatedly refused to install, hence we are unable to include Ladbrokes in this review.
To ensure fair comparison between the above mobile poker sites, we are going to review each site against the same criteria and give a total mark (out of 10) for each aspect, as well as an overall mark for the site as a whole.
So with that in mind, let us review our first contender, the Bet365 Poker Mobile client.
Bet365 Poker Mobile Client
Compatible with: iPhone, iPad (works with iOS 7)
Installation: Via a mobile website address through a browser initially, though you can create a quick link on your iPad or iPhone so you can access the site like an app.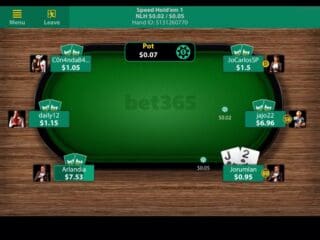 Game Options: Cash Tables (including Premium Tables), Speed Poker
Ease of Use: The first issue you'll notice with the Bet365 Mobile Client is that there is no 'app' for the software. To access it initially, you use a browser (such as Google, or Safari) to visit the Bet365 Poker Mobile site. This is somewhat unnecessarily complex, given that all the other apps reviewed here are easily downloadable via  single click.
You can use the features of your iPad or iPhone to create an icon that will link directly to the site (and thus operate as an app) for the Bet365 site, but really for novice users of these devices or people new to mobile poker, an app download and installation would be much quicker and easier.
That gripe aside, the rest of the registration process with Bet365 is very quick and you also get a fantastic bonus offer when you do join. You can also access many other Bet365 sister sites (sports book, casino, games) easily from your poker client too.
Site Design & Navigation: It is fair to say that the design of the Bet365 mobile site is initially underwhelming and very simplistic. Simple buttons allow you to select which option you prefer from the somewhat limited choice, but doing so is very quick and easy, allowing you to find either the cash table or speed game of your choice.
A nice touch is the ability to add a table to your favourites so you can quickly head back there when you next log into the site.
You can also select which table to play at using a variety of parameters, which is a good idea, including the type of bets, game, the currency used at the table, the size of the stakes and the number of people playing at the table.
Overall, the site is very simple and easy to navigate, but it is a site that is hardly likely to overwhelm the senses given its somewhat Spartan design.
Graphics and Animation: We've already indicate the site looks somewhat lacking in flourishes but the actual poker table itself works perfectly well. It does, in comparison to other sites however, look somewhat dated and simplistic, even if the mechanics and speed of the game work perfectly well.
The gameplay itself is enjoyable enough and the animations are smooth and run well on the iPad and iPhone, but there is an almost retro feel to the software given its dated appearance.
Positive Features:
Superb welcome bonus for new players.
Great links with other Bet365 sister sites.
Speed games are ideal for people who have limited time to play.
Negative Aspects:
Lack of MTTs and Sit & Go games significantly reduces appeal.
The site looks and feels somewhat outdated.
Niggly aspects, such as a new player can join via mobile, qualify for a number of bonuses including access to a free $500 New Player tournament, however they cannot play in this tournament via their mobile device.  No support for Android is also a big minus.
Conclusion: Bet365 Poker's Mobile app is a very simple way to play the game either on the cash tables, or through speed poker. The site does look dated however, but if appearances are not important to you, the actual gameplay on the site is fine.
The excellent welcome bonus for new Bet365 poker players and the speed poker options do offer something that other sites may not and lift the Bet365 client out of the average score mark, however the lack of MTTs and Sit & Go games will significantly impact its popularity with UK Poker players.
That's a shame as with a few small additions and a little updating, this could be a fantastic poker app. As it stands, it is a decent first attempt.
Total Score:  71% – Speed Poker and a great new player bonus lift this app out of the average category but there's still room for lots of improvements to be made.
888 Mobile Poker App
Compatible with: iPad, iPhone (both iOS 7 compatible), Android phones and tablets
Installation: Available via an App downloadable from several locations including the App Store, the provider's website and other specialist poker app sites across the web. The app can also be downloaded by scanning the relevant barcode for your chosen handheld device.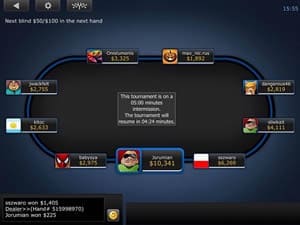 Game Options: Cash Tables, Sit & Go Games, Multi Table Tournaments, Free Play
Ease of Use: Finding and downloading the 888 Mobile Poker app for your mobile device is quick and easy with download available at the touch of a button. Registering on the site is also very quick and easy via your device and you also qualify for a nice player bonus of £12 free cash (Paid in a small stipend for cash tables, plus a number of different denomination Tournament Tokens) as well as bonus cash on your first deposit.
Financial transactions are completed quickly and easily and your balance is quickly refreshed after any transaction has taken place.
Site Design & Navigation: The site design and navigation across the site is user-friendly and intuitive. A slider on the home page allows you to select if you want to play for money, or play for pretend cash (Practice Play). Selecting which type of game you want to play from the three types available is easy and you can set the parameters for Cash Table and Sit & Go games to help you locate a table and game to suit you quickly.
Clicking on the Scheduled Tournaments icon brings up a list of tournaments that are running (but registration is still open) or are due to start over the next couple of hours or so.
It is very easy to navigate to the specific type of game and table you want, although at times you can face a wait to play at some tables while they fill up with other players.
Graphics and Animation: The graphics and design of the 888 Poker app are excellent. The menus are large enough to easily select the features you want without having to play around with your device.
The graphics and animations at the table are also impressive. There are plenty of options you can select to personalise your table and avatar and you can even play at the Cam tables, which will access your webcam to show your face at the table against other players from around the world.
The representation of poker is excellent with smooth animations and easy to see cards, but it isn't groundbreaking by any means.
Positive Features:
Great welcome bonus for all new players.
Plenty of poker options to keep all types of poker players interested.
Despite having lots of options, the site is quick and easy to navigate.
Negative Aspects:
You may have to wait to play in some tournaments while they fill up.
Tournament lists cannot be sorted by start time or buy in.
Not enough account information is displayed for the user. You cannot, for example, see which tournament tokens from your introductory offer you have available, even though you can use them from the mobile client.
Conclusion: 888 Poker's mobile app is certainly one of the very best available on the market today. It does the basics of a poker site, payments, navigation, animation and poker gameplay very well, but it is the added attention to detail which makes it score better than many other competitors.
The wealth of options available mean that the app will have broad appeal to all poker players, while a free play option will also attract users. The wealth of tournaments, tables and other events available is superb.
That said, the app isn't perfect. There's a few frustrating niggles that I've listed above, but overall, as UK mobile poker apps go, 888 Poker is certainly at the forefront of apps for serious poker players.
Total Score:  92% – A great site, plentiful options, fast, reliable and a great bonus offer too
PKR 3D Mobile Poker App
Compatible with: iPad, iPhone (both iOS 7 compatible), Android tablets and phones (there is a list of officially supported devices)
Installation: The PKR 3D software is available to download from the providers own site or from the App Store for Apple devices. The software developers recommend that if any player has performances issues using this software they should try the PKR 2D option instead.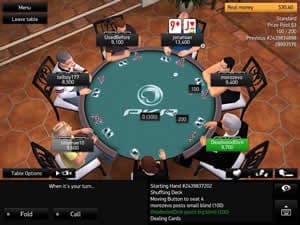 Game Options: Cash Games (Ring Game), Sit & Go Tournaments, Free Play, Heads Up
Ease of Use: Downloading the PKR 3D Poker app is quick and easy from any of the outlets listed above. Registering does take a little time (and due to the small boxes, can be quite fiddly on smaller mobile devices).
It is worth checking however if you have an Android device whether it is officially supported by the software. If not then it is possible you may have problems running this software on an unsupported device. In which case, users should download the 2D version of the game instead.
Making a deposit on the site was quick, but the lack of a new player bonus when registering via a mobile device was disappointing. All financial transactions from the app are completed quickly and securely.
Site Design & Navigation: The site navigation and design is relatively straightforward. After you log in, you have four options, you can either play a Ring Game (a cash table), find a Sit and Go tournament you want to play in, or play a game that the site has available now (the details of which are shown underneath the box). Alternatively, you can switch from real cash games, to free play games using the blue bar.
Once you've made your selection, you then set the parameters for your choice of table. This is easily done and when you have finished your selections, a list of suitable tables is shown. Click on the table to join and begin playing.
The design is simple and intuitive and it is easy to find the games you want.
Graphics and Animation: This is where PKR 3D Poker mobile app scores very well indeed. Unlike other games, which simply show you the cards with limited animations, PKR 3D show you the entire table with six virtual players sat at the table, plus a dealer.
The animations show the players throwing chips into the middle, folding cards, tapping the table when checking, shuffling in their seats and sitting back when they fold. Players can also chat at the table using a chat icon, which brings up a keyboard for you to type in a comment.
While the animations are beautifully realised and certainly enhance the experience, they do have a downside and that is they do slow down gameplay markedly when compared to less graphics intensive tables.
Positive Features:
Outstanding graphical representation of the poker tables.
Lots of game options to select from, including Omaha.
The ability to select a table, rather than simply be allocated to one, is a nice touch and allows users to decide exactly where they want to play.
Negative Aspects:
No new player bonus.
Gameplay at the tables is slower due to the graphics.
The game may not be playable on some Android devices that are not officially supported (though a 2D version of the game is available).
Conclusion: This is a very impressive attempt at bringing a different, more 'real world' approach to Mobile Poker and it does work. The big selling point of the PKR 3D app is the graphics and they certainly make a change from the simple versions of poker available.
The app has plenty of features to keep most poker players entertained and the free option allows players who don't want to play for cash to experience the game.
The only down side is that not all Android devices are supported and that the graphics and animations slow down the speed of the play at the tables, but if you prefer a slower paced game, then this is a great option.
Total Score: 87% – A fantastic innovative approach to poker, with a few tweaks and additions, notably a new player bonus and MTT's this could be very special indeed.
Bwin Poker Mobile App
Compatible with: iPhone, iPad (both iOS 7 compatible), Android devices
Installation: Apps are available for download from the App Store for Apple devices, Android apps are available from the client site via download, or by scanning a bar code.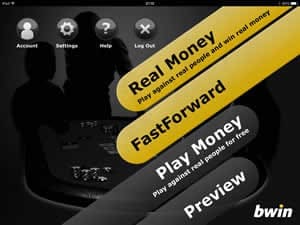 Game Options: Cash Tables, Free Play
Ease of Use: Downloading the Bwin Poker App is quick and easy and registering an account on the site is quick and easy to complete. There are a large number of ways to deposit and withdraw cash including all the most popular options (eWallet, credit or debit cards) and transactions are completed swiftly and smoothly.
A nice touch for new poker players is the Preview option on the front page. Clicking on this runs a tutorial that player can watch and interact with in order to learn how to play the game on the app and to gain a basic understanding of the rudiments of Texas Hold'em poker as played on the Bwin site.
Site Design & Navigation: The home page of the site is bright and colourful and well designed clearly outlining the different poker options available. The yellow and black livery is eye-catching and does make the site look appealing to play.
Finding a cash table is easy, you can either specify what game type, the number of players and the stakes you want to play for in the Real Money option, or if you have already played on site and have a favourite table, Fast Forward will take you directly to a table that matches your favourite options.
You can also play for free against other players using pretend cash via the Play Money option.
Navigation to the table and game of your choice is quick and smooth and is one of the stronger aspects of the site.
Graphics and Animation: When it comes to the actual poker table, the graphics and animations certainly perform well. The cards are clear and there are numerous options to tailor the presentation to your own liking. The animations are fast and smooth and don't appear glitch. The player avatars are also much better than those on other sites.
Positive Features:
Fast and easy to set up and play once you are a member.
Free play option makes this a good site for new or micro stakes players.
A range of cash tables available to suit the more experienced.
Negative Aspects:
No Sit & Go or Multi Table Tournaments available.
No new player bonus when you register via mobile.
Presentation of the poker table is nice, but lacks a little sparkle.
Conclusion: Bwin Poker app is an ideal app if you are a fan of the smaller stakes cash table games, or you want to play free poker against other people from across Europe. It performs these tasks very well and will offer fans of these games plenty of opportunity to play.
That said, it is sorely lacking in features and the lack of MTT and Sit & Go tournaments, really impacts upon the long term appeal of this app for the majority of poker players.
It is also annoying that while people who register via the website can receive a bonus for joining Bwin, if you register via the app, no such bonus is forthcoming. This is a huge oversight and is likely to turn people away from registering via mobile.
Bwin Poker is an app that is good at what it does, but it doesn't do enough to justify a top score.
Total Score:  62% – A good site for cash tables, but some disappointing omissions.
PokerStars Mobile Client
Compatible with: iPod, iPad, iPhone (iOS 7 compatible), Android devices
Installation: Apps can be downloaded from the client site or from the App Store in the case of Apple devices.  PokerStars mobile app is also available in the Google Play Store, though only for the free-to-play version of the app (no real money games).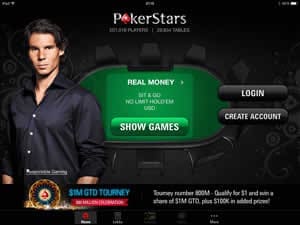 Game Options: Ring Games (Cash Tables), Sit & Go, MTTs, Zoom Games, Free Poker
Ease of Use: Given the wide availability of the PokerStars app, downloading and installing is very easy, as is the registration process. Depositing cash too was quick and easy with plenty of options available to the player with how to pay. The lack of a new player bonus offer however was disappointing.
Site Design & Navigation: This is where PokerStars does have a few issues. For a novice player, the site is not particularly easy to navigate and also at times, not the most intuitive. For example, click on the wrong button accidentally and the software can try to log you into a big money game that you do not have enough funds to play.
How the cash tables are organised is well done, but the tournament section does need to be improved as it is difficult for a novice player to recognise when a tournament is in play (with registration still open), or has not yet started.
So while navigating around the site and starting the games is relatively easy, finding the right game you want to play, especially if it is a tournament can be problematic at times due to the lack of information provided on the screen.
Graphics and Animation: The graphics of the site and the actual poker table are generally good. The site uses a simple approach and a particularly nice touch is the preview of a table which shows you how many seats are at the table and how many players are playing.
The actual gameplay at the table is smooth and the animations do not lag or cause any issues when running on the devices tested on. The graphics for the cards and avatars are generally good and compare favourably with similar poker apps.
Positive Features:
A vast number of tables and tournaments available.
A very popular site worldwide with thousands of users at all times of the day.
A great range of tournaments to suit all players, including micro stakes players and high rollers.
Negative Aspects:
No new player bonus for those registering via a mobile device.
Organisation of the tournaments is confusing and not easy to follow.
Options are not intuitive meaning the app presents you with options that you don't really need (such as a $160 buy in cash table, for a player with $20 in their account).
Conclusion: If you are a more experienced poker player, then PokerStars is certainly the perfect site to you given the vast range of games on offer. It has everything a relatively skilled poker player would need to enjoy playing the game via mobile.
However, as a novice player the site can appear daunting and it can be hard to find the tournaments that you want to play in. That said, it does offer good options for new players, though the lack of a bonus when registering via mobile is a big negative.
In terms of top quality poker action though, PokerStars is hard to beat, but the app could still do with a little work.
Total Score: 89% – Ideal if you have a little poker experience, but not the easiest site for a new user to get to grips with.
The Final Standings – Overall Score
888 Poker: 92%
PokerStars: 89%
PKR 3D: 87%
Bet365 Poker: 71%
Bwin: 62%