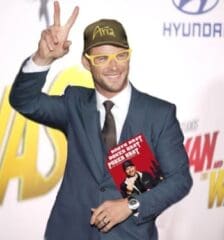 Los Angeles, CA – Huh.
In a move that Hollywood insiders are calling "what?", action star Chris Hemsworth came dressed as poker star Phil Hellmuth to his latest movie premier.
The move appears to be some type of meta joke in response to Phil Hellmuth coming dressed as Thor to play Day 1C of the 2018 WSOP Main Event.
The film premier was for Marvel's Ant-Man and the Wasp starring Paul Rudd, Evangeline Lilly, Michael Douglas, and why am I telling you this it's a Marvel movie you've already seen it.
Cosplay confuses cinema world
At the premier, Hemsworth was decked out in classic Hellmuthian-signature black and gold. Wearing stylish gold glasses, gold shoes and a black Aria baseball cap, Hemsworth looked amazing. Although that's less because he was dressed like Phil and moreso because he's Chris Hemsworth and he could look great wearing a trashcan as a shirt and roadkill as a hat.
But the highlight of the evening came when Hemsworth did a perfect imitation of Hellmuth by berating everyone around him, not cheating on his wife, and then also not making any WSOP final tables.
The 32-year-old Australian actor also seemed to be carrying around copies of Phil Hellmuth's autobiography Poker Brat, which he handed to several reporters and other industry insiders who were in attendance.
Of course very few in attendance really understood the reference Hemsworth was going for. One reporter for the Boston Globe was figuratively beside himself with confusion:
"I get how this is a joke, but how could this sort of thing possibly resonate with 99% of the audience!? Chris Hemsworth is 1,000 times more famous than Phil Hellmuth! Yeah I know who Phil Hellmuth is – but that's because I watched poker in 2005 right after my wife left me and I developed a drinking problem. I wish I had someone to talk to about it…"
Well that got serious real fast. Anyway, BCP was able to grab one quick soundbite with Hemsworth to hear just exactly what his thinking was with his costume:
"What, this? That's easy, mate. I'm best friends with Joe Hachem."
Hemworth re-inspires Hellmuth
Oh, well how 'bout that. Hellmuth, when he learned of Hemsworth's actions, obviously got a massive ego rush and immediately changed back into this Thor costume for Day 3 of the Main Event.
Phil returned from dinner break where he stood on top of a chair and yelled for all to hear –
"I never give up! I'm Phil Hellmuth! And like Thor, son of Odin, I can never be killed! I'm going to live forever! And I can never be eliminated!"
Phil Hellmuth was eliminated shortly thereafter after folding his way down to two blinds.
Also read: WSOP Main Event Day 1b Participant Promised A Bunch Of People That He'd Win