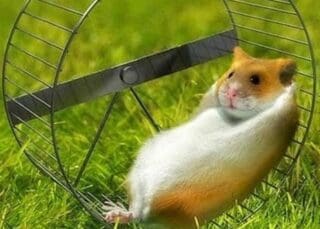 Real money wagers on sporting events have become the "talk of the town" since the United States Supreme Court officially overturned restrictions on statewide sports betting, by deeming the 1992 PASPA legislation as unconstitutional.
The news has been met with quite the fanfare for American-facing bookmakers and the iGaming industry as a whole. Separately, mainstream media is tallying-up the billions of dollars in imagined revenue that they believe legalized sports betting will bring each state.
With all the sports betting legislation fever going around, it is understandable why industry insiders and poker players alike have forsaken a regulated sports betting opportunity that has been legal since the early 1990s — Montana Gerbil Racing.
Are Montana gerbil races truly regulated?
Yes, and you can scroll down a bit further for more information on this topic in our "White Paper Investment Guide." But to summarize, The Treasure State offers formally legalized gerbil, pig, and hamster races to customers in certain areas, typically in the form of "Squares" betting — with separate "auction" proceeds going to a combination of charitable and municipal causes. Apparently the gerbil racing lobby was able to accomplish something the sports betting lobby could not for over 25 years.
Wait… the gerbil racing industry is worth trillions?
Well, that might be a stretch. We don't have any official data on real money gerbil race wagering that takes place in an unregulated environment. But it could be trillions, right?
However, the licensed Montana gerbil racing industry may require some hefty investment to realize its full potential. Venture capitalists are reportedly in board rooms as we speak to decide whether to get behind legalized sports betting or the "gerbil" thing.
Montana Regulated Gerbil Racing Investment Guide (White Paper)
For those who would like to learn more about how to get involved in the Montana gerbil racing industry, we've put together a FAQ Starter Kit for would-be investors.
Q: Must gerbils pass a driver's license test before entering a race?
A: No. Gerbil owners will not have to concern themselves with teaching their pets how to drive… as the critters use their lil' feet to actually run in the races. Avoiding this expense alone could prove to be sufficient justification for investors who might otherwise balk at licensed gerbil competition.
Q: Who looks after the well-being of animals used in regulated Montana races?
A. The Montana Department of Health does, although this seems to be more in relation to pigs that are auctioned off after races, only to be eaten at a later date. There have been no reports of gerbils facing the same fate.
Q: How long are gerbil race tracks?
A: This information is unknown, as most of the gerbil racing that does (or could) take place occurs on the outskirts of municipalities that have a population of 100 people or less. Certifying a specific length for gerbil race tracks could be an important focal point for industry lobbyists in years to come.
Q: Is there any paperwork involved in becoming a gerbil owner and throwing your investment hat into regulated racing?
A: The main factor in determining whether you'll be eligible to participate in the licensed Montana gerbil racing industry is Montana residency. Please take into consideration any corresponding relocation expenses if you decide to invest. No word on if gerbil owners are accepting affiliates.
Q: What about chickens?
A: Don't be ridiculous. Only gerbils, hamsters, and pigs are allowed to race in a regulated environment in Montana (more on this below).
No chicken races? LOL, doubt ur 4 realz.
You're not alone in wondering whether chickens have been cast aside. This exact point was brought up in a 1993 Montana Senate Business & Industry Committee Meeting (See top of Page 6). Then-State Senator Chris Christiaens argued that perhaps chicken races should have been added to House Bill 433, as he "felt there needed to be a clarification of other animals besides hamsters, gerbils, and pigs. He stated some small towns also hold chicken races."
Alas, only gerbil, pig, and hamster races are licensed in Montana. So much for living in a free country.
Is Montana gerbil racing for you?
If you've carefully looked over our investment guide for Montana gerbil racing and are convinced by the trillions in potential revenue it could bring the state, then perhaps you'll also be interested in our exclusive Bonus Code Poker sale offer.
Also read: World Series Of Poker Double-Up Tournament Awards Bracelets To 1,600 Different Players