You may be aware that today is when I usually compile my weekly update to what has happened in the NFL.
But given what happened last night in the Monday Night game between the Bills and Bengals, that doesn't seem so important right now.
Damar Hamlin, the Bills safety, suffered a cardiac arrest on the field after tackling a Bengals wide receiver on a play during the first quarter.
The play, which looked innocuous enough at the time, saw Hamlin initially get to his feet, before he fell over backwards.
Fortunately, players recognised the severity of the situation and medical teams were quickly onto the field to tend to the stricken player.
The Aftermath
A few hours after the incident which saw attending fans stunned into silence, prayer and tears, the NFL announced that the game had been postponed.
The Buffalo Bills then issued the following Tweet update:
There has been an outpouring of support for the player following the tragic incident, with thousands of fans of all NFL teams and from around the world, expressing their sorrow and hoping that he makes a speedy recovery.
One of the most erudite and powerful statements came from former Steelers safety Ryan Clark who encapsulated the feeling of many with this powerful commentary on what happened and what NFL players risk each and every day.
Heart Issues In Sport
Damar Hamlin's cardiac arrest is the latest in a growing line of incidents that have happened over the years, a number of the similarly high-profile ones in the world of soccer.
However, there has been vastly different outcomes for the player that suffered the issue.
The worst-case scenario came to be in the case of ex-Manchester City and Cameroon footballer Marc-Vivien Foe, who collapsed during a Confederations Cup game while playing for his country in 2003 and died in the medical room shortly thereafter.
Similarly in 2009, Espanol defender Daniel Jarque died from a cardiac arrest following a training session for his club.
That shattering news came just two years after Sevilla defender Antonio Puerta died in hospital after a game against Getafe C.F.
Another to lose their life was ex-Newcastle United and Ivory Coast midfielder Cheick Tiote, who died in hospital after collapsing during a training session when playing for a club in China.
More Positive Outcomes
However, it is important to note that a cardiac incident on the field does not always mean death for the unlucky player that suffers it.
There was a more positive outcome for ex-Bolton Wanderers midfielder Fabrice Muamba who suffered a cardiac arrest during a televised game against Tottenham in March 2012.
Muamba received treatment quickly, including from a fan who was at the game who was a consultant cardiologist, and despite the fact his heart had stopped for 78 minutes, he did recover, although he had to retire from football as a result.
The most positive outcome is also one of the most recent and high-profile events in recent history as during the Finland v Denmark game at the 2020 European Championships (played in 2021) Danish midfielder Christian Eriksen collapsed after suffering a cardiac arrest.
Once again medical teams were quick to attend to the player and a short time later, Eriksen was photographed in bed, although at that time his future remained unclear.
Eriksen had an implantable cardioverter-defibrillator (ICD) implanted into his chest and incredibly, he began to try and resurrect his football career just a few months after the incident.
Given an opportunity to play and train with Brentford, he made a full recovery, playing a starring role for Brentford in their first Premier League campaign and earning himself a move to Manchester United, as well as resuming his career for Denmark, for whom he played at the recent 2022 World Cup Finals in Qatar.
What Causes These Heart Issues In Fit And Healthy Young Men And Women?
It seems strange to consider that these young men and women who have suffered these heart issues in sport should do so at all.
They are usually extremely fit and healthy, they are checked medically often, they eat and do the right things and should be amongst the least likely to suffer from these kind of events.
However, what usually causes these issues are:
A previously undiagnosed and unknown heart condition.
A sudden severe trauma to the person as a whole, or to the chest/heart area (commotio cordis)
One of the most common undiagnosed issues is arrhythmogenic cardiomyopathy, a genetic condition that affects certain parts of the heart muscle, usually in the right ventricle, but cases in the left ventricle have also been reported.
This has been monitored in a number of young men and women who are sports athletes and professionals and there is evidence that strenuous exercise can be a contributory cause.
However in the case of Damar Hamlin, it appears it was the collision with the Bengals player, which impacted him in the chest area, that caused his cardiac arrest.
In these circumstances, the sudden shock to the region around the heart, or the bodies electrical systems, can cause the heart to go into sudden cardiac arrest.
This type of cardiac incident is often seen when a person is struck by lightning, or has been involved in a violent trauma of some sort.
However, it should be noted that nothing official has been forthcoming from the Buffalo Bills, or the medical team treating the player, and as such it is best not to draw any conclusions as to what happened until the experts have had time to investigate.
Foundation Community Toy Drive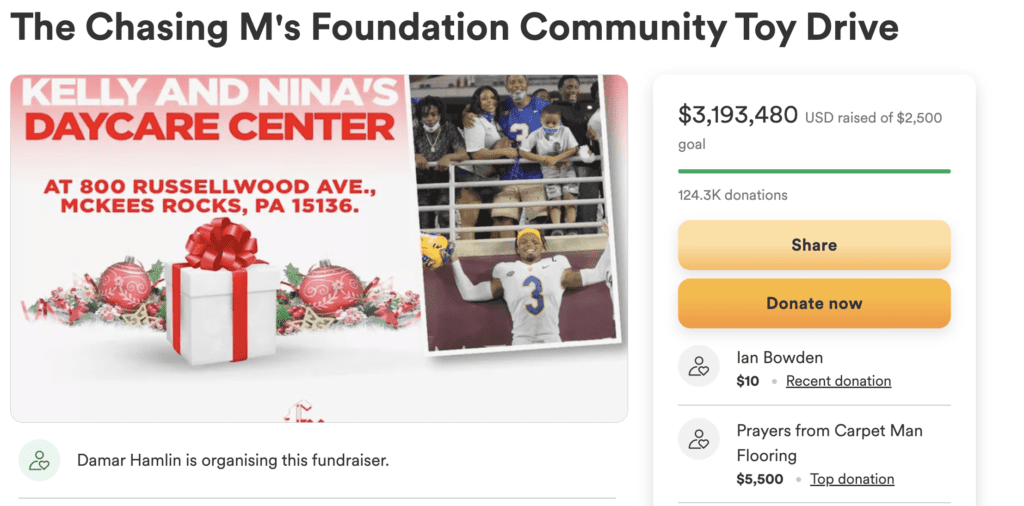 Following the incident, several people publicised Damar Hamlin's charitable initiative, a Toy Drive for which he had set up a Go Fund Me account that hoped to raise $2,500 to buy toys for Kelly and Nina's Daycare Center.
Currently, the total donated to the cause has increased to over $3.1 million.
Here's hoping that the positive signs and swift treatment that Damar Hamlin received will result in him making a full recovery and, even if a return to professional football is not possible, he can go on to live a long, happy and healthy life.
We will post our weekly NFL update once the NFL has made a decision about what is going to happen with the Bills v Bengals game and, hopefully, when we have some positive news about Damar Hamlin's condition.