With six teams on a bye week, there were fewer than usual games in the NFL on Matchday 9, but that didn't leave us short of excitement, top quality action, or surprises.
Top of the surprise chart was the superb win over our former No 1 Power Ranked team, the Buffalo Bills, by the fast-emerging New York Jets who are putting up a fantastic show this season under Robert Saleh.
The Titans, even without Ryan Tannehill at QB, pushed the Chiefs incredibly hard, only losing in Overtime against Patrick Mahomes and company, while the Lions produced a fantastic performance beating the sliding Green Bay Packers 15-9.
Remember, you can enjoy a fantastic selection of bets every week with Bet365 Sport on the NFL including pre-game and In Play betting across all the action stateside.
Bet365 Review
Min deposit €5
Up to €100 in Bet Credits For New Customers at bet365
Min deposit €5. Bet Credits available for use upon settlement of bets to value of qualifying deposit. Min odds, bet and payment method exclusions apply. Returns exclude Bet Credits stake. Time limits and T&Cs apply. The bonus code BET247 can be used during registration, but does not change the offer amount in any way.
Ladbrokes Review
Get €20 When You Bet €5
Deposit €5 on Signup
Get €20
New players only
Let's now take a look at the headlines in what looks like being a key week of the season for a number of teams.
NFL Matchday 9 – Main Stories
Mixon Has Career Day As Bengals Ravage Panthers – Forget the scoreline here as the Panthers scored their points in garbage time and after the Bengals had effectively laid down their tools early in the third quarter. This was all about the first half performance of Joe Mixon who rushed 22 times for 153 yards and 4 touchdowns.He also caught 4 balls for 58 yards and another touchdown in what was a career day for the superstar running back.
Sauce Seals Jets Stunning Win Over Bills – A fantastic rearguard action by the New York Jets was the catalyst for a stunning victory over the much-fancied Buffalo Bills. The Jets defence hounded Josh Allen all day, restricting him to 205 yards passing and two interceptions. Allen did rush for two touchdowns but the Jets star corner Sauce Gardiner landed the second game-sealing interception late on to hand the Jets a huge win in the AFC East.
Packers Woes Continue In Damaging Lions Loss – How bad can things get for the Packers? Well worse after this week's shattering loss to the Lions. Make no mistake, Detroit fully deserved this win as their much maligned and worst-ranked defense finally showed up to intercept Aaron Rodgers 3 times and hold the Packers to just nine points. This is a great win for the Lions but it hints at real problems in Green Bay.
Eagles Still Undefeated After Win Over Plucky Texans – The Eagles landed their win as expected to move to 8-0, but the Texans made life very tough for them for at least three quarters. Dameon Pierce ran for 139 yards in another stellar showing by the rookie running back for the Texans, but touchdowns on the ground for Miles Sanders and Kenneth Gainwell, and through the air for Dallas Goedert and A.J.Brown ensured the Eagles retained their 100% record.
Fields Career Day Not Enough To Stop Dolphins – Chicago Bears Quarterback Justin Fields had a career day as a Bear when he passed for 123 yards and three touchdowns, as well as running for 178 yards and one touchdown as the Bears went up against the Dolphins. However, it wasn't enough to stop this power-packed Dolphins offense who saw Tyreek Hill rack up 143 yards and a touchdown to claim a 35-32 victory.
NFL Star Performers of the Week – Offense/ST
RB Joe Mixon (Bengals) – 22 carries, 153 yards, 4 touchdowns, 4 receptions, 58 yards, 1 TD.
QB Justin Fields (Bears) – 17/28 for 123 yards and 3 TDs, 178 yards rushing, for 1 TD
TE Dallas Goedert (Eagles) – 8 receptions for 100 yards and a touchdown.
WR Justin Jefferson (Vikings) – 7 receptions for 115 yards and a touchdown
QB Trevor Lawrence (Jaguars) – 25/31 for 235 yards and 1 touchdown.
RB Travis Etienne (Jaguars) – 28 carries for 109 yards and 2 touchdowns
WR Davante Adams (Raiders) – 10 receptions for 146 yards and 2 touchdowns
QB Tua Tagovailoa (Dolphins) – 21/30 for 302 yards and 3 touchdowns
WR Tyreek Hill (Dolphins) – 7 receptions for 143 yards and 1 touchdown
QB Patrick Mahomes (Chiefs) – 43/68 for 446 yards and a touchdown, 63 yards rushing, 1 TD
RB Derrick Henry (Titans) – 17 carries for 115 yards and 2 touchdowns
NFL Star Performers Of The Week – Defense
New York Jets – When you essentially all but hold the most explosive offense in the NFL to just two touchdowns, you know your defense has had a great game, but the Jets defensive unit were sensational against the Bills. With CJ Moseley leading by example and Sauce Gardner proving to be a shut-down corner, this Jets defensive unit showed promise last year and it is now delivering on it. They are the reason the Jets are 6-3 at this point of the season.
Detroit Lions – Rookie Kerby Joseph had his best ever day as a Lions cornerback with two interceptions from Aaron Rodgers as the Lions defense laid the foundations for a stunning win over Green Bay. There were many outstanding performances on the Lions defense on Sunday night in a win that will give Dan Campbell hope that his team can turn a corner and start to pick up more wins.
Tampa Bay Buccaneers – The last two Super Bowl winners met with both teams under .500 for the season and something had to improve for both to win this game. Fortunately for the Bucs, their defense did the job. They sacked the Rams quarterback four times and kept the pressure on Matt Stafford all game, Vita Vea in particular causing the Rams offensive line all kinds of problems.
New England Patriots – With their offense stuttering, the New England Patriots defense showed up big time against the Colts this week, restricting their opponents to just a single field goal, as well as sacking the Colts quarterback Sam Ehlinger, nine times and intercepting him once, scoring a defensive touchdown from the play. They may have put up 26 points, but this Patriots win was firmly down to its defense.
NFL Rookies Of The Week
RB Kenneth Walker (Seahawks) – 109 yards rushing, 2 touchdowns
TE Cade Totton (Buccaneers) – 5 receptions for 68 yards & 1 touchdown
S Kerby Joseph (Lions) – 10 tackles, 2 interceptions, 3 passes defensed
CB Sauce Gardner (Jets) – 7 tackles, 1 interception, 1 pass defensed
RB Dameon Pierce (Texans) – 139 yards rushing
WR Garrett Wilson (Jets) – 92 yards receiving
NFL Key Injuries
WR Romeo Doubs (Packers) – Ankle injury. Timescale to return unknown.
TE Evan Engram (Jaguars) – Back Injury – Questionable for next weeks game.
RB Aaron Jones (Packers) – Picked up an ankle injury in the 4th quarter.
LB Divine Deablo (Raiders) – Forearm injury and is questionable for next weekend.
CB Kaiir Elam (Bills) – Ankle injury sustained against the Jets. Day to day.
NFL Bonehead Play of The Week
I really don't like picking on rookies for this category but in a week of very few poor plays that had a key impact on the game, there is only one that leaps to mind that fits into this category. WR Drake London had 3 catches for 23 yards against the Chargers for the Falcons, but what happened in the second half of that game was crucial.
With the Falcons driving and looking to extend their narrow 17-14 lead over the Chargers,QB Marcus Mariota threw the ball to London who advanced deep into Chargers territory.
However, as he was held up by Chargers tacklers, he didn't protect the ball well enough, allowing Khalil Mack to rip the ball out of his hands and charge upfield, putting the Chargers in great field position.
Here they would advance the ball and then kick the first of the two field goals that ultimately won them the game, the last coming as time expired.
This was not a monumental bonehead play as such, but it was one that the rookie London needs to learn from and fast as it did likely cost his team the game.
NFL Matchday 9 – Results
Philadelphia Eagles 29-17 Houston Texans
Indianapolis Colts 3-26 New England Patriots
Green Bay Packers 9-15 Detroit Lions
Los Angeles Chargers 20-17 Atlanta Falcons
Buffalo Bills 17-20 New York Jets
Minnesota Vikings 20-17 Washington Commanders
Carolina Panthers 21-42 Cincinnati Bengals
Las Vegas Raiders 20-27 Jacksonville Jaguars
Miami Dolphins 35-32 Chicago Bears
Seattle Seahawks 31-21 Arizona Cardinals
Los Angeles Rams 13-16 Tampa Bay Buccaneers
Tennessee Titans 17-20 Kansas City Chiefs (OT)
Baltimore Ravens 27-13 New Orleans Saints
NFL Standings After Matchday 9
| | | | | | | | |
| --- | --- | --- | --- | --- | --- | --- | --- |
| NFC North | | NFC West | | NFC East | | NFC South | |
| Vikings | 7-1 | Seahawks | 6-3 | Eagles | 8-0 | Buccaneers | 4-5 |
| Packers | 3-6 | 49ers | 4-4 | Cowboys | 6-2 | Falcons | 4-5 |
| Bears | 3-6 | Rams | 3-5 | Giants | 6-2 | Saints | 3-6 |
| Lions | 2-6 | Cardinals | 3-6 | Commanders | 4-5 | Panthers | 2-7 |
| AFC North | | AFC West | | AFC East | | AFC South | |
| Ravens | 6-3 | Chiefs | 6-2 | Bills | 6-2 | Titans | 5-3 |
| Bengals | 5-4 | Chargers | 5-3 | Jets | 6-3 | Colts | 3-5-1 |
| Browns | 3-5 | Broncos | 3-5 | Dolphins | 6-3 | Jaguars | 3-6 |
| Steelers | 2-6 | Raiders | 2-6 | Patriots | 5-4 | Texans | 1-6-1 |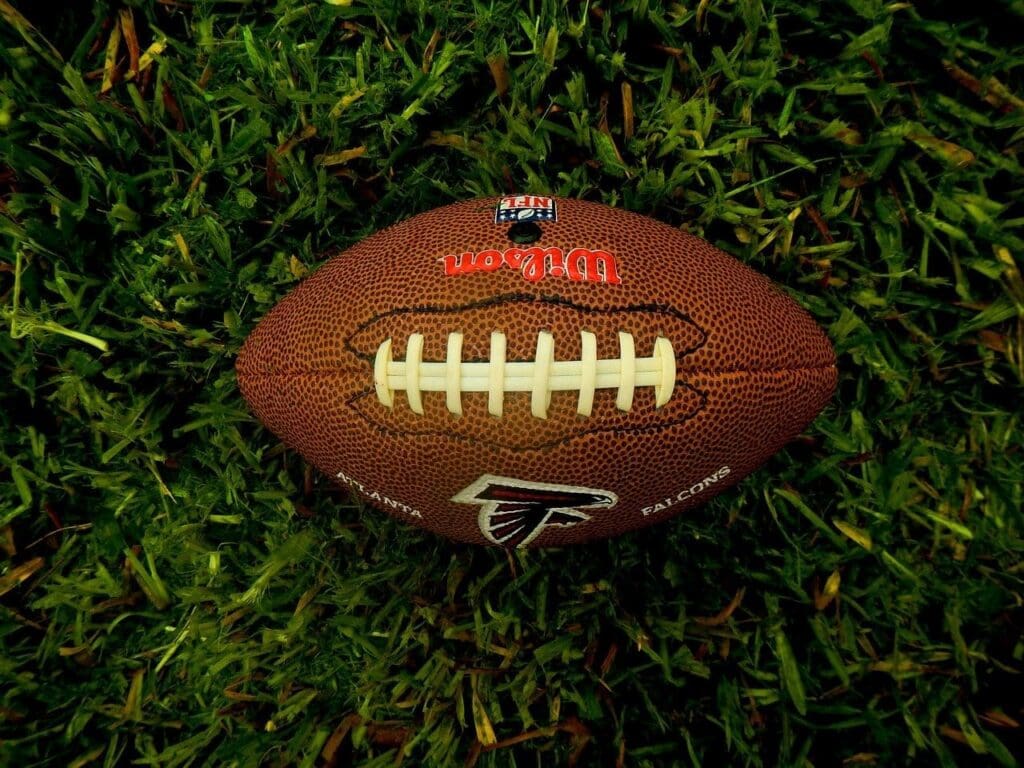 NFL Matchday 10 – Fixtures
Thursday 10th November
Atlanta Falcons (4-5) @ Carolina Panthers (2-7)
Sunday 13th November
Seattle Seahawks (6-3) @ Tampa Bay Buccaneers (4-5) (Munich)
Detroit Lions (2-6) @ Chicago Bears (3-6)
Cleveland Browns (3-5) @ Miami Dolphins (6-3)
Denver Broncos (3-5) @ Tennessee Titans (5-3)
Minnesota Vikings (7-1) @ Buffalo Bills (6-2)
Houston Texans (1-6-1) @ New York Giants (6-2)
Jacksonville Jaguars (3-6) @ Kansas City Chiefs (6-2)
New Orleans Saints (3-6) @ Pittsburgh Steelers (2-6)
Indianapolis Colts (3-5-1) @ Las Vegas Raiders (2-6)
Arizona Cardinals (3-6) @ Los Angeles Rams (3-5)
Dallas Cowboys (6-2) @ Green Bay Packers (3-6)
Los Angeles Chargers (5-3) @ San Francisco 49ers (4-4)
Monday 14th November
Washington Commanders (4-5) @ Philadelphia Eagles (8-0)
Bye Week – Baltimore Ravens, Cincinnati Bengals, New England Patriots, New York Jets
NFL Matchday 10 – Top Betting Tips With Bet365
Great profit last week as three of our bets came in bang on the money and we just missed out on the Under 47 points in the Raider v Jags game plus we had the Titans to beat the Chiefs, with Tennessee only losing in Overtime. With combined odds of 63.47/1 on the three winners, let's hope we can post a similar great profit this week too.
Atlanta Falcons @ Carolina Panthers – Under 43.5 pts (10/11)
Denver Broncos @ Tennessee Titans – Under 39.0 pts (10/11)
Bills to beat the Vikings by 13-18 points – 19/4
Lions to beat the Bears by 1-6 points – 7/2
Eagles to beat the Commanders by 7-12 points – 4/1
NFL – Power Rankings (After Week 9)
Philadelphia Eagles (8-0) (7,4,2,1,3,2,2,2,1)
Buffalo Bills (6-2) (1,1,1,2,1,1,1,1,2)
Minnesota Vikings (7-1) (9,12,13,9,5,4,5,4,3)
Kansas City Chiefs (6-2) (2,2,4,3,2,3,3,3,4)
Dallas Cowboys (6-2) (19,17,11,6,4,7,6,5,5)
New York Jets (6-3) (32,27,31,26,19,13,7,11,6)
New York Giants (6-2) (22,10,15,14,6,5,4,7,7)
Seattle Seahawks (6-3) (23,25,29,24,25,20,12,9,8)
Tennessee Titans (5-3) (24,31,23,19,12,15,8,6,9)
Baltimore Ravens (6-3) (6,8,6,8,7,8,11,8,10)
Cincinnati Bengals (5-4) (8,15,12,11,13,9,9,13,11)
Miami Dolphins (5-4) (13,7,3,4,14,16,14,14,12)
Los Angeles Chargers (5-3) (3,5,16,10,8,6,10,12,13)
San Francisco 49ers (4-4) (16,11,17,15,9,10,13,10,14)
New England Patriots (5-4) (26,20,24,28,24,19,23,15,15)
Tampa Bay Buccaneers (4-5) (4,3,8,12,11,12,16,21,16)
Los Angeles Rams (3-5) (5,6,5,7,15,14,17,17,17)
Washington Commanders (4-5) (18,23,26,30,28,27,21,19,18)
New Orleans Saints (3-6) (12,14,18,23,17,21,25,18,19)
Green Bay Packers (3-6) (11,9,7,5,10,11,15,16,20)
Atlanta Falcons (4-5) (29,30,27,20,23,18,19,20,21)
Cleveland Browns (3-6) (14,18,9,13,16,22,26,22,22)
Denver Broncos (3-5) (20,13,10,16,20,24,27,24,23)
Arizona Cardinals (3-6) (25,19,22,17,18,23,18,23,24)
Indianapolis Colts (3-5-1) (15,29,20,25,22,17,20,25,25)
Jacksonville Jaguars (3-6) (31,26,14,18,21,25,28,29,26)
Chicago Bears (3-6) (21,22,19,22,26,29,22,26,27)
Detroit Lions (2-6) (28,21,25,27,29,30,32,32,28)
Las Vegas Raiders (2-6) (17,24,30,21,27,28,24,28,29)
Carolina Panthers (2-7) (30,32,28,31,31,32,29,27,30)
Pittsburgh Steelers (2-6) (10,16,21,29,32,26,30,30,31)
Houston Texans (1-6-1) (27,28,32,32,30,31,31,31,32)