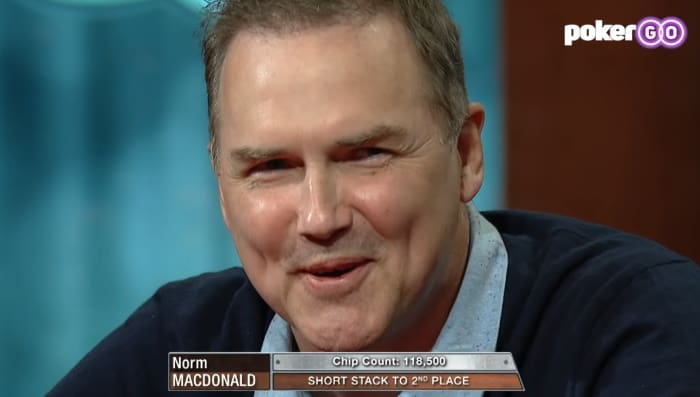 Much to the surprise of many of his fans, comedian Norm MacDonald passed away suddenly this week after a nine-year battle with cancer. MacDonald, who was just 61, is perhaps best known for his role on Saturday Night Live, a large selection of movies, a one-of-a-kind stand-up comedy routine and frequent — and sometimes legendary — appearances on late-night talk shows.
But those in the poker community know MacDonald as an ally to those in the world of poker and a valued ambassador to the game. Throughout the last couple of decades, MacDonald parlayed his love of poker into a sort of adopted role in the world of poker.
Norm MacDonald made frequent appearances at celebrity poker events, charity poker events and other poker tournaments in Las Vegas and Los Angelos. In 2011, MacDonald co-hosted the 7th season of High Stakes Poker with Kara Scott.
He even has a Hendon Mob page, where he has accumulated 14 cashes from 2003 to 2019 for a total of $54,019. He frequently made appearances in the World Series of Poker, accumulating three cashes — once in 2007 and twice in 2019. His biggest victory during the WSOP was a 20th place finish in the $3,000 No Limit Hold'em for $14,608 in 2007.
To those that are unfamiliar with MacDonald's poker chops, you should check out a video that PokerGo released last November which chronicled some of Norm MacDonald's best poker moments:
The poker world reacts to the passing of Norm MacDonald
Since Norm MacDonald was one of us in the poker community, his death has led to an outpouring of tributes from poker personalities including Phil Hellmuth, Joe Stapleton and Jennifer Tilly.
A sad day in poker. We mourn the loss of Norm MacDonald. Rest in peace sir. 😔 pic.twitter.com/7dNz9WmQTE

— Triton Poker (@tritonpoker) September 15, 2021
Nobody needs my Norm MacDonald story, but despite that we have friends in common, I was still surprised that he knew who I was (through poker, not music), and went out of his way to introduce himself and be specifically kind. He was a mensch. Nobody was ever funnier. Requiescat.

— steve albini (@electricalWSOP) September 14, 2021
Like a lot of my colleagues, I first met Norm Macdonald at a poker tournament when I asked him for an interview. He was one of my favorite celeb interviews because he wasn't interested in just promoting something. He just wanted to talk poker with me. RIP Norm.

— Lance Bradley (@Lance_Bradley) September 14, 2021
Lots of folks reaching out about the passing of Norm Macdonald. Norm was responsible for some of the happiest moments of my life (see below). To open for & become close with my favorite comedian of all time, I will be forever grateful. I'll miss him. I'll miss his comedy more. pic.twitter.com/GnXkOTTLq0

— Joe Stapleton (@Stapes) September 14, 2021
Here is one most people forgot about. Poker was so huge that Playboy had their own poker show. Here is @normmacdonald, Artie Lang, Dave Attell in Sam Simons game busting balls on Jennifer "Jennicide" Leigh name. @JenniferTilly pic.twitter.com/DM3ZK8iVrO

— atarirobby (@atarirobby) September 14, 2021
I included a fun story about Norm Macdonald (RIP) in this podcast, from Bahamas #POSITIVITY https://t.co/G1NO96gd6R

— phil_hellmuth (@phil_hellmuth) September 15, 2021
My favorite thing about covering Norm Macdonald at poker tournaments was he would get up after every hand to ask me if he played it correctly. He just loved talking poker. Can't believe he's gone. RIP Norm. You are missed.

— vinistic (@vinistic) September 15, 2021
Norm Macdonald was funny as hell and had a unique style that made him truly one of a kind. He was also a master at telling long jokes, and a damn good poker player to boot. Damn. He will be missed.

— Richard Roeper (@RichardERoeper) September 14, 2021
The last public appearance in which Norm MacDonald was photographed was June 30th in Las Vegas for a charity poker tournament benefiting a Cerebral Palsy foundation pic.twitter.com/BcFxcOySV6

— Shawn Reynolds (@ShawnReynolds_) September 14, 2021
Best Online Sportsbooks and Casinos
Daily Fantasy, Simplified.
Simply choose over or under on your favorite players to play
No sharks, no salary caps, no BS
Turn the game on and follow along with live player tracking to watch how you're doing
Legal in 26 states + Canada (see site for details)