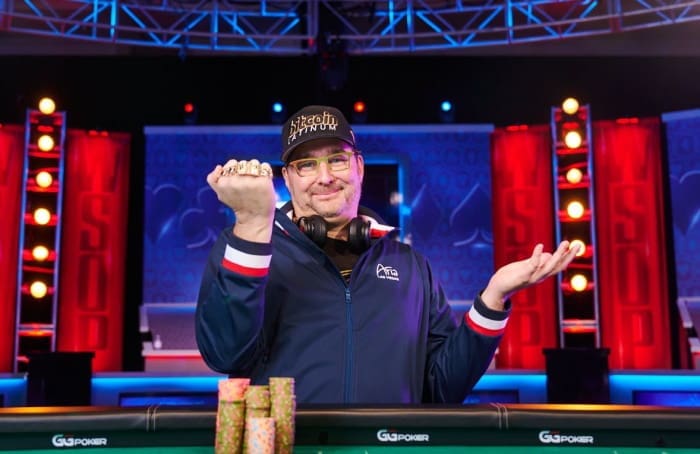 Phil Hellmuth has had a great World Series of Poker, which has included making four final tables over the last three weeks. But coming up short has led to some well-publicized frustration, which came to a head during the $10,000 Stud Championship.
Fortunately, on Sunday night, Hellmuth was all smiles as he finally sealed the deal by taking down Event #31, the $1,500 No Limit 2-7 Lowball Draw event to win his record 16th bracelet, his first since winning the $5,000 No Limit Hold'em in 2018. The victory makes Hellmuth the only player to win a WSOP bracelet in five decades.
The moment of consecration with @phil_hellmuth. Congrats to @Jake11291 for his formidable tournament#aucoeurdevegas #wsop2021 #wsop #lasvegas #positivity #legend pic.twitter.com/7uCrWGufuN

— Au Coeur de Vegas (@AuCoeurDeVegas) October 18, 2021
Coming into the final table yesterday, Hellmuth was a close second in chips to Rep Porter after going on a heater during Day 2, and pulled out the victory against an impressive final table.
Hellmuth outlasted a stacked field of 272 entries over three days including Jake Schwartz, who will take home $52,502 for second place. Also cashing at the final table was Chris Vitch ($36,387), Rep Porter ($25,661), Joshua Faris ($18,421), Dario Sammartino ($13,463), Jason Lipiner ($10,023) and Kevin Gerhart ($7,602).
In post-match comments after the win, an emotional Hellmuth said that a bracelet in the 2-7 Lowball Draw is a special one to him.
"I've wanted a deuce-to-seven bracelet ever since the 1980s because it was the coolest bracelet to win. It was the one tournament that Chip [Reese] and Doyle [Brunson] showed up for. All of the big-name poker players, such as Billy Baxter – all the champions showed up for that one tournament. It was a $10K with rebuys, so they would be in for $50,000. I wanted this bracelet so badly."
Number 16!!!@phil_hellmuth @WSOP #WSOP2021 pic.twitter.com/8omw9pPmj0

— PokerGO (@PokerGO) October 18, 2021
Hellmuth continues his hot streak
Hellmuth has had an impressive run of poker over the last year. In addition to his four final table appearances and now 16th WSOP bracelet, which has resulted in $320,333 in WSOP cashes over five events, Hellmuth has earned some impressive wins over the last year, further adding to the Poker Brat's legacy with an increased level of respect from peers.
Most notably, he has dominated Hellmuth has dominated the new High Stakes Duel, a series of heads-up matches against some of poker's biggest names. He secured three heads-up victories against Antonio Esfandiari and then Daniel Negreanu, which he followed up with another win against Fox Sport's Nick Wright. He most recently lost to Tom Dwan, but he is still 7-1 in the High Stakes Duel heads-up matches, an impressive record for any player.
When did Phil Hellmuth's win his other bracelets?
Phil Hellmuth's bracelets span a remarkable five decades with his first coming during the now-legendary match versus Johnny Chan when he won the 1989 Main Event. He followed that victory with five bracelets in the 1990's, five during the 2000's and four during the 2010s and now his bracelet this year.
Phil Hellmuth's WSOP Bracelets
| | | |
| --- | --- | --- |
| Year | Tournament | Prize |
| 1989 | $10k Main Event | $755,000 |
| 1992 | $5k Limit | $168,000 |
| 1993 | $1.5k NL Hold'em | $161,400 |
| 1993 | $2.5k NL Hold'em | $173,000 |
| 1997 | $3k PL Hold'em | $138,000 |
| 2001 | $2k NL Hold'em | $204,000 |
| 2003 | $2.5k Limit Hold'em | $316,550 |
| 2003 | $3k NL Hold'em | $410,860 |
| 2006 | $1k NL Hold'em Rebuys | $631,863 |
| 2007 | $1.5k NL Hold'em | $637,254 |
| 2012 | $2.5k 7 Card Stud Razz | $182,793 |
| 2012 | €10,450 Europe Main Event | €1,022,376 |
| 2015 | $10k 7 Card Razz | $271,105 |
| 2018 | $5k NL Hold'em | $485,082 |
| 2021 | $1.5k NL 2-7 Lowball Draw | $84,851 |
Poker world reacts to Hellmuth win on Twitter
Hellmuth's 16th WSOP bracelet has led to a chorus of praise and comments from those around the poker community.
White magic is real. Congrats to @phil_hellmuth on #16

— Erik Seidel (@Erik_Seidel) October 18, 2021
16 bracelets
70 Final Tables
156 cashes
Only 1 @phil_hellmuth ! pic.twitter.com/VUBBUeSaJu

— WSOP (@WSOP) October 18, 2021
Phil's embroiderer when he asks to have his pile of 15s changed to 16. Congrats @phil_hellmuth! pic.twitter.com/irCbuzc9OF

— Justin Hammer (@TheJustinHammer) October 18, 2021
My longtime client & great friend @phil_hellmuth told me in 2003 he would win 24 @WSOP bracelets. Tonight he won #16. 2/3 of the way home. #Positivity #PokerBrat #WSOP 🐐 pic.twitter.com/YIicIh5qIu

— Brian Balsbaugh (@Balsbaugh) October 18, 2021
Toured the #WSOP site the other day and managed to catch the Poker Brat himself mid-tourney, which he eventually took down. Congrats on bracelet #16 @phil_hellmuth #POSITIVITY pic.twitter.com/XD8OXl9uMY

— Seth Price 🐢 (@Seth_Price10) October 18, 2021
So happy for @phil_hellmuth!! Well deserved!! 👏👏 https://t.co/b7geCbA1qW

— Stefanie Ungar (@ungar_stefanie) October 18, 2021
Congrats @phil_hellmuth on winning 16th bracelet! Insane run he's on this @wsop final tabling almost every event he plays.

— Bayou Ben (@BarstoolMintzy) October 18, 2021
Wowwwww congrats @phil_hellmuth https://t.co/cr5nWCrKV2

— Ryan Feldman (@TheRyanFeldman) October 18, 2021
When they implode it next yr I think he should push the button and say burn it fucking down! https://t.co/c4NKyLjyNb

— Mike Matusow (@themouthmatusow) October 18, 2021
You're an absolute beast dude. Hat off to you @phil_hellmuth your hard work and dedication has paid off #legacy

— Joe Hachem (@JosephHachem) October 18, 2021
Best Online Sportsbooks and Casinos
Daily Fantasy, Simplified.
Simply choose over or under on your favorite players to play
No sharks, no salary caps, no BS
Turn the game on and follow along with live player tracking to watch how you're doing
Legal in 26 states + Canada (see site for details)