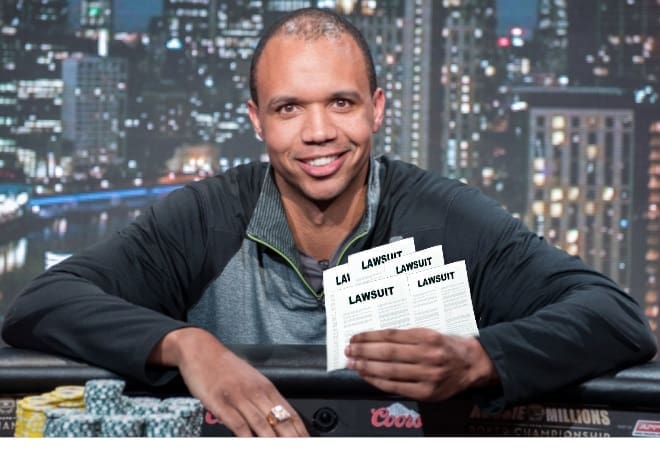 Atlantic City, NJ – Wow, absolutely despicable news out of Jersey this weekend as five more casinos have bought tickets to the all-you-can-eat buffet that is Phil Ivey's bank account.
The breaking news comes just days after the Borgata decided to counter-sue Ivey for an additional $20 million on top the $10 million the judge awarded them in 2016.
Lawsuits mount
These five new casinos don't have any actual evidence that Ivey even stepped foot on their property, but are suing him anyway because "it seems easy" and "we just wanna fit in."
One particular casino, Jerome's JackPots, only opened last week and seems to have Phil Ivey's lawsuit as its only order of business.
JackPots CEO Art Briya — who looks suspiciously similar to Ray Bitar but with a handlebar mustache — noted, "We're planning for our entire 2019 revenue to come from this lawsuit!"
In an official press release, the five casinos cited numerous reasons for filing suit against the 10-time WSOP bracelet winner. Those reasons include but are not limited to:
Edge Sorting
Card Counting
Defamation
Libel
Uh, Irreconcilable Differences?
Sorta Seems Like Fun
Look, Everyone Else is Doing It, OK?
Why Are You Making Such A Big Deal About This!?
You Can't Tell Me What To Do! You're Not Even My Real Father!
I Hate You!
Interesting.
BCP seeking Ivey comment
Afterward, Phil Ivey met with reporters and answered all of their questions… is an example of a sentence that you will never see in real life.
Ivey was actually in Montenegro winning a $75 million dollar pot playing short-deck hold 'em when the latest lawsuits were announced. For those who don't know, short deck is played without the twos through fives and flushes beat straights — and hurry up and get good at it before Justin Bonomo figures it out.
Oh, too late he solved it.
Anyway, the new trials against Ivey are slated to begin December 3rd in Atlantic City Supreme Court.
Atlantic City is located in the southern tip of New Jersey and is an absolute disaster of a town. During 2005, the city had something like 37 operational casinos, but now only has nine.
Your uncle probably told you it was an amazing place when he went there, but that was back in 1968, before the city was overrun with spray-tanned, slicked hair, awful-accented, heavily-make-upped, roided out, fake-nailed, 1/4 Italian on my mother's side, eggplant parmesan-eating quality citizens.
Ivey can't catch a break
Phil Ivey is a member of the Poker Hall of Fame and evidently has a net worth of 100 billion dollars, most of which he made playing Guy Laliberte on FullTilt.
In unrelated news, Guy Laliberte is suing Phil Ivey for 100 billion dollars.
Also read: Removal Of November Nine Causes Startling Lack Of "Meet The WSOP Final Table" Articles