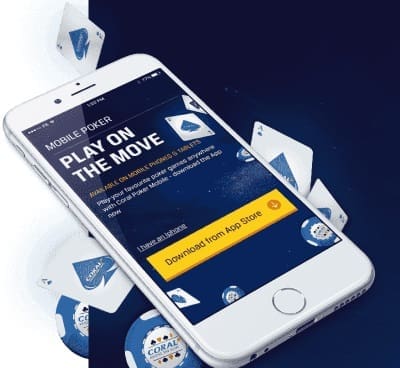 Like many major online poker sites, Coral Poker offers players the ability to play the online poker room on their favorite mobile devices, whether it's Apple or Android.
The process to play on Coral Poker is slightly different depending on the specific device you have, but it is generally easy to get started.
Coral Poker on iOS
Players on an Apple device — either an iPhone or an iPad — will have a couple different options in playing Coral Poker.
The recommended method to play is via the Coral Poker app, which you can find through the iOS App Store or by accessing the Coral Poker mobile section on the website.
The highly-reviewed app offers the smoothest experience with the most features.
If you don't have the app downloaded, you can also access the Coral Poker software from the Coral Poker website when using your phone or tablet. When using an internet browser, the Coral Poker in-browser version will lack the power of the app and the desktop client, but will still offer a no-frills way to play.
Coral Poker on Android
Unlike players with an iOS device, you will not be able to play on dedicated app due to rules in the Google Play Store for real money apps. Instead, you will need to access the Coral Poker website from your Android phone or tablet.
Simply sign-in to your account from your device and have access to the web-browser version of the software.
When accessing Coral Poker software via a web browser, place a link on your home screen for the easiest and quickest acces to play.
About the Coral Poker Mobile
For a mobile platform, Coral Poker on a mobile device offers players a smooth and secure playing experience. Users can customize the tables and settings to your liking and even multi-table despite a small screen.
You will be able to play most of the games that Coral Poker offers including 6 Plus Hold'em, Twister, cash games, tournaments and "Speed" games.
To learn more about Coral Poker, check out the Coral Poker review.
If you already have a Coral Poker account and are looking for a new poker room, we recommend Bet365 Poker. For more details, read our Bet365 review for details on the Bet365 bonus code.