No Deposit Poker Bonus Offers and Welcome Bonuses
Top 2016 No Deposit Poker Bonuses
The beauty of no deposit poker is that you really do get something for nothing. Try any of the top-tier poker sites below without putting up any of your own cash – and build a real-money bankroll from the free cash rooms are willing to give you through free bankrolls and no deposit bonus codes.
Current No Deposit Poker Bankrolls: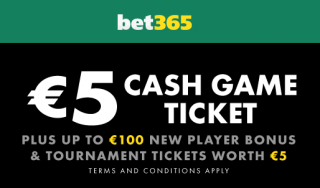 Note that not all no deposit bonuses require you to use a no deposit bonus code. Follow the specific instructions associated with each offer above to find out if a code is needed to claim the bonus.
A Quick Guide to Playing Poker With No Deposit
No deposit bonuses come in two basic forms: Flat and stacked. Flat no deposit bonuses award the player a lump sum upfront, while stacked no deposit bonuses give a player some money upfront and then provide additional bonus cash when the player meets certain targets.
Sample No Deposit Poker Bonuses
A simple example of a flat no deposit bonus is the bonus Sky Poker provides to new players. When a new player signs up at Sky, they receive a £20 credit that can be used for tournaments or Sit and Go's. Players cannot withdrawal the bonus amount until they meet certain clearance requirements (see our Sky Poker free bankroll page for more information). No matter how much or how little they play, the bonus remains at £20.
Stacked bonuses, on the other hand, provide players with the chance to earn additional bonus money by reaching certain play thresholds. A good example of a stacked no deposit bonus is the Titan Poker free bankroll BonusCodePoker.com offers. When you sign up for the bonus your account is initially credited with $50; reach certain point levels at Titan Poker and you could earn up to an additional $100 in bonus money for a total of $150.
Who Qualifies for No Deposit Poker Offers?
In general, online poker sites make no deposit bonuses available to new players only. But the definition of "new player" can shift from room to room. At some poker sites, no deposit promotions are only available to players that have never had any sort of account – play money or real money – with the poker site. At others – like bet365 – you simply need to have never used your poker account for real-money play to qualify for no deposit poker promotions.
No Deposit Poker Bonuses: Pros and Cons
The major drawback of no deposit bonuses is their size. Unlike first deposit bonuses, or even reload bonuses, no deposit bonuses tend to be relatively small amounts. The average value of the free poker money offers we list is roughly $50, and that number drops if you stop including the total potential value of stacked bonuses.
Not having to deposit at all is obviously the primary advantage of no deposit bonuses. Due to this appeal, however, you also are forced to jump through a few hoops in order to prove to the room that you're not simply scamming them by making multiple accounts. Be prepared to offer up an ID along with phone verification if you're looking to get a no deposit bonus. Another tip: Check the country list carefully before you go through the trouble of signing up. Many countries are barred wholesale from receiving such bonuses due to historically high levels of fraud.
Poker No Deposit Bonus 2016: Updated Offers
All of the offers listed on this page are valid for 2016. We update our offers on a weekly basis (and more often if we receive news about offers from users or sites). If an offer we have listed is out of date, please contact us so we can correct it.
Deposit Bonuses at Online Poker Sites
Unlike no deposit bonuses, this type of welcome bonus does require a deposit. But the rewards you receive are far richer as a result.
Top 2016 Deposit Bonuses:
How Do You Find the Best Online Poker Deposit Bonus?
There isn't a poker room online that isn't offering users some sort of bonus for making their first real-money deposit.  Some rooms offer you 100% on your deposit up to $600.  Some offer 200% up to $1000.  Some offer 500% up to $200.  Not only do the upfront numbers differ, but the terms of the bonuses can differ wildly from room to room.  This state of affairs makes it difficult for online poker players – especially recreational poker players – to determine what poker bonus actually provides them with the best value.
Thankfully there's a simple set of criteria you can employ when trying to figure out what poker room bonus is right for you.  Before we get into breaking down that list, it's worth noting something very important: No online poker bonus, no matter how awesome, makes it worth playing at a room where you don't feel comfortable or where you don't feel like you can at least break even in the games.
With that said, let's talk a bit about the five factors that can help you determine whether a particular bonus is the best poker bonus for you:
Bonus Size
Clearance Rate
Time Frame
Release Rate
Stacking
It's All About the Clearance Rates
In my opinion, clearance rates are the number one thing you need to consider when comparing online poker bonuses.  Unfortunately, the clearance rate isn't always the easiest thing to find when perusing the bonus terms.  In fact, many rooms don't explicitly list the clearance rate for their bonuses anywhere on their websites.
If you're not familiar with the concept of a clearance rate, it's simple enough concept.  When a poker room gives you a bonus, they don't just give you the cash.  Instead they release it as you pay rake by playing real money cash games and tournaments at their room.  The rate at which they release it is called the clearance rate.
The clearance rate is a huge factor in determining the value of the bonus.  A small bonus with a fast clearing rate is usually a much better value than a large bonus with a slow clearing rate, for a number of reasons.  First, many rooms have limits on how long you have to earn a bonus, meaning you might not be able to earn the entire bonus if the rate is too slow.  Next, there's always the chance that you might not like the games at a new room, and going for the big slow bonus might leave money on the table if you decide to abandon ship.  Finally, there's always the chance that you might go bust before you finish the bonus.
Clearance rates can vary wildly from room to room.  I've seen rates as low as 15% and rates as high as 45%.  That's a significant range that deserves the bit of work it takes to determine the clearance rate for a particular bonus.
Poker Bonuses: Size Does Matter
It's as obvious as obvious gets, but no list of factors that determine the top online poker bonus would be complete without the second factor on our list: Size.  There are two numbers you want to pay attention to when it comes to bonuses, namely the bonus percentage and the bonus cap.
Let's take the bonus at PokerStars as an example.  You use our PokerStars Marketing Code when you deposit and qualify for a 100% deposit bonus up to $600.  That means PokerStars will match 100% of the amount you deposit as a bonus, with a maximum bonus of $600.
Generally speaking you want to go for the best combination of largest percentage and largest cap.  The exception to the rule: If you only have a smaller amount to deposit, you should search for the best percentage in order to maximize your value.  For example, if you only want to deposit $200, you might want to consider the NoIQ bonus which offers 200% on your deposit as opposed to the PokerStars bonus that only offers 100%.  If you had an amount to deposit large enough to exceed the cap of any bonus, then only the bonus cap amount would really matter.
Time's Not on Your Side
While it seems as if poker rooms would let bonuses drag out toward infinity just to keep you playing at the room, it's the opposite that's generally true.  Most rooms place fairly restrictive limits on how long you have to earn a given bonus.  I've seen terms that only give you a couple weeks, terms that give you a couple months and terms that give you close to a year.  The problem is, rooms don't always state clearly upfront how long you have to earn the bonus, so you're going to have to do a bit of fine print perusing.
Once you do zero in on the time limit, you need to honestly asses how long it will take you to clear the bonus.  A bonus isn't worth much if you kill yourself trying to clear it, as part of killing yourself when it comes to online poker is playing way more hands and way more hours than you normally would.  That's the surest path to blowing up a bankroll that I know.
If you're a recreational poker player looking at a bonus with a low clearance rate and a short shelf life, chances are you should keep looking.  The bonus numbers might be attractive, but it's little more than a mirage if you can't put in the necessary play in the necessary time frame to earn it.
Sweet Release
Most modern online poker bonuses are released incrementally – that is, the room releases your bonus to you in small chunks as you earn it.  Let's look at the Winner Poker Bonus for an example of incremental release.  Winner Poker gives you your bonus in $5 chunks.  When you earn enough Winner Points to earn $5 of your bonus, that $5 is moved from your bonus account into your real money account.  PokerStars generally releases their bonuses in $10 increments.  Unlike clearance rates, where bigger is better, you are looking for lower numbers when it comes to release rates.  Avoid rooms that look to give you your bonus in one chunk after you've earned it all – those terms are not favorable to the player and if you encounter them you should keep on moving.
When it comes to release rates each room is different, and those differences can matter.  A room with a very large release rate can make it difficult for you to earn your bonus; after all, the rooms with low release rates are feeding money back into your bankroll more often, giving you a cushion that helps you to avoid going bust.
Every Day I'm Stackin'
Stacking is a simple, but powerful, concept for online poker bonus hunters.  Stacking essentially refers to your ability (per the rooms terms) to clear multiple bonuses at once.  Stacking is less common in the modern online poker environment than it once was, but you'll still find opportunities to get extra value for your play if you look hard enough.
Check the room's terms, for instance, to see if you can clear both a first deposit bonus and a reload bonus simultaneously.  If the points you earn while playing go toward clearing both, that's some really solid additional value.  We also have offers, as do many sites, that give you a bonus you can earn above and beyond the room's first deposit offer if you're willing to make a small deposit.
The moral of the story: You can only play so many hands of online poker in a day, so it's worth it to really vet rooms in order to fully understand where you can get the absolute top value for those hands.  Your time is valuable, and the online poker room you play at should recognize that fact and reward you for your business.  All you have to do is to take some of that time to find out which room is actually going to treat you as such.
A Guide to Clearing Online Poker Bonuses
I'm sure you've heard the expression that "there's no such thing as a free lunch". It turns out that it's not just lunches that aren't available gratis – online poker bonuses are also rarely free. Much like the dreaded time share presentation you might sit through for a free vacation, you'll pay for online poker bonuses not with money, but with something just as valuable: Your time.
First Deposit Bonuses: Sample
The first deposit bonus is perhaps the most common online poker bonus. Also referred to as a sign up bonus, a first time deposit bonus, a new player bonus or a deposit bonus, a first deposit bonus is simple enough to understand: The first time you make a deposit at a room offering such a bonus, you're going to be eligible for some bonus cash.
The first deposit bonus is usually a matching bonus, meaning the bonus amount you receive is tied to the amount you deposit. Rooms generally set a percentage and a cap for first deposit bonuses, both of which determine how much bonus money you can actually get.
First deposit bonuses, along with reload and no deposit bonuses, require you to"earn" or"clear" your bonus by meeting certain play requirements. Learn more about clearing poker bonuses.
At BonusCodePoker.com, we offer reviews of over a dozen of the top online poker first deposit bonuses, such as the initial deposit bonus at bet365 poker.
Example of a First Deposit Bonus
The standard PokerStars deposit bonus is 100% up to $600. The"up to" part of a first deposit bonus generally refers to the maximum amount of bonus you can receive and not the maximum amount you can deposit. If you make a deposit of $300 at Full Tilt as your first deposit, you'll receive a bonus of $300. If you deposit $600 – or any amount over $600 – you'll be credited with a bonus of $600.
Pros and Cons of First Deposit Bonuses
The major pro and the major con of first deposit online poker bonuses are one and the same: First deposit bonuses offer large bonus amounts, but large bonus amounts generally require relatively large deposit amounts. For players who wish to make a small deposit or no deposit at all, first deposit bonuses generally offer relatively poor value when compared to no deposit bonuses.
Deposit bonuses can also have onerous clearance rates that require a player to put in far more time playing to earn the bonus than he or she might wish to commit. This is especially true for recreational players who put in the majority of their hands at the lower stakes.
Online Poker Reload Bonuses Explained
Reload bonuses are essentially the same as first deposit bonuses except that they are designed to reward existing players rather than new players. Why do rooms offer reload bonuses? The lifeblood of any online poker room is deposits. Without deposits, the player liquidity of the room inevitably shrinks as the rake takes more and more money out of play. To keep money flowing in to the room, reload bonuses reward players for"reloading" their account by making additional deposits.
Reload bonuses are generally structured in the same way as first deposit bonuses. Players will receive bonus money that matches their deposit by some percentage, and the bonus will be capped at a certain number. While not universally true, the common standard in the online poker industry is that reload bonuses are smaller in both percentage and cap than first deposit bonuses.
Example of a Basic Reload Bonus
PokerStars will often offer reload bonuses just before major events such as the SCOOP or the WCOOP. A recent reload offer from PokerStars gave existing players (new players would still qualify for the first deposit bonus) the opportunity to earn a 20% bonus up to $100. That means a player would need to deposit a total of $500 in order to earn the full bonus.
Reload Bonuses: Upsides and Downsides
If you have a decent amount of money available and enjoy playing at only one or two rooms, reload bonuses don't necessarily have a strong downside. The basic knock on reload bonuses is that they tie up money that could otherwise be put to better use. Since reload bonuses offer lower percentages and lower maximum bonuses, one could argue that poker players would be better off depositing that money at a new room to get the first deposit bonus.
Reload bonuses can also restrict your cash flow. The terms of most rooms are such that making any withdrawal while you're clearing a reload bonus cancels the bonus. If you're working on an incremental bonus, this means any amount you still have to clear vanishes. If you're working on a bonus awarded all in one chunk (fairly rare these days), you lose the entire bonus.