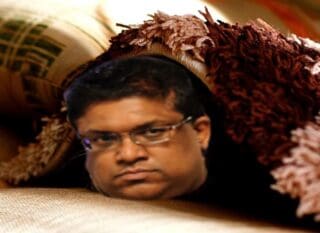 Following the exit of PokerStars Pros Jason Mercier, Vanessa Selbst, and Felipe Ramos, 49-year-old Victor Ramdin has been pretending he's not home, saying he's on the other line and making all sorts of excuses any time PokerStars tries to get in touch with him.
The poker world was surprised and saddened to learn that PokerStars was parting ways with a number of their more famous poker pros earlier this month. Upon reading of Jason Mercier's departure, Ramdin casually turned off his cell phone and threw his laptop in the toilet.
READ: Full Tilt Poker adds Bryn Kenney and Ali Imsirovic as Full Tilt Team Pros
Ramadin going off the grid for a bit
"I'm just trying to get away from technology for a bit, ya know? Get in touch with nature maybe. Also if PokerStars comes by, tell them I'm not home," added a sweating, clearly nervous Ramdin.
Ramdin won a 2006 WPT event in Foxwoods for over one million dollars and since then has, ya know, probably cashed in some other tournaments maybe. He is also currently ranked as the 4,224th best player in the world according to the GPI. Nice… nice.
Hollreiser just wants to talk
The following day we at BCP caught up with PokerStars VP of Player Relations Eric Hollreiser, who was standing outside Ramdin's house and trying to look through the windows.
In between peeks Hollreiser was kind enough to sit down on the curb and speak with us in regards to Ramdin, "Victor is a valuable member of Team PokerStars. And he always has been.
However his contract ended at the beginning of this year, so we have to sit down with him and discuss his position moving forward. Also – hey Victor, wait!"
Ramdin was then seen crawling out of his bedroom window before running across the street and diving into a taxi which drove off rather quickly.
Hollreiser could do nothing but shake his head. "Classic Victor," he added.
"Of course, we at PokerStars are always looking to keep our roster of sponsored players fresh and exciting in an attempt to attract new players to the game. We are the industry leader and as such demand that the players we sponsor be leaders in the game as well. Speaking of, that reminds me – we also need to get in touch with Barry Greenstein. Do you happen to have Barry's number?"
Barry Greenstein was last seen riding in a spaceship to the moon.
More on this story as it develops.
Not really.
Also read: Move Over Crypto, 1000% ROI Guaranteed At PCA Bahamas Eatery