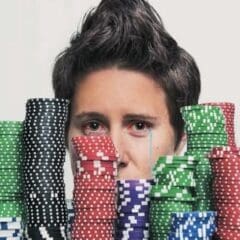 New York, NY – Wow, big news out of the Big Apple today as a freshly sobered Vanessa Selbst has been desperately trying to reneg on the retirement news she made last week.
On December 31st, Vanessa announced through her social media platforms that she would be officially retiring as a poker pro and leaving her sponsorship deal with PokerStars. Vanessa Rousso followed her retirement a few months later.
An accidental Selbst retirement explained
Three days later after rolling out of bed at 1 a.m., Selbst saw several thousand texts wishing her congratulations and good luck and realized she must have gotten drunk and pretended to retire again.
"I always do this. That fifth shot of tequila goes down and I start making retirement announcements. If I've done it once, I've done it a thousand times," offered a clearly still-buzzing Selbst.
"People will probably say 'How could you have been black out drunk? Your Facebook post is clearly well though-out and carefully crafted.' To which, I would respond: you have to keep in mind how much smarter I am than all of you. I've been studying law and academia at Ivy League schools for years now. That means I've been trained by some of the best high-functioning alcoholics in the world. I can be passed out and write Shakespeare."
Touche, Selbst.
During the summer of 2016, Selbst famously made a bracelet bet with fellow PokerStars Pro Jason Mercier that he couldn't win three bracelets in one summer. Selbst apparently attempted to negotiate her way out of the bet later claiming "I always do this. That sixth shot of tequila goes down and I start making bracelet bets with Mercier."
Outpouring of support from the poker community
Selbst has received an overwhelming show of support and encouragement after making the announcement with several notable pros offering her well-wishes and praise.
But plenty of trolls have weighed in on the issue as well. One person on Twitter offered the hilarious zinger "Oh, I didn't know Doug Polk was retiring" unaware that several hundred people before him had already made literally the exact same joke.
Since waking up this afternoon, Selbst has drank plenty of water and had some scrambled eggs in an attempt to clear her head.
"Yeah, uh, if you look at my Facebook post, you'll see that I made it on New Year's Eve, and to be perfectly honest with you, all of last weekend is still sort of a blur."
"She basically just stumbled around the party challenging everyone to tennis matches and calling Doug Polk a bitch," noted Scott Siever who attended the same party.
"What's a hedge fund?"
Finally, Selbst was shocked to learn that she had terminated her PokerStars contract in order to begin work at a hedge fund.
The three-time bracelet winner added, "Also, I'm gonna come clean: I don't have the slightest notion of what a hedge fund even is. All I know is that you start one, and then you make a lot of money. But I haven't the foggiest of what hedge funds actually do."
(Upon further fact-checking it turns out that no one else knows what hedge funds do either.)
PokerStars eventually took a careful look at Selbst's apology and in response decided to raise their rake some more.