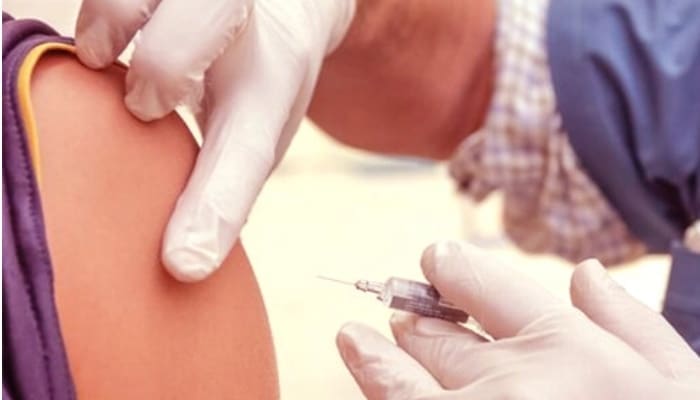 After much speculation, the World Series of Poker has decided to require that all attendees to the upcoming 2021 WSOP be vaccinated. The mandate includes not only players but media, spectators, vendors and WSOP staff. Players will need to provide proof of vaccination prior to registering for a WSOP event for the first time.
Speculation had ramped up that vaccinations might be required for the 2021 WSOP after the introduction of the so-called "Rule 115," which gives the World Series of Poker the authority to remove a player for any reason. In response to some outrage over the rule, the WSOP had previously clarified that some of the stricter language applying to COVID-19 exposure would only apply to those who were not vaccinated.
Participation in the 2021 WSOP will require proof of full vaccination against COVID-19 prior to first registration. Players are encouraged to make use of CLEAR's free mobile app and Health Pass feature: https://t.co/PxfgAohpBe. Additional info & FAQ: https://t.co/wUF6nLTXLL (1/3) pic.twitter.com/pHSh4PTj41

— WSOP (@WSOP) August 27, 2021
Other rules
On its official 2021 WSOP page, the WSOP clarified some specifics centering around the change for this WSOP, notably that players would have to get their final vaccine dose at least 14 days prior to their entry to the WSOP. The timing of the requirement means that players would need to be fully vaccinated by September 16th to participate in the start of the WSOP on September 30th.
If playing in the WSOP Main Event, players would need to be vaccinated prior to October 21st. Note that a negative test will not allow you entry into the WSOP in place of a vaccine.
The rules not only apply to WSOP bracelet events, but also side events, satellites, live-action and cash games.
In addition to being required to show proof of vaccination, participants will also need to wear a mask with the WSOP citing "CDC guidelines and state mandates." Players who test positive for COVID-19 but are vaccinated must not play an event for the next 14 days. The WSOP also asks that those who have symptoms of COVID-19 not attend the WSOP within 48 hours of experiencing symptoms.
If you wish to watch the World Series of Poker at the Rio All-Suites Hotel and Casino, you will need to report to the "Belize Room" at the Rio to receive a "Spectators Pass."
How to prove you have received the COVID-19 to play the WSOP
In order for players to prove that they have been vaccinated for COVID-19, they are encouraging all players based in the United States to use CLEAR's Health Pass, which is available to both iOS and Android users. You can have CLEAR send you a text message link to the app by submitting your phone number. Alternatively, players can also download the CLEAR app from either the Google Play Store or Apple App Store.
Once the app has been downloaded, users are instructed to follow these steps:
Tap the "Health Pass" Title
Locate "WSOP" under "Sports and Events"
Follow prompts to enroll
Add proof of vaccination in one of three ways*
Players that have followed all steps can now register for the 2021 WSOP through the registration cage
Players can submit their proof of vaccination by scanning a SMART QR code, by linking directly to their vaccination provider or by uploading their CDC vaccination card. If you have alternative documentation, your verification must be verified at the Belize room prior to registration.
But what about international players?
There is no doubt that the COVID-19 will have a profound effect on players outside of the United States. Many countries that have elevated COVID-19 cases currently have travel bans to the United States, which will make it difficult, if not impossible for players to attend.
But even if you find a way around the restrictions, the World Series of Poker will prevent you from attending the event if you have traveled to locations identified by the federal, state or local governments as high-risk countries within the previous 14 days. These countries are listed on the U.S. Government's COVID-10 Travel Restrictions and Exceptions page.
Reaction
As with many issues surrounding COVID-19, opinion on the vaccination requirement has been divisive. Chris Moneymaker, who had previously said that he would not play the 2021 WSOP, is now contemplating participating. "Will wait and see how things shake out but most likely yeah [I will be going]," Moneymaker later tweeted.
Thank You @WSOP https://t.co/gf90PNw7gM

— Chris Moneymaker ⭕ (@CMONEYMAKER) August 27, 2021
This isn't about safety. This is about liability. They are much less likely to be directly liable for a death from covid. This is a bottom line play, not a health and safety greater good play.

— Jerod Smith (@jsmith84poker) August 27, 2021
Other players noted that other factors such as natural immunity should also be on the table:
It's really unfortunate to see the @WSOP become the next arm of pharmaceutical influence. Even sadder to see otherwise rational people cheer for the medical apartheid. Why ignore natural immunity? Why ignore that the vaccines don't confer immunity, or prevent you from spreading?

— Alex Foxen (@WAFoxen) August 27, 2021
Dear @WSOP, with respect to the Vaccine Mandate, you want to also find a way to allow players to attend who can show proof of natural immunity. Natural immunity is as effective or more effective than vaccines. That extra effort would go a long way w a majority of your players. 👍

— Matt Glantz (@MattGlantz) August 27, 2021
While others hotly debated the requirements, other Twitter users found humor in the situation:
I want to make it very clear that I'm not attending this years WSOP because I'm broke, not because I'm an antivaxxer.

— Samuel Cosby (@MrCleverFox) August 27, 2021
So much for talk of 2021 wsop potentially being one of the biggest series yet

— Daniel Strelitz (@dDeoxyribo) August 27, 2021
I just want to reiterate that I run a major poker backing company and we are going to be putting one extra person in the main for every tweet that says "Not playing @WSOP because of the vaxx requirement"

— Bakes (@DMBakes) August 27, 2021
Damn it. I was hoping to play against people who make terrible decisions.

— JRH (@mynameishamme) August 27, 2021
Best Online Sportsbooks and Casinos
Daily Fantasy, Simplified.
Simply choose over or under on your favorite players to play
No sharks, no salary caps, no BS
Turn the game on and follow along with live player tracking to watch how you're doing
Legal in 26 states + Canada (see site for details)