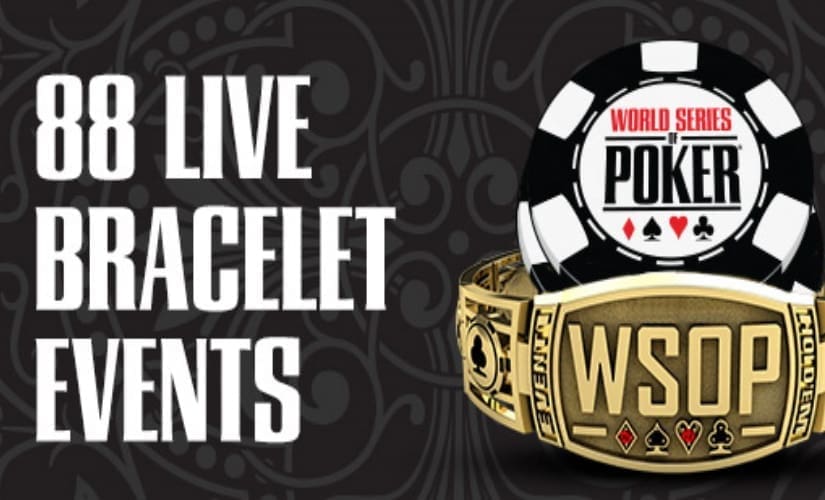 The World Series of Poker has released the 2022 WSOP schedule with 88 events as part of the full schedule unveiled on February 23rd.
This summer's WSOP will mark the first time since 2019 it will be held during its normal time in Las Vegas. But despite a return to a normal schedule, the new location will be something new indeed, with Bally's and Paris hosting the entire World Series of Poker on its popular strip properties.
The highlights of the 2022 WSOP Schedule
With 88 events again running this summer, the WSOP 2022 will once again be casting a wide net to appeal a huge selection of poker players.
Of course, the undisputed highlight of the summer will be the $10,000 No Limit Hold'em Main Event, which will run from July 3rd to July 16th this summer.
A couple of new events are also on the schedule including the $1,000 Buy-in Million Dollar Bounty. Players who make Day 2 will claim a "Mystery" bounty of opponents they knock out. In addition, a new $1 million Tournament of Champions will be held for players that won any of the 2022 WSOP's 88 events.
Also look for an increased number of mid-stakes events, a $100,000 High Roller Bounty, a $25,000 No Limit Hold'em Heads-up Championship and a $1,979 Poker Hall of Fame Bounty, which will award bounties for players who knock out Poker Hall of Famers equal to the year they were inducted.
WSOP.com will also feature a handful of online bracelet events with a new bracelet event offered every Sunday during the duration of the 2022 WSOP.
2022 WSOP Schedule — 88 Events So Far
Per tradition, the 2022 WSOP will begin with the Casino Employees No Limit Hold'em event on May 31st. This will be followed by dozens of events over the next seven or so weeks, concluding with the Tournament of Champions on July 18th.
The Full 2022 WSOP Schedule
| wdt_ID | Date | Event | Buyin |
| --- | --- | --- | --- |
| 1 | 31/05/2022 | Event #1: Casino Employees No-Limit Hold'em | $500 |
| 2 | 31/05/2022 | Event #2: High Roller Bounty No-Limit Hold'em | $100,000 |
| 3 | 01/06/2022 | Event #3: Freezeout No-Limit Hold'em | $2,500 |
| 4 | 01/06/2022 | Event #4: Dealers Choice 6-Handed | $1,500 |
| 5 | 02/06/2022 | Event #5A: The Housewarming No-limit Hold'em - Flight | $500 |
| 6 | 02/06/2022 | Event #6: Heads Up No-Limit Hold'em Championship | $25,000 |
| 7 | 03/06/2022 | Event #5B: The Housewarming No-limit Hold'em - Flight | $500 |
| 8 | 03/06/2022 | Event #7: Omaha Hi-Lo 8 or Better | $1,500 |
| 9 | 04/06/2022 | Event #5C: The Housewarming No-limit Hold'em - Flight | $500 |
| 10 | 04/06/2022 | Event #8: High Roller No-Limit Hold'em 8-Handed | $25,000 |
| 11 | 04/06/2022 | Event #9: Seven Card Stud | $1,500 |
| 12 | 05/06/2022 | Event #5D: The Housewarming No-limit Hold'em $5,000,000 Guaranteed Prize Pool - Flight | $500 |
| 13 | 05/06/2022 | Event #10: Dealers Choice 6-Handed Championship | $10,000 |
| 14 | 06/06/2022 | Event #11: No-Limit Hold'em Deepstack | $600 |
| 15 | 06/06/2022 | Event #12: High Roller No-Limit Hold'em 8-Handed | $50,000 |
| 16 | 06/06/2022 | Event #13: Limit Hold'em | $1,500 |
| 17 | 07/06/2022 | Event #14: 6-Handed No-Limit Hold'em | $1,500 |
| 18 | 07/06/2022 | Event #15: Omaha Hi-Lo 8 or Better Championship | $10,000 |
| 19 | 08/06/2022 | Event #16: No-Limit Holdem | $3,000 |
| 20 | 08/06/2022 | Event #17: Mixed Triple Draw Lowball (Limit) | $2,500 |
| 21 | 09/06/2022 | Event #18: Freezeout No-Limit Holdem | $1,000 |
| 22 | 09/06/2022 | Event #19: High Roller Pot-Limit Omaha (8-Handed) | $25,000 |
| 23 | 09/06/2022 | Event #20: Limit 2-7 Lowball Triple Draw | $1,500 |
| 24 | 10/06/2022 | Event #21A: MONSTER STACK No-Limit Hold'em - Flight | $1,500 |
| 25 | 10/06/2022 | Event #22: Seven Card Stud Championship | $10,000 |
| 26 | 11/06/2022 | Event #21B: MONSTER STACK No-Limit Hold'em - Flight | $1,500 |
| 27 | 11/06/2022 | Event #23: 6-Handed Limit Hold'em | $3,000 |
| 28 | 12/06/2022 | Event #24: FLIP & GO No-Limit Hold'em Presented by GG Poker - Flight | $1,000 |
| 29 | 12/06/2022 | Event #25: No-Limit Hold'em Deepstack | $800 |
| 30 | 12/06/2022 | Event #26: Limit Hold'em Championship | $10,000 |
| 31 | 13/06/2022 | Event #27: SHOOTOUT No-Limit Hold'em | $1,500 |
| 32 | 13/06/2022 | Event #28: HIGH ROLLER Pot-Limit Omaha | $50,000 |
| 33 | 13/06/2022 | Event #29: No-Limit 2-7 Lowball Draw | $1,500 |
| 34 | 14/06/2022 | Event #30: Pot-Limit Omaha 8-Handed | $1,000 |
| 35 | 14/06/2022 | Event #31: Limit 2-7 Lowball Triple Draw Championship | $10,000 |
| 36 | 15/06/2022 | Event #32: H.O.R.S.E. | $1,500 |
| 37 | 15/06/2022 | Event #33: 6-Handed No-Limit Hold'em | $3,000 |
| 38 | 16/06/2022 | Event #34: Freezeout No-Limit Holdem | $1,500 |
| 39 | 16/06/2022 | Event #35: Mixed Big Bet Event | $2,500 |
| 40 | 16/06/2022 | Event #36: Seven Card Stud Hi-Lo 8 or Better | $1,500 |
| 41 | 17/06/2022 | Event #37A: MILLIONAIRE MAKER No-Limit Hold'em - Flight | $1,500 |
| 42 | 17/06/2022 | Event #38: No-Limit 2-7 Lowball Draw Championship | $10,000 |
| 43 | 18/06/2022 | Event #37B: MILLIONAIRE MAKER No-Limit Hold'em - Flight | $1,500 |
| 44 | 18/06/2022 | Event #39: 6-Handed Pot-Limit Omaha | $3,000 |
| 45 | 18/06/2022 | Event #40: Seven Card Stud Hi-Lo 8 or Better Championship | $10,000 |
| 46 | 19/06/2022 | Event #41: Super Turbo Bounty No-Limit Hold'em (freezeout) | $1,000 |
| 47 | 19/06/2022 | Event #42: High Roller No-Limit Hold'em | $100,000 |
| 48 | 20/06/2022 | Event #43: Freezeout No-Limit Holdem | $500 |
| 49 | 20/06/2022 | Event #44: H.O.R.S.E. Championship | $10,000 |
| 50 | 21/06/2022 | Event #45: Pot-Limit Omaha (8-Handed) | $1,500 |
| 51 | 21/06/2022 | Event #46: 6-Handed No-Limit Hold'em | $5,000 |
| 52 | 22/06/2022 | Event #47A: SENIORS No-Limit Hold'em Championship - Flight | $1,000 |
| 53 | 22/06/2022 | Event #48: Eight Game Mix 6-Handed | $1,500 |
| 54 | 23/06/2022 | Event #47B: SENIORS No-Limit Hold'em Championship - Flight | $1,000 |
| 55 | 23/06/2022 | Event #49: No-Limit Holdem | $2,000 |
| 56 | 23/06/2022 | Event #50: Super High Roller No-Limit Hold'em | $250,000 |
| 57 | 24/06/2022 | Event #51A: COLOSSUS No-Limit Hold'em - Flight | $400 |
| 58 | 24/06/2022 | Event #52: Nine Game Mix 6-Handed | $2,500 |
| 59 | 25/06/2022 | Event #51B: COLOSSUS No-Limit Hold'em - Flight | $400 |
| 60 | 25/06/2022 | Event #53: Mixed No-Limit Hold'em; Pot-Limit Omaha (8-Handed) | $5,000 |
| 61 | 26/06/2022 | Event #54: SALUTE to Warriors - No-Limit Hold'em | $500 |
| 62 | 26/06/2022 | Event #55: TAG TEAM No-Limit Hold'em | $1,000 |
| 63 | 26/06/2022 | Event #56: Poker Players Championship 6-Handed | $50,000 |
| 64 | 27/06/2022 | Event #57: Deepstack Championship No-Limit Hold'em | $600 |
| 65 | 27/06/2022 | Event #58: Pot-Limit Omaha Hi-Lo 8 or Better (8-Handed) | $1,500 |
| 66 | 28/06/2022 | Event #59: SUPER SENIORS No-Limit Hold'em | $1,000 |
| 67 | 28/06/2022 | Event #60: Short Deck No-Limit Hold'em | $10,000 |
| 68 | 29/06/2022 | Event #61: LADIES No-Limit Hold'em Championship | $1,000 |
| 69 | 29/06/2022 | Event #62: Super Turbo Bounty No-Limit Hold'em (freezeout) | $1,500 |
| 70 | 29/06/2022 | Event #63: Pot-Limit Omaha Hi-Lo 8 or Better Championship (8-Handed) | $10,000 |
| 71 | 30/06/2022 | Event #64: Pot-Limit Omaha Deepstack (8-Handed) | $600 |
| 72 | 30/06/2022 | Event #65: Freezeout No-Limit Hold'em | $3,000 |
| 73 | 01/07/2022 | Event #66: MINI Main Event No-Limit Hold'em (freezeout) | $1,000 |
| 74 | 01/07/2022 | Event #67: Super Turbo Bounty No-Limit Hold'em (freezeout) | $10,000 |
| 75 | 02/07/2022 | Event #68A: Million Dollar Bounty No-Limit Hold'em - Flight | $1,000 |
| 76 | 02/07/2022 | Event #69: Pot-Limit Omaha 8-Handed Championship | $10,000 |
| 77 | 03/07/2022 | Event #70A: MAIN EVENT No-Limit Hold'em World Championship - Flight | $10,000 |
| 78 | 03/07/2022 | Event #68B: Million Dollar Bounty No-Limit Hold'em - Flight | $1,000 |
| 79 | 04/07/2022 | Event #70B: MAIN EVENT No-Limit Hold'em World Championship - Flight | $10,000 |
| 80 | 04/07/2022 | Event #68C: Million Dollar Bounty No-Limit Hold'em - Flight | $1,000 |
| 81 | 04/07/2022 | Event #68D: Million Dollar Bounty No-Limit Hold'em - Flight | $1,000 |
| 82 | 05/07/2022 | Event #70C: MAIN EVENT No-Limit Hold'em World Championship - Flight | $10,000 |
| 83 | 06/07/2022 | Event #70D: MAIN EVENT No-Limit Hold'em World Championship - Flight | $10,000 |
| 84 | 07/07/2022 | Event #71A: One More for One Drop No-Limit Hold'em - Flight | $1,111 |
| 85 | 07/07/2022 | Event #72: Mixed: Pot-Limit Omaha Hi-Lo 8 or Better; Omaha Hi Lo 8 or Better; 'Big O' | $1,500 |
| 86 | 08/07/2022 | Event #71B: One More for One Drop No-Limit Hold'em - Flight | $1,111 |
| 87 | 08/07/2022 | Event #73: Razz | $1,500 |
| 88 | 09/07/2022 | Event #71C: One More for One Drop No-Limit Hold'em - Flight | $1,111 |
| 89 | 09/07/2022 | Event #74: BOUNTY Pot-Limit Omaha 8-Handed | $1,500 |
| 90 | 10/07/2022 | Event #75A: Lucky 7's No-Limit Hold'em 7-Handed - Flight | $777 |
| 91 | 10/07/2022 | Event #76: Poker Hall of Fame Bounty No-Limit Hold'em (freezeout) | $1,979 |
| 92 | 11/07/2022 | Event #75B: Lucky 7's No-Limit Hold'em 7-Handed - Flight | $777 |
| 93 | 11/07/2022 | Event #77: Mixed No-Limit Hold'em; Pot-Limit Omaha (8-Handed) | $1,500 |
| 94 | 11/07/2022 | Event #78: No-Limit Hold'em | $2,500 |
| 95 | 12/07/2022 | Event #75C: Lucky 7's No-Limit Hold'em 7-Handed - Flight | $777 |
| 96 | 12/07/2022 | Event #79: Razz Championship | $10,000 |
| 97 | 13/07/2022 | Event #80: Mixed No-Limit Hold'em; Pot-Limit Omaha Deepstack (8-Handed) | $600 |
| 98 | 13/07/2022 | Event #81: Freezeout No-Limit Hold'em 8-Handed | $5,000 |
| 99 | 14/07/2022 | Event #82: 8-Handed No-Limit Hold'em Deepstack | $800 |
| 100 | 14/07/2022 | Event #83: HIGH ROLLER No-Limit Hold'em | $50,000 |
| 101 | 14/07/2022 | Event #84: H.O.R.S.E. | $3,000 |
| 102 | 15/07/2022 | Event #85A: The Closer - No-Limit Hold'em - Flight | $1,500 |
| 103 | 15/07/2022 | Event #86: 6-Handed No-Limit Hold'em Championship | $10,000 |
| 104 | 16/07/2022 | Event #85B: The Closer - No-Limit Hold'em - Flight | $1,500 |
| 105 | 16/07/2022 | Event #87: 8-Handed No-Limit Hold'em | $5,000 |
| 106 | 17/07/2022 | Event #88: Super Turbo No-Limit Hold'em | $1,000 |
| 107 | 18/07/2022 | Tournament of Champions | |
| | Date | Event | Buyin |