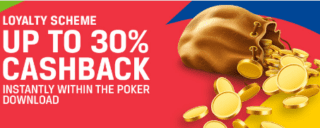 Coral Poker offers players a lucrative VIP program called the Coral Poker Loyalty Scheme, a rewards program that offers a variety of perks, most notably Coral Poker rakeback up to 30%.
Let's dive and take a look at this rewards available through the Coral Poker Loyalty Program.
Summary of the Coral Poker Points and Loyalty Scheme
Coral Poker rewards the loyalty of frequent poker players with a variety of poker perks. The Loyalty program consists of five VIP levels, with increasingly large rewards as you earn points each month.
VIP level is updated daily based on the number of Coral Poker points earned during a rolling 30 period. Below is a summary of perks earned through the program.
Coral Poker Loyalty Scheme
VIP Level
Points Required
Rake Equivalent
Points per € Exchange
Rakeback percentage
Freeroll
1
0
N/A
N/A
0%
N/A
2
1
$0.10
90 per €1
16.00%
£25 freeroll on Tuesday
3
50
$5
60 per €1
21.33%
£25 freeroll on Tuesday
4
500
$50
50 per €1E
25.60%
£100 freeroll on Wednesday
5
2,500
$250
47 per €1E
27.23%
£100 freeroll on Wednesday
6
6,000
$600
42 per €1E
30.48%
£375 freeroll on Thursday
After the benefits of the Coral Poker rakeback program, benefits are a bit scant. The biggest additional perks are weekly freerolls which are available up £375.
Coral Poker Rakeback
The most rewarding part of the Coral Poker Loyalty program is without a doubt Coral rakeback. Earned by exchanging points for cash, players can receive the equivalent of over 30% by exchanging points alone. The higher status level that a player achieves, the better the exchange rate will be, which increases the amount of rakeback that can be earned.
A big perks of the program is that you don't necessarily have to generate a ton of rake, either. Generating the equivalent of just $5 in rake for a 30 day period will yield the equivalent of 21.33% in rakeback. Generate $500 in a month — not a ton for high volume players — and you will be looking at the maximum 30.48% Coral rakeback. And this is before other perks such as races as well as other bonuses and promotions.
When making a "Points Cash In," you must have enough points for a minimum payout of at least €1. When making a points cash in, players must exchange all of their points (partial exchanges are not allowed).
Coral Poker Loyalty Freerolls
The less lucrative reward of the Coral Poker Loyalty Scheme are the weekly Coral Poker Freerolls. Ranging from €25 to €375, players will receive access to the freerolls for their earned status level. While the total prize pools may not be that impressive, a relative lack of participants actually showing up to the freeroll can make these events worth more than they would otherwise appear.
Frequently Asked Questions
Below are some commonly asked questions about the Coral Poker VIP program and how to participate in the program.
How are Coral Poker Points earned?
In short, Coral Poker Points are earned at a rate of 10 for each $1 in contributed rake or tournament buy-in fees.
Cash game earn rate: Rake is based on the amount of money that is contributed to the pot. If €1 is collected from the rake and a player contributes 50% to the pot, the player would essentially get credit for 50% of the rake, or 5 Points.
Tournament earn rate: For example, in a $20+$2 tournament, a player would receive 20 points. The number of points is converted based on the currency of the cash game table or tournament at an approximate rate of 17.8 for every £1 or 12.8 for every €1.
Do Coral Points expire?
Yes, be careful. Any accumulated points that are not redeemed after 6 months of earning will be removed from your account.
How are Coral Poker Points cashed in?
Exchanges must be made through the Coral Poker client. There are the five steps a player must take to cash in earned Coral Points.
Launch the Coral Poker client

Head on over to the "My Account" section of the client

Click on "My Profile"

Next, select "Cash-in Points"

Click "Cash In Store Points
Coral points will automatically be converted to the highest rate available based on your Coral Poker VIP level (see chart at the top of this page).
What are Coral Poker VIP Points?
Not to be confused for Store Points, Coral Poker VIP Points are earned solely for VIP status levels and have no other use or exchange value.
How can you view Coral Poker VIP status?
Coral Poker VIP status can be viewed in the Coral Poker client by accessing "My Account."