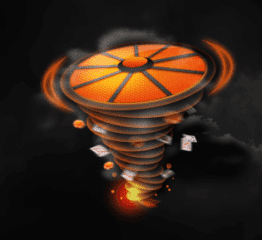 Over the last few years, poker sites have been increasingly creative in attracting new players, especially for the recreational player types looking for a fast-paced and full-filled experience.
At Coral Poker, the poker room features a variety of different types of poker games for players to enjoy that are outside of traditional games. Examples include 6+ Hold'em as well as Twister SNGs, which are Sit and Gos that feature fast-paced action and quick gameplay with the possibility of huge prizes.
What are these SNGs and should you play them?
Coral Poker Twister Sit N Gos are three-handed single table tournaments that are played at a turbo speed with some games often lasting just a few hands.
Prior to the start of the tournament, a prize is randomly selected that players will play for. The prize pool can be up to 1,000x the original buy-in. The larger the prize pool, the smaller the chance of drawing that multiplier.
First place in a Twister event will receive 80% of the prize pool, while 2nd and 3rd place will receive 10%. Note that in some cases the jackpot pool can produce prize pools higher than your buy-in — even if you finish in last place.
In addition to the prizes available through the Twister events, races are held which will award frequent Twister participants. The more you play in Twister tournaments, the more you will move up the leaderboard in these races.
To participate in Coral Poker Twister Races, you must opt-in to the promotion to receive your rewards under the "Missions" tab under "My Info" in your account. Races will include a Twister Race available throughout the entire iPoker Network as well as Coral Poker "Micro" and "Mini" races. Coral Pokwer will also pay double on the iPoker Twister race.
Where to find Coral Poker Twister sit and gos?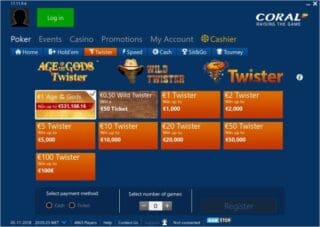 After logging into to the Coral Poker software, the Twister contests are easy to find. Twister Sit and Gos can be found from the Coral Poker lobby under the "Twister" tab. Once you are on this tab, you can find contests in three different categories: Age of the Gods, Wild Twister and Twister.
Age of the Gods Twister – With buy-ins at 1, Age of the Gods Twister SNGs use a small portion of each SNG to fund the Age of the Gods progressive jackot, a multi-level jackpot prize. Progressive jackpot levels are €50, €500, €5000 and €100,000. Before the start of an Age of the Gods Twister tournament, an animation will determine the percentage of each player's bet going to the jackpot.
Players start with a starting stack of 100 and go up every 2 minutes.
Wild Twister – Wild Twister contests are an even crazier version of the standard Twister Sit and Gos. Players must go all-in on every hand and instead of cash prizes, players will receive tokens for standard Twister games. Buy-in to enter any of these events is €0.47+€0.03.
Twister – Standard Twister tournaments are available with buy-ins of €1, €2, €5, €10, €20, €50 and €100.
Final thoughts
While Twister Sit and Go games aren't for everybody, they can be a lot of fun. Whether you try to develop a strategy for the games or simply like to play the games for their relative randomness, they are worth a try.
For those who already have a Coral Poker account: If you are looking for a new poker room to play on the iPoker Network, we recommend Bet365 Poker. For additional details, read our Bet365 review for details on the Bet365 bonus code.