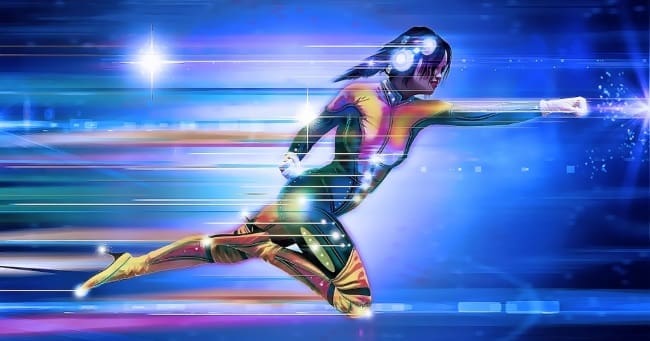 In the Coral Poker client there is a category of games called "Speed." On first glance, these may appear to be just a form of turbo games, but they are more than just that. Instead of being a simple for turbo poker, the games are unique form of poker that has been popularized over the last ten or so years.
You might know the game as "Rush Poker," which Full Tilt first introduced around a decasde ago. Now, almost every online poker room has some form of the game, which are generally referred to as "fast-fold" games.
How to Coral Poker Speed Poker games work?
Coral Poker' Speed games are fast-paced games that essentially take most of the waiting out of poker. Thinking about when you play poker, how much of the time that you are sitting at the table, are you actively playing? If you are like most players, not a lot.
Because almost all the downtime is taken away in Coral Speed Poker, you get to play many hour hands per hour without actually playing multiple tables. Instead of playing 60-75 hands per hour at a regular table, you might be able to play a few hundred at Coral Poker Speed games.
So how exactly does it work?
It's actually quite simple. Your hand is dealt just like any other hand in poker, and as long as you stay in the hand nothing changes. But as soon as you fold, rather than waiting for the next hand, you are sent off to the next table.
As soon as there are 6 players seated at the next table, another hand is dealt. The best thing about the game is that you don't even have to "wait" to fold. Click the fold button and then when action gets to you, the hand will automatically fold for you. All this happens while you begin to play your next hand on another table. Of course, if you are in the hand with cards and still have a chance to win, you will play down to the showdown or whenever the other player has folded.
The more players that are playing these games, the faster the action. But generally, as long as there are at least 3-4 tables worth of players, you can pretty much eliminate most of your waiting time.
Coral Poker Speed games
Players can find the Coral Poker Speed games from the "Speed" tab in the poker lobby. You can further filter games by selecting the type of game as well as the stakes, but again, be aware that tables are limited. Below is a look at the lobby to illustrate where you can find these games and what they look like.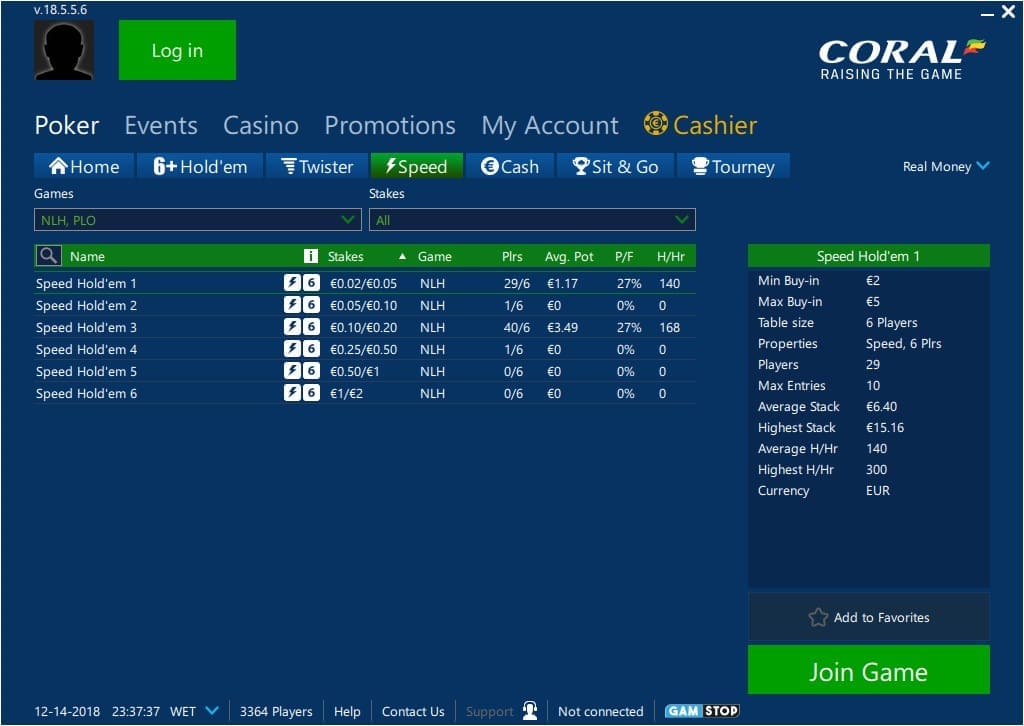 Coral Poker Speed games are available for a limited number of games. Players can find action at the following limits, but just for No Limit Hold'em: €0.02/€0.05, €0.05/€0.10, €0.10/€0.20, €0.25/€0.50, €0.50/€1 and €1/€2. All games are 6-handed, which aids in the speed of these games.
Despite a variety of limits being available for Coral Poker Speed games, much of the traffic is limited to tables €0.10/€0.20 and below. So if you are a player that frequents the higher stakes, you are probably going to be limited to the regular tables.
When you join the speed games, remember that you aren't playing on a single table but essentially a pool of players playing the same game. So when you see you "players" listed as something like 38/6 or similar, this essentially means that there are 38 players playing six-max tables, or around the equivalent of 6 games running at one time.
Final thoughts
Of course, there are some disadvantages to these games — you won't be able to get a read on your opponent and it does take the social aspect out of poker. Still, these disadvantages can be seen as positives for some, especially when you consider you will be playing more tables.
Playing hands as quickly as possible may not be what you want to get out of poker, but Coral Speed Poker is a form of poker that every player should try at least once.
Already have a Coral Poker account? Check out review of Bet365, another great iPoker network poker room.