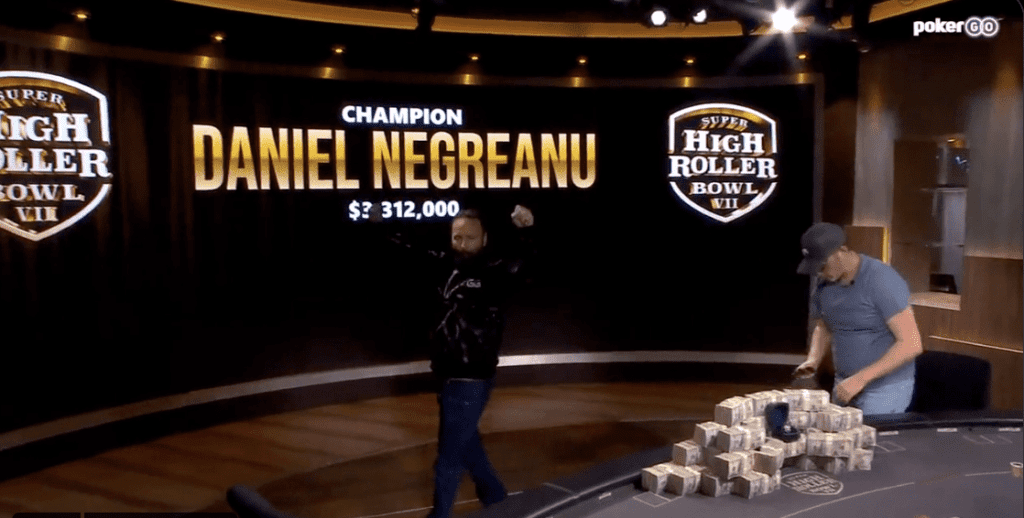 Daniel Negreanu has finally put an end to the two worst years of his 30-year poker career with a morale-boosting win in the $300,000 buy in 2022 Super High Roller Bowl (SHRB).
The win at the PokerGO Studio in Las Vegas, saw Real Kid Poker earn his second-best live cash out in his career taking home a cool $3.3 million.
It was also his first SHRB ring since his 2nd place finish at the 2018 SHRB tournament.
24 Entries And $7.2m To Be Shared Amongst Four Places
Just 24 players paid the $300,000 to take part in the SHRB tournament in 2022, which generated a prize pool of $7.2 million, which was to be shared between the top four players in the event.
The entrants list read like a who's who of High Stakes Poker legends which included the recently crowned Poker Masters 2022 Champion Sean Winter, Michael Addamo, Bryn Kenney, Stephen Chidwick, Isaac Haxton, Orpan Kisacikoglu, Justin Bonomo, David Peters, Andrew Lichtenberger and Nick Petrangelo to name but a few.
Day One Exits
Starting on the 5th October, the first day of action saw the field narrowed down from 24 players to 14, with ten big names hitting the skids.
Highlights of that first day was when Negreanu and Bryn Kenney went up against each other with Kenney seemingly holding the advantage with pocket aces, against Negreanu's pair of threes and a flop which saw Kenney improve his hand to a set.
However, Negreanu saw some of the luck that he had felt deserted him in recent times as he went runner-runner on the turn and river, a move which saw Kenney land a boat.
Negreanu though now held quads, and he took down Kenney when the controversial star went all in only to see Real Kid Poker flip the two threes to take his chips.
That big pot win put Negreanu in a solid position at the table and throughout Day One he continued to pick up chips and finished the day by cracking Eric Worre's aces, a pot win which moved him top of the standings moving into day two.
Alongside Kenney, other players who did not extend their participation in the event into the second day included; Dan Smith, David Peters, Isaac Haxton, Talal Shakerchi, Bill Klein, Sean Winter, Stephen Chidwick, Adrian Mateos and Michael Addamo, who was last year's SHRB 2021 winner.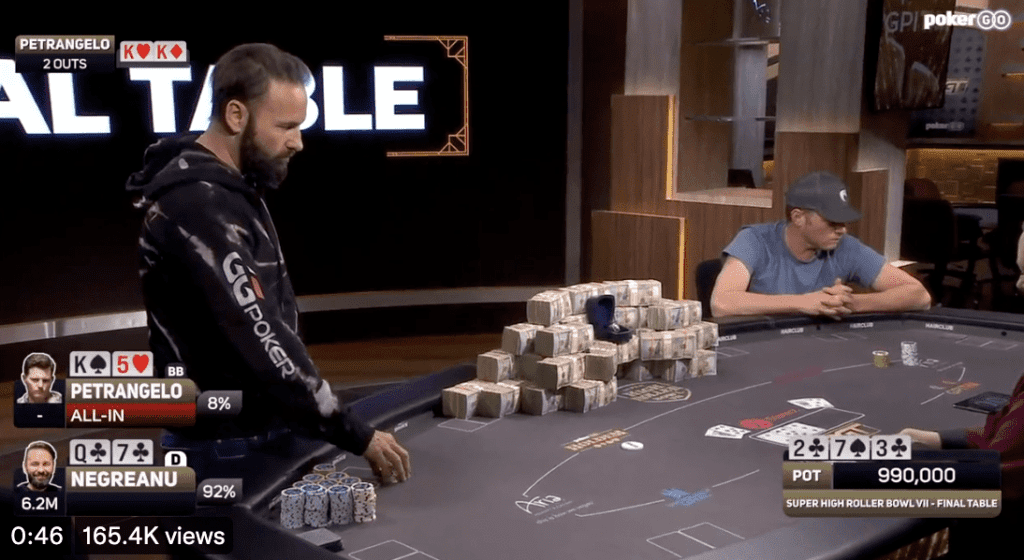 Day Two
With 14 players remaining in the event, Kid Poker was drawn onto Table 1, with the other seven players taking their places in seat two. Chip counts at the start of day 2 are shown in brackets.
Table One
Cary Katz (122,000)
Eric Worre (259,000)
Chris Brewer (224,000)
Alex Foxen (323,000)
Daniel Negreanu (1,499,000)
Paul Jager (424,000)
Mikita Badziakouski (1,105,000)
Table Two
Justin Bonomo (936,000)
Ben Tollerene (165,000)
Seth Davies (223,000)
Orpen Kisacikoglu (590,000)
Jason Koon (56,000)
Nick Petrangelo (746,000)
Andrew Lichtenberger (536,000)
Day Two began with four of the shorter stacked players, Ben Tollerene, Jason Koon, Chris Brewer and Cary Katz all being eliminated relatively early in the day to cut the field to ten.
We were then treated to one of the hands of the day as Justin Bonomo saw his pocket Ace-King improve to defeat Mikita Badziakouski's pocket queens to claim a massive pot and leaving Badziakouski short-stacked and he would exit the tournament a short time thereafter.
Seth Davies were then eliminated next, Davies particularly unlucky when he shared top pair with Kisacikoglu, but the Turkish player had a better value kicker to knock out the American.
Alex Foxen was then the next to leave the table when Paul Jager's pocket kings was good enough to see off Foxen's suited Ace-Queen.
However, it wasn't to be the start of a positive move for Jager as not too long later he exited the tournament in seventh place when Eric Worre held a stronger kicker and with just a few big blinds left, he was eliminated shortly after.
Despite that win, Worre still held the shortest stack of the remaining six players and he would be the final elimination on Day Two when Nick Petrangelo landed three jacks to beat Worre's two pair to eliminate him from the tournament and send Petrangelo into Day Three as the chip leader.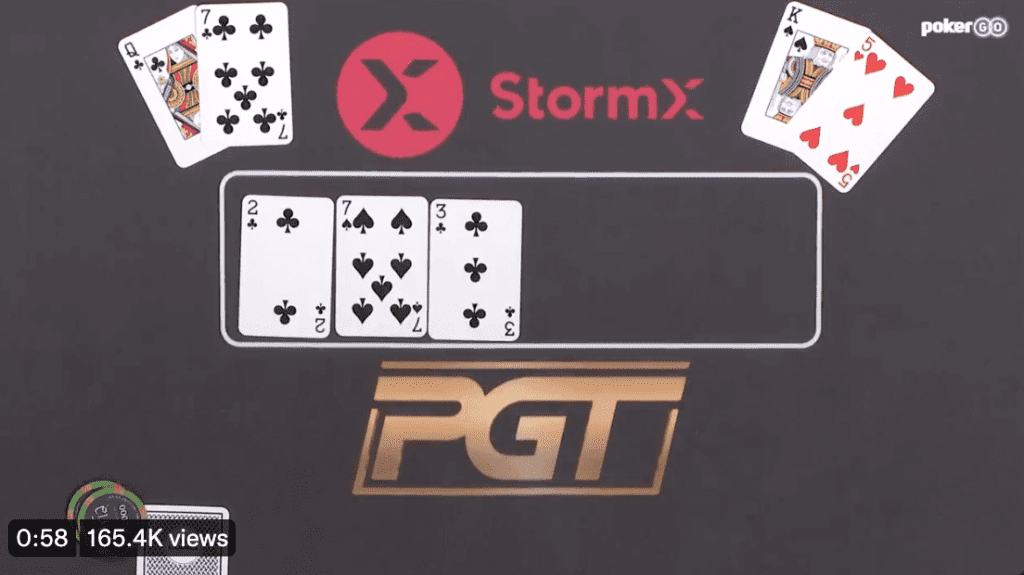 Day Three
Day Three began with five players on the bubble and the table draw saw the players seated as follows:
Final Table
Andrew Lichtenberger (880,000)
Daniel Negreanu (2,225,000)
Justin Bonomo (610,000)
Nick Petrangelo (2,630,000)
Orpen Kisacikoglu (855,000)
Kisacikoglu was the unlucky player to miss out on a money finish when he went up with Ace-Queen against Andrew Lichtenberger's pocket queens. Kisacikoglu went all in and Lichtenberger called and with the board offering nothing to the Turkish player, he was the one that went home on the bubble.
The remaining four players played some intense hands, with short-stacked Bonomo doubling up through Negreanu at one point, but Bonomo's luck ran out when his 8-8 ran into Lichtenberger's pocket jacks and after shoving, he saw another jack land on the board to ensure Lichtenberger landed the pot.
Bonomo took home $720,000 finishing fourth.
With three players remaining, the chip count was relatively evenly balanced with Petrangelo holding just shy of 3 million, while Negreanu and Lichtenberger had just 5,000 chips between then in 2nd and third respectively with just over 2.1 million chips each.
After a lengthy battle, Negreanu saw off Lichtenberger when he hit A-6 and then flopped an ace, holding from that position against his opponent's K-6.
Lichtenberger finished third earning $1,152,000 in his first appearance in the SHRB.
By now Real Kid Poker had established a big chip lead over Nick Petrangelo holding almost 6 million chips to his opponents stack which was just shy of 1.3 million.
Negreanu continued to chip away at Petrangelo's stack before the Canadian went all in from the button holding a suited Q-7, Petrangelocalled with K-5, and when Negreanu flopped a seven and Petrangelo could not improve, Negreanu claimed the win.
Petrangelo took home $2,016,000 for his second place finish with Negreanu pocketing $3,312,000 for the win and also a significant sense of relief.
Bad Luck
"I hate whining about bad luck," said Negreanu after his victory.
"It's the worst. Nobody wants to hear it. My wife, when I come home, she feels what it's like. It's so frustrating to feel like you're playing well and the results aren't there. And you hear the internet 'Daniel, Daniel, Daniel, we gotta play your way,'"
"You know what? I just did play my way and it felt really, really good."
The 600 points Negreanu picked up for the PGT Leaderboard sees him in 21st position, still some way behind the leader Stephen Chidwick of the UK, who is just 12 points ahead of Phil Ivey in second.