Over the years, the top flight of English football, whether it is the Premier League, or as it was, the Football League Championship Division 1, has always produced some fantastic rivalries.
Some rivalries, such as the early 1980s rivalry between Ipswich and Aston Villa, lasts just a few years when two teams develop at the same point in time and become natural rivals for the game's top honours.
But some linger on and continue to this very day.
Now, it is important to note that we are not talking about derby games as rivalry matches here. It is a given that Liverpool and Everton, Man City and Man Utd, Tottenham and Arsenal or Newcastle and Sunderland are fierce rivalries.
But what about those ones between teams further apart than a few miles? What is the history of these rivalries and why are they so intense.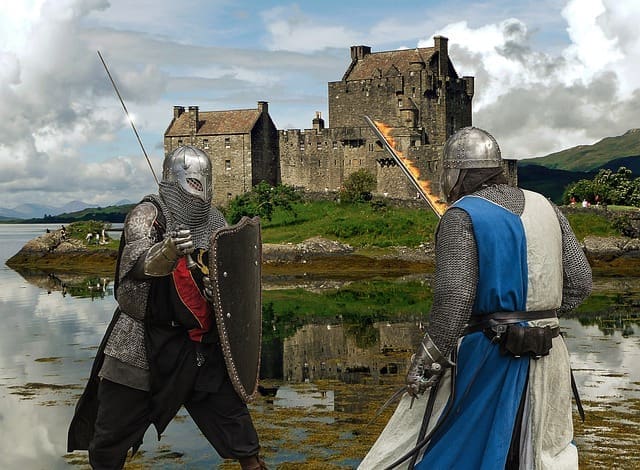 Well, seeing as we have one of these rivalry games taking place this weekend (check out bet365 Sport for all the latest betting on this weeks EPL action by the way), now seems a good time to check out our top ten list of fiercest non-derby game English Top Division rivalries.
Some of these are very modern, but some have their origins way back in the history of football and we'll learn a little about each of these hotly contested matchups along the way!
The Top 10 Non-Derby English Top Division Rivalries
10. Crystal Palace v Brighton
Crystal Palace Wins – 38
Draws – 29
Brighton Wins – 40
History
This is one rivalry which origins can be pinpointed back to one game in the 1970s. An FA Cup tie between the two which saw managers Alan Mullery of Brighton come up against his ex-Spurs team mate Terry Venables with Crystal Palace.
Both teams had risen through the leagues together and were fierce rivals in what was then division two, both earning promotion to division one in the same season.
They then met in the FA Cup where Crystal Palace led the game, despite Brighton dominating it, by a 1-0 scoreline. Brighton though were awarded a penalty, which they scored, but the referee ordered a retake which Brian Horton missed.
The bad-tempered game ended and after Alan Mullery of Brighton had a cup of coffee poured over him by a jubilant Palace fan, he attended a post-match interview in which he made some foul mouthed remarks about the club and suggested that they were only worth £5.
Since that moment, the two clubs have become embroiled in a rivalry that still exists to this day much to the bemusement of the two protagonists involved in starting it.
9. Leeds United v Manchester United
Leeds Wins – 26
Draws – 36
Man Utd Wins – 49
History
The English War of the Roses pitted Lancashire against Yorkshire, red rose against white and in many ways, this game is a continuation of that. Leeds saw themselves as the pride of Yorkshire, while Manchester United were regarded by many as the best and certainly the biggest team in Lancashire.
The rivalry on the pitch intensified in the 1960s and 70s when Man Utd and Leeds were amongst the dominant forces in English soccer. A brutal FA Cup semi final between the two in the 1964/65 season which saw Denis Law and Jack Charlton embroiled in a fist fight arguably laid the foundations for the rivalry to intensify over the 60s and into the 70s.
Another key moment in the rivalry came in 1978 when two of Leeds best players, Scots Joe Jordan and Gordon McQueen were sold to Manchester United but in 1982, Leeds were relegated and the rivalry lessened considerably as the Yorkshire side and their rivals spent many seasons in different divisions.
The rivalry, more muted now, still continues to this day now that both are back in the Premier League.
8. Newcastle United v Man Utd
Newcastle Utd Wins – 43
Draws – 41
Man Utd Wins – 90
History
In the early years of the Premier League Manchester United were dominant and after Blackburn Rovers, Kevin Keegan's newly promoted Newcastle United were the next team to challenge the dominance of Alex Ferguson's side.
In the 1995/96 season, Newcastle held a 12-point lead at one point but from February to March lost five games in eight to hand United the lead in the title race.
When Sir Alex Ferguson questioned whether Leeds United, who had battled hard with 10-men before losing 1-0 to United, would offer the same levels of intensity against Newcastle, the Magpies boss Kevin Keegan launched into a furious rant after the game, which many felt cost Newcastle the title.
The Magpies drew there last two games at Nottingham Forest and at home to Spurs meaning United lifted the title by four points.
The next season, Newcastle were once again United's nearest challengers and actually beat the Red Devils 5-0 at St James' Park but United once again claimed the title.
With the recent takeover at Newcastle offering them financial parity with the Red Devils, could this rivalry be set to kick into action again?
7. Arsenal v Liverpool
Arsenal Wins – 82
Draws – 62
Liverpool Wins – 94
History
Two clubs who have been long-standing rivals in the top division of English football especially since the late 1950s onwards, the two have met in three FA Cup Finals (Arsenal winning two, to Liverpool's one) as well as one League Cup Final, which was also won by Arsenal.
However, their rivalry now stems back to May 1989 when the two met at Anfield with the league title on the line. Liverpool only needed to avoid a two-goal defeat in order to claim the title.
Arsenal scored in the second half through Alan Smith to make it 1-0 and late in injury time, it seemed Liverpool would hang on before Michael Thomas burst through to score and give Arsenal the title.
Since then the two have been involved in some classic, and often high-scoring games, such as a 4-4 draw in the League a 5-5 draw in the League Cup a 6-3 win for Arsenal in the same competition and a 4-2 win for Liverpool in the Champions League.
Now with Mikel Arteta in charge at Arsenal, and the Gunners top of the Premier League, this rivalry looks set for a new era to start.
6. Chelsea v Manchester United
Chelsea Wins – 55
Draws – 56
Man Utd Wins – 81
History
While Chelsea's rivalry with Leeds stretches back many years, their rivalry with Manchester United stems from the Premier League era and notably when Jose Mourinho took charge for the first time at Chelsea.
Backed by Roman Abramovich's millions, Chelsea constructed an expensive team of stars that just needed a manager to take them onto the next level. They settled on Jose Mourinho, whose FC Porto side had beaten Manchester United at Old Trafford on their way to Champions League success.
In his first season, Mourinho took Chelsea to the league title with 95 points and he pipped United again to the top prize a year later. However United struck back a year later to claim the title ahead of Chelsea by six points.
When Mourinho departed in 2007/08, United won the title for three years in a row before Chelsea, now guided by Carlo Ancelotti, added a third Premier League title, beating United by a single point.
Mourinho came back to Chelsea and lead them to a fourth title in 2015 and in a twist of fate became Manchester United manager a few years later, but was unable to land the title for the Red Devils, finishing a best of second to Manchester City who had emerged as United's new main title rivals.
5. Chelsea v Liverpool
Chelsea Wins – 65
Draws – 43
Liverpool Wins – 84
History
Chelsea's emergence under Jose Mourinho also saw them develop a rivalry with a Liverpool team that, while not being genuine title contenders under Rafa Benitez at that time, proved to be a thorn in the side for Chelsea, especially in the Champions League.
The rivalry began in earnest when Jose Mourinho's team came to Anfield and thrashed Liverpool 4-1, a sobering defeat for the Reds which showcased the gulf in quality between the two teams and while Chelsea seemed to have the advantage in league games between the two, it was the Reds who would often be Chelsea's nemesis in the Champions League.
In 2005, the two met in the semifinals, with the first game at Anfield. Luis Garcia was awarded a goal that Jose Mourinho refers to as the ghost goal, claiming the ball did not cross the line, and Liverpool hung on to win 1-0 before earning a 0-0 draw in the 2nd leg to go onto the final in Istanbul.
Two years later, they met in the semi-finals of the same competition once again, where after a 1-0 Chelsea win at Stamford Bridge, Liverpool won 1-0 at Anfield and then defeated Chelsea on penalties to reach the final against Milan.
A year later Chelsea gained some revenge with a win in the quarterfinals 4-3 on aggregate and they then defeated the Reds once again in the quarterfinals a year later, this time 7-5 on aggregate.
The sheer number of games between the two in this Mourinho/Benitez period is what really developed the rivalry between the two clubs which has remained to this day.
4. Liverpool v Manchester City
Liverpool Wins – 108
Draws – 56
Man City Wins – 59
History
Another recently developed rivalry has been the emergence of Manchester City and Liverpool as the two of them set new standards in the Premier League in the era of Pep Guardiola and Jurgen Klopp as managers.
Manchester City's owners bankrolled their team to Premier League success under Roberto Mancini then under Mauricio Pellegrini, they faced their first real test from Brendan Rodgers Luis Suarez Liverpool team, pipping the Reds to the title by a point.
However, it was when the two clubs appointed Pep Guardiola and Jurgen Klopp as their managers that the rivalry moved to a new level. Guardiola's team was sweeping everyone before them and setting new record points totals in the Premier League.
Klopp's Liverpool were their main challengers in the 2018/19 season, amassing 97 points to City's 98 as both teams set new standards in the Premier League. Liverpool finished 25 points clear of third placed Chelsea that year.
A year later, the Reds won the league by 18 points, before City regained the title a year later and held onto it last season, pipping the Reds once again by just one point.
3. Leeds Utd v Chelsea
Leeds Utd Wins – 40
Draws – 30
Chelsea Wins – 37
History
The ferocity of this rivalry, especially in the 1970s, was something to behold as clashes between Leeds and Chelsea, two of English football's best teams at that time, often descended into wars of attrition.
The 1970 FA Cup Final replay was a case in point. The game, which saw one booking, was littered with a series of awful fouls and off-the-ball incidents which blighted the game which ended in a victory for Chelsea.
So much so that a modern-day referee viewed the game back and said that in his opinion, a modern referee would have awarded six red cards and 20 yellow cards across that single match.
Clashes between the two hooligan factions of both teams were common in the 1970s and added further flames to the actions on the pitch and though that has now thankfully calmed down, both teams still have an intense dislike of one another that stems back to the 70s.
2. Manchester United v Arsenal
Man Utd Wins – 101
Draws – 50
Arsenal Wins – 86
History
Similar to Arsenal and Liverpool, Man Utd and Arsenal have been rivals for top honours in English soccer over many years, but their rivalry was really cemented in the era of Sir Alex Ferguson at United and Arsene Wenger at Arsenal.
After Newcastle and Blackburn Rovers, Arsenal were the next team to emerge as the main rivals for Manchester United, especially when Bruce Rioch was sacked and the Gunners appointed Arsene Wenger.
Wenger brought in a number of players to the club, such as Thierry Henry and Patrick Vieira, who would go on to become legends at the club, bringing the best out of stars that were already there such as Tony Adams and Denis Bergkamp.
In 1997/98 Arsenal beat Man Utd to both the Premier League and FA Cup as the Gunners now emerged as United's main rivals for the top honours in England.
A second double followed in 2001/02, the year they actially won the League title by beating Man Utd at Old Trafford and in 2003/04, Arsenal won the Premier League without suffering a single defeat, the so called "Invincibles' season.
For many years, it was a toss up between Arsenal and Man Utd who would win the title with United winning more but Arsenal still remain their chief rivals, which makes Sunday's game at the Emirates all the more intriguing.
1.Manchester United v Liverpool
Man Utd Wins – 90
Draws – 68
Liverpool Wins – 80
History
No rivalry in English football comes close to the United and Liverpool rivalry. It is one that has its roots in many different aspects of life. Two northern powerhouse cities, the two most successful teams from those cities, separated by just 30 miles and linked by a motorway, two teams that are the most successful in English football history, but who have also endured their own tragedies at the same time.
Games between the two are intense affairs with fans at fever pitch from the get go. Often this can spill over into nastiness if not outright hatred.
United have won one more title than Liverpool, but Liverpool have more trophies overall and double the number of Champions League's held by United. But it is so close between the two that in any one season, all that could change.
United v Liverpool is up there with Barcelona v Real Madrid as the biggest non-derby games in the world today and that is unlikely to change, no matter the relative success or failures of either club, for many years to come.