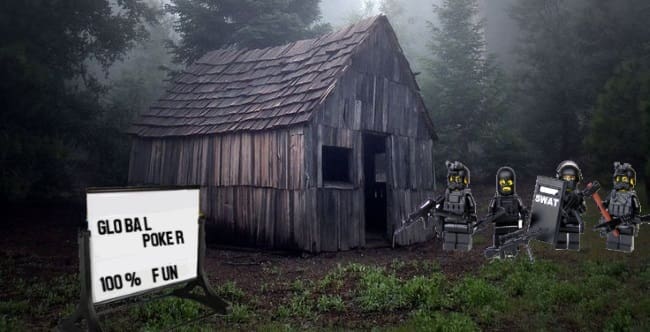 New York – A heart-warming tale arrives from the Big Apple this week, as federal prosecutors are finishing off a few more things on their to-do list before unsealing a federal indictment against player-friendly Global Poker.
"We wanted to do it last week, but we've been absolutely swamped this last month," noted attorney Philip Nerfel.
"When we shut down Stars and UB and Tilt, they called it Black Friday, which had such a nice ring to it. But this isn't quite as big a deal for us, so we're thinking about just calling it nothing-else-to-do Tuesday."
A shutdown just because it's been a while since a poker room was seized?
Global Poker has branded itself as a free-to-play social poker site, with advertisements appearing on Facebook and even professional sporting events. But some have questioned the site's legality, since the site charges rake and players can cash out for real money. And also because it's completely illegal.
We were able to talk to unassuming Global Poker CEO Herman Dundee, who carefully explained Global's business model to us:
"Look, it's all very simple. You can't play for real money on our site. You can only play for "Gold Coins." Now you buy Gold Coins with regular US dollars, just like how you buy upgrades in Candy Crush for example. And sure, I suppose Sweeps Cash at Global Poker can be exchanged for real cash. And I guess we give players exactly 1 Sweeps Cash for every 1 US dollar they spend, but that's just a coincidence! Yeah, yeah that's it. Hey, what's going on here? Wait a minute… you're not my normal masseuse! Run!"
Global Poker is one of the fastest-growing poker sites in the U.S. and clearly not a sponsor of our site. Global caters to recreational poker players by not allowing HUDs, having much faster tournament structures, and charging more rake than you could possibly imagine. But everyone seems to enjoy playing on it or at least they will until the DOJ shuts them down just for funsies.
This is how it will be
We at BonusCodePoker can't possibly speculate on what a raid on the Global Poker offices would look like, but it would probably look exactly like this:

An eerily quiet autumn morning. Fog still in the trees. Dew on the grass. A SWAT team silently descends upon Global Poker headquarters. Birds erupt from the trees as the thunderous crack of a smashed door interrupts the stillness. The screaming SWAT team swarms the office to find… nothing. No computers, no terminals. Just empty desks and unassuming office chairs. The team breaches the first floor to the main office where they find a single employee. His back facing them, staring out the window, he tosses his cigarette on the ground, before looking over his shoulder and asking softly, "Well, what took you so long?"
Later in a dimly lit interrogation room, the handcuffed, nonplussed, Global Poker scapegoat stares curiously at the mustachioed grizzled cop, who wipes the sweat from his forehead before leaning across the desk barking:
"C'mon, buddy, come clean! Where's the money? Where'd you boys send it? Cayman Islands? Malaysia?! Damn it, man, where is all that cash!?"
A pause.
"Why, officer, didn't anyone tell you? We don't deal with cash at Global Poker. Our players…
…use Gold coins."
FADE TO BLACK.
Also read: Guy Who Lost Coin Flip Acting Like It's The End Of The Whole Goddamn World