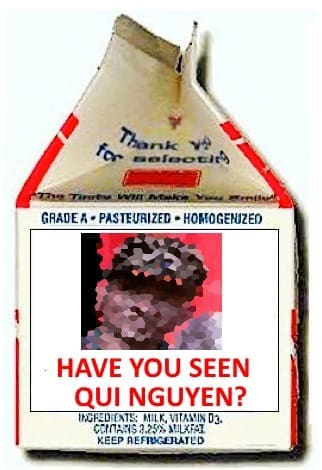 All over the world, poker players are furrowing their collective brows and frowning their collective mouths as they desperately try to remember who won the Main Event last year. Remembering the name is like trying to recall a dream. You knew it once, but you can feel the memory slipping away…
Thankfully, after exhaustive research, we here at BCP have discovered the answer. The player in question was Qui Nguyen.
Our findings
He wore a hat with a raccoon on it and decimated Gordon Vayo heads-up and then probably went to a baccarat table where he has been since.
Last year's Main Event featured several characters and big name pros, but Qui "Tommy Gun" Nguyen mostly stayed in the background until play got short-handed where he just came out guns blazing and everyone had no clue what to do and he just beat the brakes off everyone.
However, since winning poker's greatest title, Qui has been mostly absent from the poker scene. Nguyen has not cashed in a poker tournament since his amazing victory last year.
When asked about his heads-up opponent, 2015 runner-up Gordon Vayo (or was it 2016?) had this to say:
"I'm not quite sure. I have blacked out that entire period of my life. People tell me I played pretty GTO, but sometimes GTO loses to button-clicking. Standard."
16th-place finisher and media-darling William Kassouf was also asked his opinion of Nguyen. Kassouf proceeded to then talk for three straight days until our tape recorder exploded.
After his victory, Nguyen seemed to express appreciation of the Main Event bracelet and the role of poker ambassador. He said as much in his interview with Kara Scott.
Or at least we think he did. Look, it was really hard to understand him.
Where are they now?
Nguyen joins the ranks of other forgotten Main Event winners like Bill Smith, Brad Daugherty, Brian Roberts, and Jesse Alto.
That's a list so obscure that one of those people actually never even won the Main Event, but you have no idea who.
Nguyen won $8,000,000 for his victory in Vegas and used the money to support friends and family.
And also to play baccarat every night until he passed out.