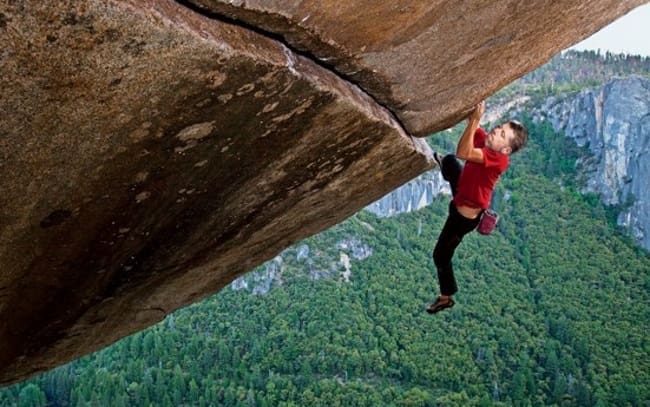 Longtime poker pro Huck Seed took to social media this week looking to book action versus those who don't think the 50-year-old can climb Yosemite's El Capitan unaided by rope, climbing gear, or any concern for his mortality.
Seed finds inspiration
For his latest prop bet, Seed was inspired after watching the Academy Award-winning documentary Free Solo, alone in his room with no friends or family around to dissuade him away from the terrible idea that was forming in his brain after viewing the remarkable film.
Free Solo documents the accomplishment of another weirdo, who decided it would be a fine idea to scale 3000 feet of slippery vertical stone armed with nothing but sneakers, a bag of chalk dust, and the kind of steely determination that comes from having absolutely nothing to live for.
As Seed said on Twitter immediately after viewing the film, "This guy gets it."
Ready to climb that thing
Huck Seed, well known in the poker community for his hippie-ish, non-materialistic, and monastic lifestyle immediately connected with Alex Honold, the subject of Free Solo. Honnold disdains relationships, has no physical address besides the van he sleeps in and isn't sure that other people actually exist in the same way he does.
While Honnold's autistic passion is rock climbing (and courting death) Seed's passion is gambling (and courting poverty). Seed is famous for driving around in a car worth less than a typical buy-in at the nose-bleed stakes he routinely plays in.
"When you think about it, what Alex and I do is basically the same," mused Seed on Instagram, sitting cross-legged under a mystical pyramid sleeping chamber made from recycled clothes hangers.
He added, "I can climb that thing just like Alex, and I'm taking bets against any of you haters who doubt me!"
Shit Huck Seed says
Plenty of people have piled on this offer. Particularly since Seed doesn't even want odds. "Odds? Forget it. I'm taking bets at even money," said Seed contemptuously, adding, "Come and get it, suckers!"
Several local escrow accounts are currently bursting at the seams as gamblers are trampling over themselves to get in on what is perceived as Seed's biggest gambling "mistake" of his career.
Seed scoffed at this openly on Facebook, announcing, "Ha! I've left more money in poker room cashier boxes by accident than these doubters make in a year. I'll climb that thing easy. Then I'll bank that cash. Thanks for the free dough, dummies!"
Emphasizing his lack of concern, Seed tweeted, "Anybody got some of those sticky-looking shoes I can borrow? Never mind, these old Converse sneaks will do just fine! #seedssicklife"
The long-time gambler added a winky emoji just to make sure everybody knows what's what.

Update: In lieu of flowers, Huck's family is requesting that fans and friends send donations to their choice of either The Sierra Club or The American Campaign to Bring Back Acrophobia.
[wp_social_sharing social_options='facebook,twitter,linkedin,reddit' facebook_text='Share on Facebook' twitter_text='Share on Twitter' linkedin_text='Share on Linkedin' reddit_text="Share on Reddit" icon_order='f,t,l,r' show_icons='0′ before_button_text=" text_position=" social_image="]