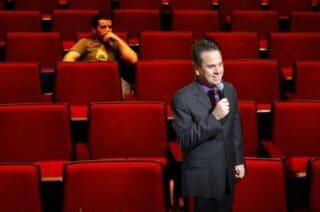 Biloxi, MS – Wow, what a heartwarming story out of the Mississippi Delta this morning! It turns out that a local tournament director named Neil Anderson has one big ticket item on his holiday wish list – an autograph from legendary tournament director Matt Savage.
Savage: man, tournament director, living legend
"He's basically the Jesus Christ of tournament directors," gushed a clearly nervous Anderson.
"I've always been a big fan of his ever since his San Jose days. I watched him work his way up through Binion's and the WSOP, and now he's dominating with the WPT. He's the best!"
Matt Savage is the current Executive Tour Director for the WPT. He is one of the original founders of the Tournament Directors of America and is almost always on the short list for the Poker Hall of Fame. He's also very active on Twitter and sends out roughly 3,000 tweets per day.
Poker tournament directors: the world's easiest autographs
"Everyone else watches the World Series of Poker broadcasts hoping to see sick coolers and their favorite pros. Not me! I'm in it for the floor rulings and 20 minute penalties. I live for that sorta thing!" added an increasingly excited Anderson. "I have autographs and pictures with all the great TD's in the game. Jack McClelland, Jack Eiffel, Thomas Kremser, even Jim Albrecht!"
We reached out to Savage for comment on the autograph situation with Anderson. Savage had this to say:
"Uh, I travel all over the country all the time. Getting my autography is about the easiest thing anyone in the world can do."
Is Neil Anderson the next Matt Savage?
Anderson, 35, works full time at the Imperial Palace Casino in Biloxi where he runs the daily tournaments for their poker room. The room has eight poker tables and usually runs 1-1 Limit Hold'em and 1-2 No Limit. The average age of the players there is 87.
"We're no World Poker Tour or anything like that," noted Anderson. "But we do alright. On the second Sunday of each month we have a $60 buy-in tournament with a $250 guarantee. And we usually only have one or two hundred in overlay. So, yeah, I'd say we're doin' just fine, thank you very much."
Anderson had one last thing to add before waddling back to the poker room.
"Savage is also an amazing actor! Did you see him in Lucky You!? It's of my favorite poker movies!" added Anderson.
"Hey, that's one of my favorite movies too!" added Savage.
Lucky You is available to rent or own today.