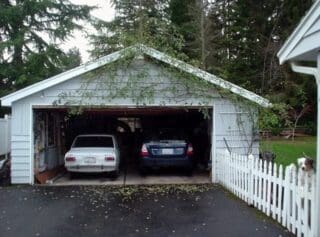 A California man has announced that he plans on hosting the largest poker tournament in history – a $1 billion guaranteed prize pool – from his own garage.
The tournament will eclipse the previous record by over $900 million, which was set during the 2006 World Series of Poker at the height of the poker boom.
Guarantee could be reached by mid 2500
BonusCodePoker approached the man to ask how he plans to reach the $1 billion guarantee with just 3 flights scheduled for the $125 buy-in tournament.
"Well, I've got two tables in the garage. If I fill 'em up for all 3 flights, that's 54 players. A total of $100 of each buy-in goes to the prize pool, so we're already up to $5,400. If we look like we might run short, Bill from accounting knows a couple guys. And my brother Tim is in as long as we have one of the tournaments on Saturday night between 6 to 9."
I may even be able to make room in my garage for a third table if I can get my 1997 Ford Taurus started. From there, we'll just keep adding flights until we hit that $1 billion mark."
By our math, 3 flights per day means the tournament could reach its guarantee in about 185,000 days – that's roughly 507 years, or sometime during 2524. We are not anticipating the man will move the Taurus, as his wife was overheard muttering that it's been sitting in the exact same spot since the Bush administration.
After pointing out the difficulty of reaching the guarantee, we were told to "read the fine print, idiots. I can just cancel and void the event if I die before the guarantee hits." The man organizing the tournament wishes to remain anonymous at this time. He is also withholding further details so "somebody reading the article doesn't steal the idea."
Over 40 players interested thus far
Despite the uphill battle this ambitious man faces, the tournament is garnering some attention. At the time of this writing, over 40 players have already signed up, a list which includes Allen Kessler.