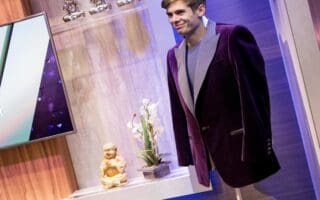 Las Vegas, NV – Big news out of Sin City this week as the Aria Casino and Poker Central have made a joint decision to award Fedor Holz next year's Poker Masters purple jacket.
"Let's just go ahead and get this out of the way," announced Cary Katz while he was counting his money over breakfast. "Fedor is gonna win. And then Koray Aldemir or someone like him will get second blah blah we've seen it all before."
The inaugural Poker Masters was held last week and was considered a big success by everyone who isn't Phil Hellmuth.
Five events in total were held with German pro Steffen Sontheimer final tabling every one of them on his way to winning the title and probably like eight million dollars or something.
Fedor Holz finished in second place although he likely backed Steffen for 150% or some such nonsense.
Fedor Holz pleased with next year's result
Fedor was all smiles when he talked to BCP about his upcoming victory.
"Yah, of course I am excited to win. It's always nice to come out on top even when the event hasn't taken place yet. I was disappointed after finishing runner-up this year, so I spent 18 hours a day meditating afterwards and sure enough I came out as the winner. It's all thanks to the great people we have working over at Primed. My company is really starting to-"
Unfortunately at that point, Phil Hellmuth interrupted the interview by tackling Fedor to the floor, pulling the jacket off him, and hobbling away.
Hellmuth was last seen running through the halls of Aria screaming "Best ROI in history!" as he woefully struggled to put on a jacket that was about 11 sizes too small for him.
PokerGO will be live-streaming Fedor's victorious tournament next year in September. Subscriptions are usually $99 a year, but if you sign up with the promo code "BCP" then, well, nothing will happen because they won't affiliate with us.