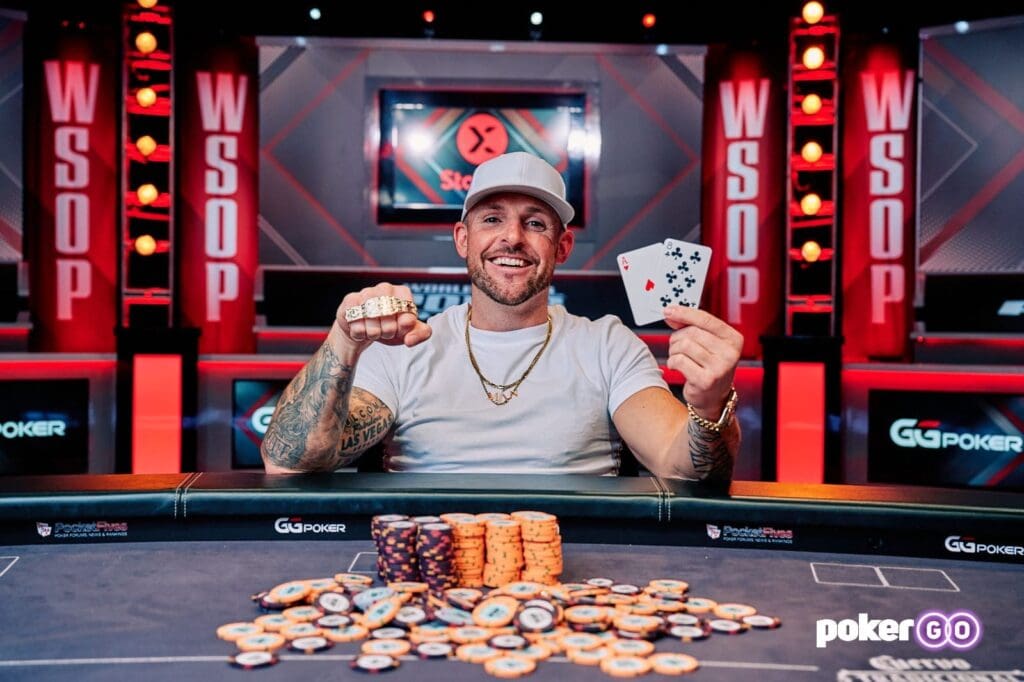 Another big was crowned at the WSOP 2022 late Tuesday when Mike Jukich took down the 6,501-entry Monster Stack event. Lasting over four days and 14 hours of play on Tuesday, Jukich was the man on top to score his first bracelet as well as a head-turning $966,577 first-place prize.
Jukich, who jumped up on the table after his win, was understandably ecstatic after the victory. "Insane, first off I want to say hi to my fiancé Ashley Myers who's back home, and my son Ryker. I wish they could be here. It just didn't work out with how the scheduling was, I was short to start the day. I had like 14 bigs. I started off with a double and just kinda ran it from there. It's just been a wild roller coaster."

The final table included no fewer than eight six-figure winners:
1st – Mike Jukich – $966,577
2nd – Mateusz Moolhuizen – $597,362
3rd – Francis Anderson – $499,912
4th – Joao Simao – $341,095
5th – Anthony Spinella – $260,315
6th – David Zarrin – $199,995
7th – Yoshiya Agata – $154,688
8th – Jessica Teusl – $120,455
9th – Richardo Caridad – $94,439
What's on tap for Wednesday
Event #26 – $10,000 Limit Hold'em Championship – After three full days of play, just two players remain – Kyle Dilschneider and Jonathan Cohen. They will meet at 3 PM PT on Wednesday with 1st set to receive $245,678 and 2nd set to receive $151,842. Notable winners from the final table on Tuesday included Matthew Schreiber (3rd – $107,978) and Chad Eveslage (6th for $44,194).
Event #27 – $1,500 No Limit Hold'em Shootout – The event is down to a final table with all players sitting around the 2.5 million chip mark. WSOP Bracelet winner Kevin Song is among those still alive and will be joined by Ravi Raghavan, Roonngsak Griffeth, Derek Sudeel, David Yonnotti, Michael Simhai, Anant Patel, Timothy McDermott, David Dowdy and Austin Peck hoping to move up in the payout table. Each player is guaranteed at least $19,253 with $240,480 going to first.
Event #28 – $50,000 HIGH ROLLER Pot Limit Omaha – Just five players remain in the $50,000 High Roller event with Bulgaria's Veselin Karakitukov holding the chip lead to start the third and final table. Action will get underway at 4 PM PT with Ben Lamb, Robert Cowen, Dash Duley and Jared Blexnick joining Karakitukov.
Event #29 – $1,500 No Limit 2-7 Lowball Draw – Brazil's Yuri Dzivielevski leads a 19-player field in the event after Day 2. Players will return at 1 PM PT to play down to a winner, who will take home the gold bracelet as well as a $127,909 first-place prize.
Event #30 – $1,000 Pot Limit Omaha 8-Handed – Stephen Song is the leader of the pack in the $1,000 Pot Limit Omaha 8-Handed with 108 players remaining including 12 WSOP bracelet winners. Action picks up at noon PT as those who remain play for the bracelet and a $255,359 first place prize.
Event #31 – $10,000 Limit 2-7 Lowball Triple Draw Championship – Phil Hellmuth is among the 43 players who survived Day 1 of the $10,000 2-7 Lowball Triple Draw. When action picks up at 2 PM PT, he will be joined by Day 1 chip leader Oscar Johansson, Shaun Deeb and Brian Hastings, among others.
New events on the schedule
In addition to all the ongoing action, there are two events that will get underway on Wednesday. First up will be the $1,500 HORSE, which begins at 11 AM PT. This will be followed by the $3,000 6-Handed No Limit Hold'em, getting underway at 3 PM PT.
Watch the WSOP
Poker fans can watch the World Series of Poker on PokerGo on Wednesday with the conclusion of the $50,000 High Roller Pot Limit Omaha. To view the stream and archives of previous streams, fans will need a subscription of PokerGo, available for $14.99 monthly or $99 per year.
Sights and sounds from the WSOP