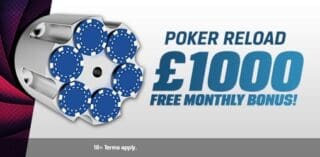 Many poker players seek out poker rooms that allow unlimited rewards due to the benefits of adding to their win rates or easing downswings. Some poker rooms give unlimited rewards through VIP programs. At Coral Poker, you can take advantage of large monthly reload bonuses — in addition to the benefits of the VIP program.
Each month, players can get a reload bonus when Coral Poker "tops off" a player's bonus balance to €1,000 to reward players for their loyalty. No deposit is required.
To qualify for the Coral Poker reload bonus you will simply need to log-in to your Coral Poker within the first 5 days of the month to have you bonus balance increased to €1,000.
What you need to know about the Coral Poker reload bonus
Once you have the bonus applied to your account, you can begin playing.
To clear the bonus, a Coral Poker player must earn 1500 VIP Points for every €10 in bonus. When an increment of bonus is earned, it will be transferred to your real money balance.
The smaller increments of the bonus help you earn your bonus without having to generate the large number of points to clear the whole thing.
Players are allowed only one reload bonus per month. A "top off" of your account will bring the balance up to €1000. If you have €600, Coral Poker will add €400 into your account to give you €1000.
Frequently asked questions
Below are some common questions players have about the Coral Poker reload bonus.
How are VIP Points earned?
VIP Points are earned at real money cash games and tournaments at a rate of 12.8 VIP Points per €1 of rake. When earning the monthly reload bonus, players will receive the equivalent of 8.5% rakeback, in addition to other perks.
How long to players have to clear the bonus?
Players have 90 days to earn bonuses at Coral Poker. The expiry time is not extremely important given Coral Poker's €1,000 cap each month, which many players will likely not to complete in a month
Is the Coral Poker bonus available to new players?
In your first month or two at Coral Poker, you will earn the sign-up bonus instead of the reload bonus. You can not earn both bonuses at the same time.
What is the VIP program like?
Frequent players at Coral Poker are also eligible to participate in the VIP Program. The program will allow you to exchange your points for up to 30% rakeback every month, depending on your status level. According to Coral Poker, rakeback rates will vary from 16% to 30.48%.
If you already have a Coral Poker account, Bonus Code Poker recommends checking out Bet365 Poker.