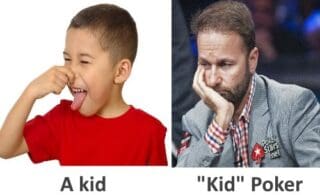 Las Vegas – Attorney Michael Levine has filed a civil suit in a Las Vegas courtroom to bar Daniel Negreanu from using his "KidPoker" nickname. The suit also names Twitter as a co-defendant for its "complicity in spreading Mr. Negreanu's fraudulent claims."
"It's quite simple," said Levine. "A 43-year-old man is not a kid in any sense of the word. Mr. Negreanu's insistence on identifying himself as a child is a gross misrepresentation."
Negreanu could not be reached for comment. However, a statement issued by Mr. Negreanu's attorneys called the lawsuit "preposterous."
"What's preposterous is the number of actual children mislead by Mr. Negreanu," retorted Levine. "Imagine growing up with Daniel Negreanu as your hero, and imagining him as a child like you, only to find out that he hasn't been a child for over twenty years. Think of the psychological toll we're talking about here."
Representatives from Twitter released a statement earlier today in support of Negreanu. However, in an early win for the plaintiffs, the judge in the case ruled that Mr. Negreanu must stop tweeting until the case is resolved.
These kinds of cases are not new for Mr. Levine. Last year, he unsuccessfully sued poker professional Phil Galfond, claiming that he is neither Clay Aiken nor has ever been surprised to see Clay Aiken.
The case against Galfond was thrown out. Mr. Levine says he plans to appeal.
Mr. Levine provided BonusCodePoker with a package of evidence to support their efforts: