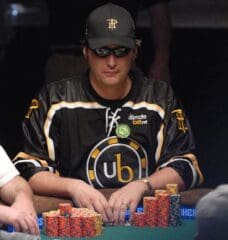 In a shock statement, Phil "The Poker Brat" Hellmuth has declared that he will run for the presidency in 2020.
Hellmuth called a press conference at the Aria in Las Vegas, where he was busy folding pre-flop in a high-stakes Hold'em game, to announce his bid.
"It's clear that you don't need political experience, a realistic manifesto or even a basic level of human decency and social skills to get into the White House," Hellmuth said. "For that reason, and also because I lost a ton betting on Hillary, I am going to run for president in 2020.
"So yeah, fuck it. Let's go."
READ: Who will be the next UK Conservative Party Leader?
Phil Hellmuth's presidential manifesto
As of yet, it is not clear exactly what Hellmuth plans for America should he succeed in securing the presidency. However, he did divulge the following clues as to his initial policies:
To build a wall at the WSOP and make the idiots from northern Europe pay for it.
To make it a federal offence to call pre-flop 3-bets with anything outside his Top 10 Hands.
To disband the Secret Service, since he can dodge bullets, baby.
To ban online poker in New Jersey, Nevada and Delaware so none of these young kids can call him with a queen and a ten.
ALSO READ: PokerStars Removes Everything But Deposit Button