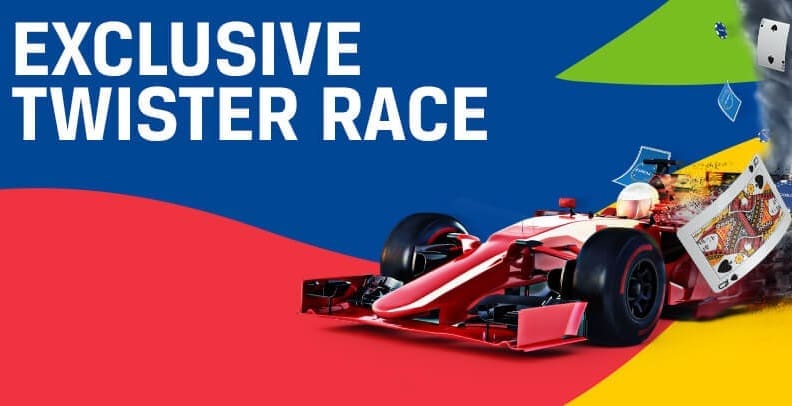 If you are one of the many Coral Poker players who enjoy playing Twister tournaments, you'll want to pay attention to this.
Each and every month, Coral Poker and the iPoker Network offer players of Twister tournaments the opportunity to participate in the Twister Tournament Races, where thousands of dollars in weekly prizes are awarded. As a Coral Poker player, you can even participate in two exclusive Twister races simultaneously with the iPoker Twister Race. Players are not automatically entered into the promotion so before you get started, it's important to opt yourself in.
How to opt-in for Twister Races
In order to participate, you must opt-in to receive the benefits of this promotion. To do so, you will need to find the "Missions" tab under your Coral Poker account. Once on the tab, you will need to click "start" on the €12,500 Twister Race Mission.
By participating in the promotion, you can access not only the €12,500 iPoker Twister Races available to the entire network but also to the weekly Coral Exclusive Micro Race and Coral Exclusive Mini Race. After you have opted into the promotion, to climb the leaderboard you will need to enter Twister Tournaments to accumulate points. The more points you earn during the week, the higher your position on with distinctd. If you get high enough on the leaderboard, you win a prize.
Exclusive Twister race prizes
There are three separate leaderboards for playing Twister tournaments, each with distinct sets of prizes.
iPoker Network Twister Race (For Twister Tournaments with buy-ins of €1, €2, €5, €10, €20, €50 and €100) – The top 250 players accumulating the most points during the week at eligible Twister Tournaments will get a piece of the €12,500 prize pool. Players at the bottom of the leaderboard — who finishing around 250th — receive €15 in Twister tickets while 1st place will receive €1,000 in cash.
Coral Weekly Mini Twister Race (For Twister Tournaments with buy-ins of €5) – This leaderboard is exclusive to Coral Poker players playing €5 Twister Tournaments on Coral Poker. The 25 players on this leaderboard — determined by accumulated points — will receive prizes ranging from €10 in Twister Twister tickets to €500 in cash.
Coral Weekly Micro Twister Race (For Twister Tournaments with buy-ins of €1 or €2) – This leaderboard is also exclusively available to Coral Poker players, this time for those playing €1 or €2 Twister tournaments. The top 25 players will receive prizes ranging from five 1 Twister tickets for 25th up to €250 in cash for first place.
The iPoker Network Twister Race is by far the most lucrative race, but remember, the main benefit of the exclusive Coral Poker races is that you will be competing against many fewer players. This means the value for participating could be higher despite receiving smaller prizes. One thing is for certain — climbing the leaderboard will be much easier!
Players who play Twister Tournaments on Coral Poker will earn points towards the iPoker Network Twister Race AND the relevant Coral Poker Exclusive Twister Race. Leaderoards are updated every 2 hours.
When are prizes paid?
Prizes will be added to your account within 72 hours. Didn't get your reward? Contact Coral Poker customer service. Use the "Chat with us" button at Coral Poker for quick response times. For those receiving Twister Tickets, remember that they expire after 14 days if they are not used.
How are Coral Poker Twister Points awarded
You've entered a Twister tournament, so how do you earn points towards the race?
Players earn Twister Points based on performance in eligible Twister Tournaments. The top three players in each Twister tournament will receive points. First place will receive double the buy-in points whereas second and third will receive points equal to the buy-in. For example, if you play a €10 Twister, first place will receive 20 points while 2nd and 3rd will receive 10 points.
Players will only receive points for the appropriate leaderboard.
What are Twister Tournaments?
Twister tournaments are Sit N Go tournaments that offer players a fast tournament experience. The tournaments are joined by just three players and are played at a turbo speed with hands often lasting just a few hands or more.
Before the start of the tournament, the prize for the tournament is randomly determined and can be up to 1,000x the original cost of the buy-in. This makes it possible to win nearly a thousand euro just for entering a €1 Twister SNG.
All players receive prizes in Twister tournaments with 80% going to the winner and 10% going to 2nd and 3rd place. You can end up winning more than you bought in for even by finishing last.
These tournaments aren't for everybody but for somebody who likes fast-poker action and the possibility of huge prizes, these tournaments are definitely worth a look.
Already have a Coral Poker account? We recommend Bet365, a poker room where you can also play Twister Sit N Gos. For additional details, check out the Bet365 review page for information on the poker room and the Bet365 Bonus Code.