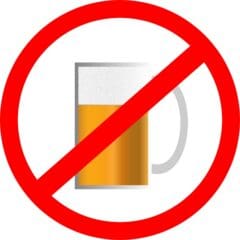 LAS VEGAS – We have recently uncovered reports that Mark Crandall, 31, a recreational player, develops world-class poker skills if he's blind drunk. Crandall, known for his nervous affability and weak-tight game, has won hundreds of thousands of dollars in live and tournament winnings with a blood-alcohol content of at least twice the legal limit.
Crandall not sure how he wins
"I don't remember any of it," Crandall said, somewhat sheepishly. "I'll remember sitting down at an $8-$16 game with a rack of red, and that's it."
Often, Crandall will wake up in his large, custom-built home still wearing the same clothes, covered in sweat and dirt, and both pockets full of $5,000 chips. After vomiting, he'll shower and head off to his job as a postal worker.
These performances are in stark contrast to Crandall's normal routine. Most of the time, he'll lose a couple hundred dollars at the $8-$16 games, limping in with the few hands he plays, subsequently folding on the river if his perfect card does not arrive.
Todd Brunson among pros who fear a drunk Crandall
All that changes when Crandall begins ordering Dewar's on the rocks or vodka tonics. Top professionals, like Todd Brunson, just shake their heads.
"Usually, you want someone to drink heavily at the table," he said. "Mark's the first guy we actively try to keep away from the booze."
Brunson went on to say that conversations at the table are measured carefully if Crandall is around. Any talk that might elicit strong emotion from Crandall is quickly shushed, for fear that he might start looking for a cocktail waitress.
"Here we are, a bunch of professional gamblers, talking seriously about the weather for hours on end. But, not too seriously — we don't want him to feel like he needs to drink about it," Brunson said.
"Last year, one of the top pros shared the story of his messy divorce at the table — most of us are still in debt to Mark for that debacle."
Also read: Leon Tsoukernik Casually Suing Every Person He Sees In Casino