There's been more news on the Hustler Casino Live Cheating Scandal that has so enthralled the World Of Poker over the last couple of weeks.
We've already covered what happened in the initial hand at Hustler Casino Live a couple of Thursday's ago, as well as what happened in the aftermath and then the fallout as poker professionals and public became embroiled in the scandal.
You can use the links to recap all those events, but for this article, we are going to focus on what has happened over the past few days and the somewhat predictable reaction to that which has subsequently followed on from the latest revelations.
However, if you want poker with a bit less drama and more focus on the action, use our bet365 bonus code to sign up with bet365 Poker for a wide range of games to play.
Bet365 Review
Min deposit €5
Up to €100 in Bet Credits For New Customers at bet365
Min deposit €5. Bet Credits available for use upon settlement of bets to value of qualifying deposit. Min odds, bet and payment method exclusions apply. Returns exclude Bet Credits stake. Time limits and T&Cs apply. The bonus code BET247 can be used during registration, but does not change the offer amount in any way.
Ladbrokes Review
Get €20 When You Bet €5
Deposit €5 on Signup
Get €20
New players only
Hustler Cheating Scandal Latest
Did Robbi Jade Lew Take The Lie-Detector Test?
Yes, this past weekend Robbi did take a lie detector test, administered by James Hannah an examiner with the Las Vegas Polygraph and Investigations Computerized Polygraph Service and the final result was that in answering the key questions about the controversial hand there was "no deception detected."
Or to put it another way, as far as the results of the test can confirm, Robbi Jade Lew was not lying and did not cheat in the hand with Garrett Adelstein.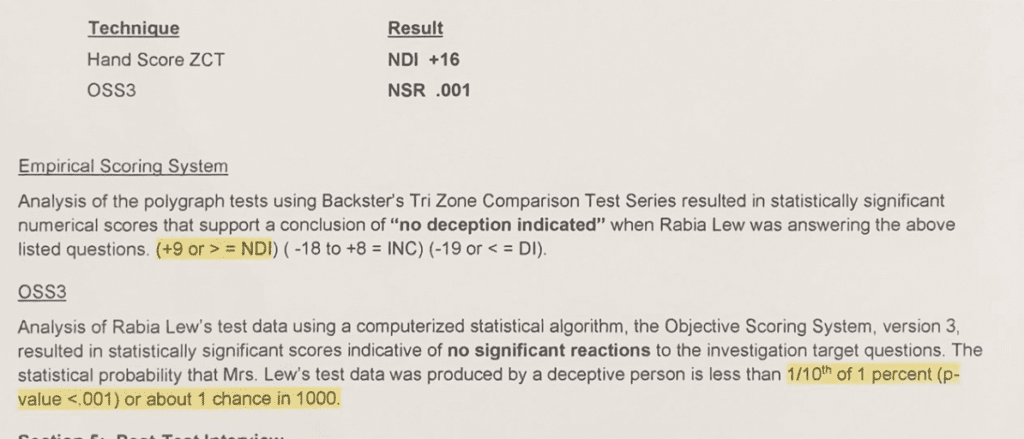 That's Interesting! So What Questions Was She Asked As Part Of The Test?
There were three pertinent questions posed to Robbi Jade Lew during the Polygraph test and they were:
Were you using any cheating devices while engaged in the Hustler Casino Live poker games?
Did you cheat in any way during the Hustler Casino Live poker games?
Did you conspire with anyone during the Hustler Casino Live poker game to cheat?
In answer to all three questions Mrs Lew answered "No".
Mr Hannah analysed the data provided by the test, which provided respiration, electro dermal activity, peripheral behaviour activity and cooperation and cardiovascular functioning and concluded that Mrs Lew scores were "indicative of no significant reactions to the investigation target questions."
Furthermore, he added "the statistical probability that Mrs Lew's test data was produced by a deceptive person is less than 1/10th of 1 percent…about 1 chance in 1000."
So That's Put An End To All This Nonsense Then, Yes?
Ha! You wish! No chance of that happening for the foreseeable future I'm afraid, not while every aspect of this case is being analysed by a myriad of wannabee Hercule Poirot's on Twitter and other Social Media.
Check out a sample of some of the negative comments below:
And of course, there has been a continual outpouring of support for Robbi by those convinced that she is innocent.
Oh Lord, What Else Has Happened?
Additionally, Robbi met with detective Hugo Gualotuna of Gardenia Police to present him with evidence against the accused chip thief Bryan Sagbigsal.
He is the former Hustler Casino Live exployee that was found to have stolen $15k worth of chips from Robbi's stack on casino video following the controversial hand and whom, originally, Mrs Lew declined to press charges against, before changing her mind.
She claimed that she has never known Sagbigsal previously and was unaware of his extensive criminal background when she declined to press charges initially.
However, after being presented with a charge sheet detailing the extent of Sagbigsal's criminal past, Mrs Lew then opted to press charges against him, thus requiring the meeting this weekend.
The collated evidence will not be passed on to the District Attorney who will determine whether Mr Sagbigsal will face criminal proceedings for his action.
Additionally, all the findings from the HCL investigation into the cheating row has now been handed over to a third-party for them to continue the investigation.
As yet, no hard evidence of cheating has been forthcoming from the initial investigation.
So, Are People Starting To Calm Down About This Now?
No chance, there has been an alarming number of theories about what happened and what could have happened in that game and plenty of wannabe detectives chiming in with their own theories as to whether Lew cheated and if she did, how she managed to do it.
In fact, the list of possible conspiracy theories reads like an Infowars programme playlist that Alex Jones would likely turn his nose up as at being too far-fetched.
Here's just a couple of crackers:
The Polygraph Test is no use because as a poker player, Robbi can train herself to lie at will without giving any tells.
Robbi did cheat but asked her twin sister to attend the Polygraph test for her.
Robbi's PR company arranged the Polygraph test (which is true) but then manipulated it in such a way that she was always going to be given a negative result for lying.
Robbi is using bots and fake accounts to drive up support for herself on social media sites.
Bill Perkins claimed that Lew's "behavior after the hand is not consistent with someone who didn't cheat," which conveniently ignores the fact that behavioural analysts have already analysed Lew's actions and behaviour in the hand and confirmed that her body language is consistent with someone who is not cheating or lying.
Tom Dwan, who has been one of the more vocal detractors of Lew, said that she could possibly be investigated for collusion along with Jacob "Rip" Chavez, the player who staked her in that HCL game.
Lew had admitted to Dwan that she had soft-played when heads up with Chavez on the stream.
Another Tweeter posted a link to when Daniel Negreanu supposedly fooled a lie detector test in a mini-documentary.
However, in that video of three questions asked, Real Kid Poker only managed to beat the Polygraph once, the other two times he failed.
So, with no sign to this never-ending façade in sight, the question now is not so much whether Mrs Lew is innocent or not, but more whether she has any future playing top level poker, given that she has polarized almost the entire community either for her, or against her.