Robbie Jade Lew has been accused of cheating by veteran live stream no-limit hold'em player Garrett Adelstein in Thursday night's edition of Hustler Casino Live.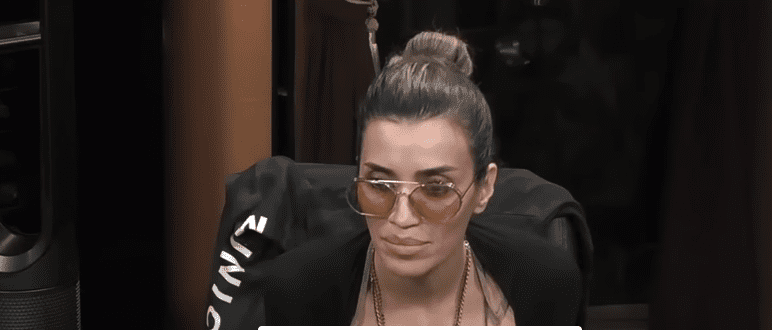 In a contentious hand, in which Adelstein contends that any poker player not cheating would have folded to allow him to win, Lew went all in holding a hand of jack high against Adelstein's 89 suited.
The hand has caused a stir in the world of poker, especially after what occurred following the conclusion of the hand, which Lew initially won a pot of $269,000 during the broadcast.
It's not the first big cheating scandal to hit poker of late after Bryn Kenney's accusations, plus a number of other high profile cases.
You can check out how the hand turned out in the Tweet below.
Who Are Garrett Adelstein and Robbie Jade Lew?
Garrett Adelstein is a poker professional from Tucson who has been a pro for close to ten years.
He specialises in live no-limit hold'em cash games, where he has enjoyed success by playing an aggressive, high-pressure style of game that often involves making large bets that will put his less experienced opponent on the back foot.
He was one of the stars of the 2013 season of CBS' Survivor: Cagayan program, but was voted out on week 2 and he has since been a regular on live poker shows since 2017.
Robbie Jade Lew is a newcomer to the poker scene, only taking up the game during the pandemic.
She previously worked for pharmaceutical company Bayer and has been making a name for herself playing in a number of high stakes games, including the Hustler Casino Live games, often alongside Adelstein.
Why Is Adelstein Accusing Robbi Of Cheating?
Essentially, Adelstein tried to semi-bluff Lew when holding 78 suited against Lew's J4 unsuited.
After a relatively normal opening round of betting, the flop came down with just Garrett and Robbi remaining in the pot and showed 10♥10♣ and 9♣.
This meant that Adelstein had picked up a nuts straight flush draw, as well as a standard flush and straight draws and heading into the turn, he was the clear favourite to win the hand with 20 available outs to him.
Both players bet on the flop and remained in the game when the Turn revealed the 3♥ which is where things got a little strange.
Adelstein bet, Robbi called and then Adelstein, as is his nature, went all in.
It was then the controversy occurred. Robbi took her time to decide what to do next and then played a time chip, after which she declined the 'professional' option of folding, and instead called.
You can hear the incredulity in the commentators voice in the video, as well as seeing the somewhat bemused and befuddled reaction of the players around the table.
Initially Adelstein appeared in good spirits despite Robbi calling, but when she revealed her cards, his demeanour changed markedly.
After running the River twice, Robbi won both hands against Adelstein as her Jack high hand held good, pocketing her a $269,000 pot, allowing her to double up through her opponent.
Adelstein clearly could not comprehend what had happened to him and after staring icily at his opponent for a lengthy period of time and after exchanging a few words with Robbi, he left the table, clearly agitated.
Cheating Claim
He then accused Robbi of cheating, claiming that her strange decision making and subsequent explanation at the table that she put him on 'ace high' didn't make sense as she was only holding jack high, which would not have beaten the ace high hand.
He also claimed that her reasoning for calling was due to her misreading her cards as a J3 (which would have landed her a pair), rather than J4, was a lie as she had checked her cards somewhat lengthily before she made the call.
Eagle eyed viewers also spotted after the hand, as Adelstein glared at Robbi, that the poker novice became flustered and fiddled with the rings on her hand, moving her hand away from the table and then when her hand was next visible, the large ruby-coloured ring on her hand had either been removed, or turned around.
In the post-hand debate, Adelstein claimed that Robbi somehow new his hands and was using a vibrating device in conjunction with someone watching the stream, in order to cheat.
Robbi denied this but after the hand, she offered to return the cash to Adelstein, a move which Adelstein claims is as close to an admission of guilt as is possible and the reason why he accepted the cash back.
Unsurprisingly, Robbi denies all claims that she cheated, claiming that she read Adelstein in the hand and that she would win more off him in future and since then, the poker world has gone into meltdown on Twitter with claims and counter-claims over whether Robbi did, or did not cheat.
What Could Have Actually Happened?
If you watch the video between Adelstein and Robbi then there are a number of possibilities as to what happened:
Robbi, as a novice player, made a donk call because she didn't understand the game and got lucky.
Adelstein could not take the fact that Robbi had called his semi-bluff and decided to throw shade at her due to being beaten and outplayed in the hand.
Robbi somehow knew what cards Adelstein held before making the call, or she was informed of the strength of her position in some way. Adelstein claims this was what happened by means of some vibrating device on her person which a third-party would control to inform her of when she held the strongest hands against an opponent.
There's not much evidence to support any of the three possibilities above, however there is no doubt that how Robbi played this hand was, at the very least, unconventional and according to many viewers, highly suspicious.
Spat Continues On Twitter Following The Game
Unsurprisingly, with a furore building, the spat between the two players continued on Twitter with Robbi defending herself against growing accusations of cheating.
She also revealed that Adelstein had confronted her after the game in a manner she perceived as being threatening.
And she finally gave her version of events when she liked and retweeted Matt Glantz's Tweet.
However, a number of commenters on Twitter have pointed out that the claims made by Robbi run counter to what she claimed at the time at the table, or what she said following the game and these inconsistencies subtract credibility from her claims.
Both players have stated that they will not return to Hustler Casino Live for the immediate future until the issue has been resolved.
How that can resolution can be achieved remains to be seen, especially with the reputations of both players firmly on the line.
If you want to try your hand at No Limit Hold'em, or a wide range of other formats of poker, then check out what's on offer at bet365 Poker, a site you can join using our latest bet365 bonus code when you sign up.
Bet365 Review
Min deposit €5
Up to €100 in Bet Credits For New Customers at bet365
Min deposit €5. Bet Credits available for use upon settlement of bets to value of qualifying deposit. Min odds, bet and payment method exclusions apply. Returns exclude Bet Credits stake. Time limits and T&Cs apply. The bonus code BET247 can be used during registration, but does not change the offer amount in any way.
Ladbrokes Review
Get €20 When You Bet €5
Deposit €5 on Signup
Get €20
New players only
Just remember though, vibrating rings won't help you when you play online!