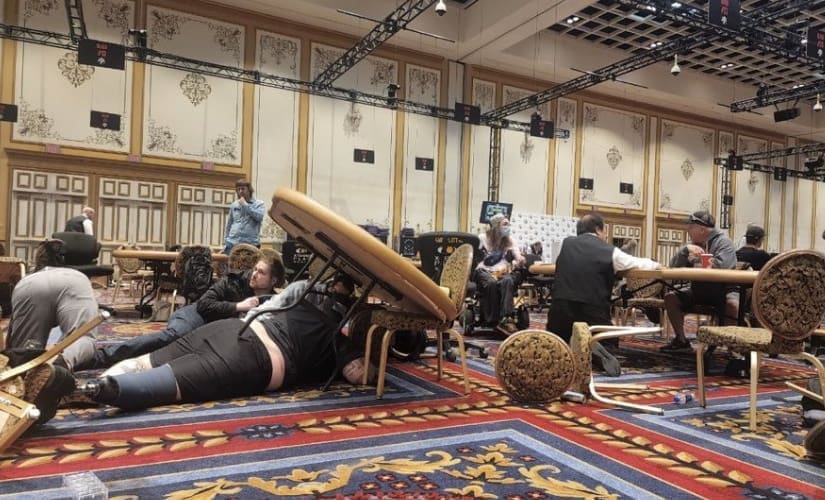 The 2022 WSOP might be over but it ended in drama as panic set out on Sunday after a broken glass window was mistaken for gunfire on the Las Vegas strip.
A loud bang was heard in a poker room on the strip causing mass hysteria where players fled in fear of an active shooter. Fortunately, rumours of said active shooter at the MGM Grand were since proven to be unfounded.
The incident also saw some WSOP events at the Bally's and Paris being paused and delayed until Monday.
The incorrect stories spread online and across social media about the situation which occurred just hours before the series had crowned its 2022 Main Event champion in Espen Jorstad.
2009 WSOP Main Event winner Joe Cada took to social media to report;
Most craziness night I ever experienced. Everyone running in panic, no one knowing what is going on, people getting trampled. I've never seen so many people running in fear, only caring about themselves, myself included. Everyone thought there was an active shooter. You really learn a lot about yourself and others in a panic situation.
There were, also at the time, even whispers of firecrackers being let off.
The rumours led to panic not only at the MGM but also other venues such as the ARIA, Caesars Palace, and Bellagio as well as, of course, the Bally's and Paris.
Rumours lead to stampede
Luckily, it turned out to be nothing more than rocks being thrown at the windows, which was misinterpreted as gunshots.
However, as soon as rumours of an active shooter reached the World Series many players began to leave the room or take cover wherever possible.
The accident even resulted in Daniel Negreanu, among others, getting injured.
DNegs was injured quite severely after getting his hand trampled on in the stampede which has resulted in what looks like a really nasty gash, an injury he too reported on social media.
The person responsible has, according to reports, since been arrested to face charges of destroying property.
WSOP shooter scare reaction
Poker players took to Twitter to share their experiences of the scare.
Best Online Sportsbooks and Casinos
Daily Fantasy, Simplified.
Simply choose over or under on your favorite players to play
No sharks, no salary caps, no BS
Turn the game on and follow along with live player tracking to watch how you're doing
Legal in 26 states + Canada (see site for details)