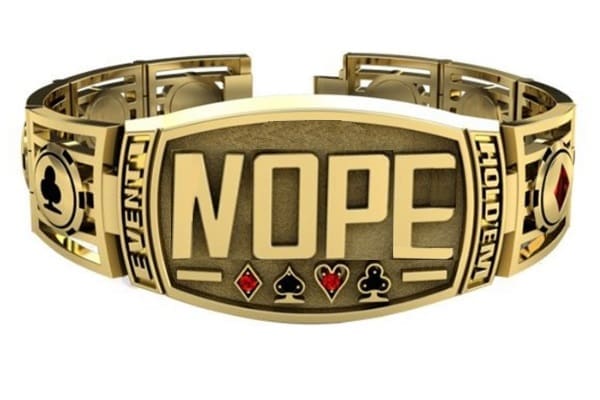 The 2020 WSOP has been postponed to fall, but the WSOP has publicly suggested that online tournaments will still take place – including some new ones not originally planned.
BonusCodePoker.com has exclusively learned of several upcoming changes to those online events, which the WSOP promises will help "deliver an accurate experience."
During breaks in events, popups for shady sites that sell counterfeit cell phone chargers will take over your screen. They cannot be turned off.
Personal information including cell phone numbers will be published in a database on WSOP.com, allowing every player you've ever met to easily ask you if you want to buy action in their next event.
The WSOP's software will take over the camera on your phone, at selective times, in order to display video to other players. This includes bathroom usage, which the WSOP tell us will "emulate the famed reflective urinal dividers at the Rio."
Footage of Barry Greenstein walking the hallway at the Rio without looking up from his phone will be streamed nonstop in the software's lobby.
Participation in events will require attaching your home's air conditioning system to a remote control system, which will break after being set to "frigid."
Players who cash in an event must swallow a vial of an unknown substance as a requirement to receive payment. While most vials contain a harmless mix of salt and water, an undisclosed quantity will contain Legionnaires' disease.
Although most players haven't reacted well to these changes, some have been optimistic:
"At least we don't have to worry about cheats marking those sh*tty cards."