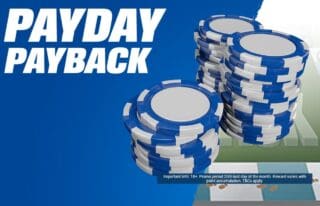 Coral Poker knows that players love bonuses, which is why they have introduced a new way to earn bonuses called the Payday Payback. The promotion seeks to reward players who put in the time to play during the last week of each month.
Coral Poker will award instant Twister Token bonuses for players earning Poker Points from the 25th of the month through the end of the month.
Coral Poker offers three different payback bonuses ranging from small tournament tokens up to €20 tournament tokens. If you meet the requirements of all three payback bonuses while playing cash game tables, you will be able to receive all three tokens.
By design, these tournament tickets are relatively easy to achieve, allowing players to earn the equivalent of up to 24% in extra value from the rake they pay.
Payday Payback One
Players that earn 100 Poker Points during the promo period each month will receive a €2 Twister Token as well as a daily mission tournament token. The Twister Token will a player the chance to earn up to €2,000 Jackpot. In addition, a player will also receive a token to the Daily Mission Freeroll with a £100 prize.
Payday Payback Two
For players that reach 500 Poker Points, they will receive all the perks from "Payback One" and also receive two €5 Twister Tokens, which will give players the opportunity to receive a jackpot prize up to €5,000.
Payday Payback Three
Last but not least, players earning 2,000 Poker Points from the 25th until the end of the month will receive PayDays One and Two in addition to an instant €20 tournament token. Unlike the value Paydays from the first two levels, the token can be used to enter any tournaments including the €5k guaranteed. Players also enter the €20 Twister for the chance to win a €20k jackpot prize.
Earning Poker Points
Players earn Coral Poker Points at real money cash game tables and tournaments. Points are earned when accumulating rake at the rate of 10 points for every $1 in rake, or equivalent currency conversion.
Frequently asked questions
Here are a few common questions asked about the Coral Payday Payback Promotion.
What are Twister Tokens?
Twister Tokens are entries to Coral Poker's Twister Lottery Sit and Gos. Before the start of each tournament, a multiplier will be spun to determine the prize of the SNG, anywhere from 2x to 1000x. These tournaments provide players with a chance to play small buy-in tournaments with a chance to win huge prizes.
What does Coral Poker mean when they say these tickets are awarded instantly?
After the designated Poker Point thresholds are reached, tournament token entries will be immediately placed in a players account. Once the tournament tokens are posted into the account, they can be used to enter Twister Sit N Gos, which are available around the clock.
The value of the Payday Payback
Taking advantage of the Payday Payback promotion will allow players to receive a good bit of value when playing poker at the end of the month.
Coral Poker Payday Payback Value
Bonus
Reward
Value
Payback One (100 Points)
€2 Twister Token
20%
Payback Two (500 Points)
€2 Token and Two €5 Twister Tokens
24%
Payback Three (2000 Points)
€2 , €5 (Two) and €20 Twister Token
18%
This offer is available to new and existing Coral Poker players. Looking for another poker room to play — BonusCodePoker recommends Bet365. For additional details, read our Bet365 review for details on the Bet365 bonus code.