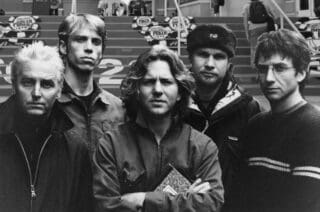 Las Vegas, NV – They're calling it the Albini Effect.
All over America, bass players from bands that your ugly friends like are putting down their righteous axes and turning instead to the poker tables.
And it all started with a simple record producer from Chicago named Steve Albini.
The long-awaited poker boom has arrived
On Saturday, Albini defeated six-time bracelet winner Jeffrey Lisandro heads-up to win the $1500 Seven Card Stud Event at the World Series of Poker. And the poker world was set on fire – much in the same way that fire shoots out of the floor during heavy metal concerts.
"It feels fine," noted Albini after his win. "But honestly, I produce Nirvana albums, so this isn't even in like my top 100 lifetime experiences."
Sure, everyone expected a celebrity like Albini to create a small bump in the overall turnout of poker rooms, but no one had any idea what was really coming.
Aria Poker Room manager Sean McCormack noted that the size of the Aria poker room has more than doubled since Albini's landmark victory.
"At first I thought it was a joke," McCormick noted. "On Sunday about eight or nine guys walk in. They're all dressed in black with long hair and they're all asking to play low-limit 7 card stud. We started a table for them and I thought that would be the end of it."
"But the next day maybe 16 record producers came in. And they ALL wanted to play Stud. Half of them wore eye liner. Some wore leather. One guy was using his Grammy as a card protector. The day after that, 3/4 of the original Smashing Pumpkins lineup were preregistering for the next Stud event."
An instant classic
"When they got to heads-up, no one gave Albini a chance," noted Norman Chad, who was covering the action for PokerGo. "Lisandro had all the experience, all the composure – and also that ridiculous hat."
"But as the match went on and on, the viewership kept on growing and growing. Eventually, we decided to take it off the PokerGo stream and put it straight on ESPN live. Then as millions upon millions tuned in to watch, they just decided the hell with it and switched it straight it to ABC! It got 'I Love Lucy' finale numbers. Incredible!"
Truly, a win like Steve's comes along once in a lifetime. But it was Poker Hall of Famer Mike Sexton who summed everything up the best.
"The $1,500 Seven Card Stud event is hands-down the most prestigious Seven Card stud event of that week. Anyone who disagrees with you simply doesn't know what they're talking about and should be shot."
The poker boom we all needed
"Everyone is always saying, 'Oh, wouldn't it be great if a woman won the Main Event. Maybe that would get some more women into the game. Or man, it sure would be nice if a celebrity made the final table of the Main. That might generate some mainstream buzz.' But everyone who said those things is a brain-dead moron. What the poker world needed, what the entire world needed, was a somewhat well-known record producer to win one of the smallest prize pools that you'll see all summer. Now, who wants to hear some degen stories about Stu Ungar!?"
The poker world may never be the same after Steven Albini, although he gave one last interesting take on his sudden still-found fame:
"I think everyone was just stoked I knocked out Chris Ferguson in 4th. You can't put a price on that."