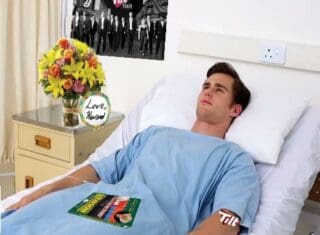 Chattanooga, TN – Oh, they uh, they're doing good.
Greg Robertson, now a 35-year-old barista, shockingly came out of his coma this past weekend and immediately wanted to know how some of his favorite FullTilt pros were doing.
"I can't wait to log back in and watch 'Rail Heaven!' exclaimed the emaciated Robertson – his eyes sunken, his voice a raspy whisper, his youth a distant memory.
The Robertson family meanwhile was left in jubilation and awe after learning that Greg had awoken after such an extended comatose state. Greg's older sister Barbara was particularly incredulous.
"Do people really wake up from ten-year comas? Is that actually a thing? I know it happens in movies and TV shows and stuff. But surely, after a couple years, your family would take you off life support? This whole premise is sorta nonsense."
Full Tilt Poker, a love affair
Greg was a huge fan of shows like 'Poker After Dark' and 'The World Poker Tour' before his accident, and he couldn't wait to learn about all the exploits of his favorite players.
"So how's Erick Lindgren doing? Has he won any more WPT's? I know he and Lederer both had two apiece. And what about Clonie Gowen – surely she has two or three bracelets by now," questioned Greg, completely ignorant that the best years of his life had been spent in a hospital bed.
"It's been really hard on him," noted Greg's mother who is somehow also called Barbara. "What disturbs me is that he wakes up and asks who won the Main Event and if Erick Lindgren leads the all-time money list yet. Not 'are we at war?' Not 'is Grandpa still alive?' No, just stupid gambling questions. Poker players are the worst."
A long road ahead
The Robertsons were too distraught and emotional to break the hard truths to Greg on their own. Fortunately, the attending doctor, Dr. Frank Ankerton sat down with his patient and gave him the bad news.
"Here's the situation, Greg… No one antes any more. No one bets more than two blinds on any street. You can re-enter every tournament as many times as you want up until the final table, basically. The Germans discovered poker and now they're the only ones good at it. Half the pros left to play Fantasy Football professionally. The other half left to trade digital made-up space money. Online poker is a shell of its formal self. Every pro you had ever heard of before is broke now. Also your legs have atrophied beyond repair."
Greg considered this information, shook his head, and announced, "Standard."
– –
Doctors were proclaiming Greg's recovery to be a medical miracle, but upon further review, it turns out that he was only asleep this whole time because poker players are just that lazy.